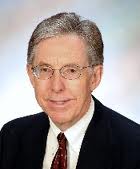 Dr. Emmet B. Keeffe, Professor of Medicine Emeritus at Stanford University in Hepatology, passed away unexpectedly on August 8, 2011 after a distinguished career in hepatology. He was sixty-nine years old.
Please join us in extending our condolences to the family, and many friends, colleagues and patients of Dr. Emmet Keeffe.  We are all saddened by his death. Dr. Keeffe was a major contributor in the viral hepatitis community and made significant contributions throughout his 42 years practicing medicine.  Dr. Keeffe had an impressive list of professional achievements, administrative appointments, honors and awards. His clinical research interests focused on the treatment of chronic hepatitis B and C, where he was a principle investigator for many clinical trials treating numerous patients.  Dr. Keeffe has been published extensively throughout his career.
Dr. Keeffe was a true thought leader in the field of hepatitis B who grasped all aspects of this liver disease. He created bridges of understanding between the science, medicine and patient experiences for the entire hepatitis B community. We will miss his active involvement and support of the Hepatitis B Foundation, but most importantly, we will miss his vital contributions to the science and medicine of chronic viral hepatitis.
Emmet B. Keeffe, MD
April 12, 1942 – August 8, 2011