What a great hepatitis B awareness raising event for the Hepatitis B Foundation (HBF) and Hep B United Philadelphia (HBUP). The event took place at on the "Rocky Steps" of the Philadelphia Art Museum.  Participants including student volunteers, community leaders and health care professionals were dressed in their super hero t-shirts and red capes for their run up the steps to raise HBV awareness.
Hep B Heroes joined Philadelphia Councilman David Oh as he presented a city council resolution to eliminate Hepatitis B in the City of Philadelphia.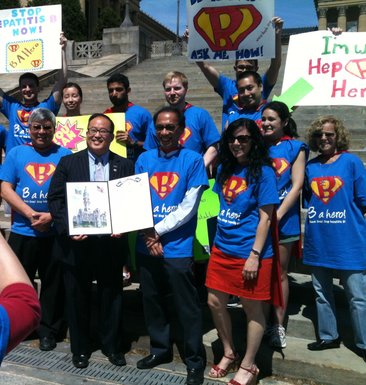 A special guest appearance was made by HBF's own mascot, O'Liver B Hepatitis. In the past, O'Liver has appeared at numerous public events, and he was thrilled to step up and raise HBV awareness on the Rocky Steps.
Multicultural dancers get a thumbs up from O'Liver as he and other participants enjoy their performance on the steps.
B A Hero. B sure. Get Tested. Get vaccinated…