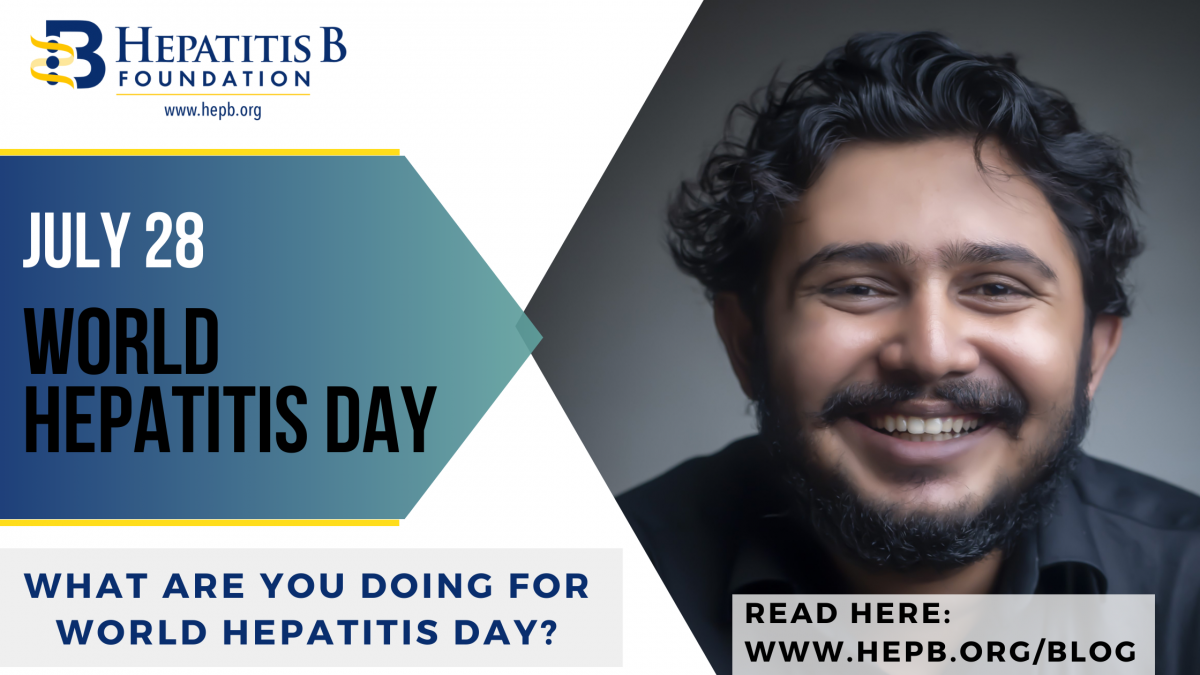 What Are You Doing For World Hepatitis Day?
Every July 28, we celebrate World Hepatitis Day in honor of Dr. Baruch Blumberg's birthday. Dr. Blumberg discovered the hepatitis B virus in 1967 and subsequently developed the hepatitis B vaccine two years later in 1969. We commemorate World Hepatitis Day by raising awareness about viral hepatitis. With almost 300 million individuals living with hepatitis B worldwide, it is so important to bring awareness to this preventable and treatable disease to create meaningful change. This year, the World Hepatitis Alliance's theme is Hepatitis Can't Wait.  Their campaign highlights how we cannot wait to get tested, vaccinated, reduce stigma and discrimination, and we can't wait to act. You can join their campaign here.
The Hepatitis B Foundation is dedicated to raising the profile of hepatitis B as an urgent public health problem, improving the quality of life for those living with hepatitis B and working towards eliminating hepatitis B related stigma and discrimination. This year we are elevating the voice of individuals living with hepatitis B by highlighting five new #BtheVoice videos from real people living in Nigeria. These audio recordings were captured by Catherine Freeland, MPH, Associate Director of Public Health at the Hepatitis B Foundation during a recent trip to Nigeria where she worked on enhancing and the need for timely birth dose to prevent mother to child transmission of hepatitis B.
We believe that elevating the voices of those who have hepatitis B is the best way to spread awareness for the need to find a cure, provide screening and treatment and work to fight stigma and discrimination. You can watch the videos here.
So, what will you do today to honor World Hepatitis Day?
It can be as simple as sharing hepatitis B related information on Facebook, Instagram, Twitter, WeChat, or WhatsApp. You could tell your friends and family about hepatitis B and how it impacts your life or people in your community. You can get involved with the Hepatitis Can't Wait campaign by doing 1-minute actions, 10-minute actions, or longer actions! Your actions can be as simple as sharing a post on social media or more involved like getting in contact with your policymaker to encourage viral hepatitis prioritization.
Listen and Learn
Listen to our podcast: B Heppy! This podcast is part of our 300 Million Reasons campaign, a movement to improve awareness about hepatitis B and liver cancer worldwide, to promote engagement of key stakeholders, and to empower people impacted by hepatitis B to become vocal advocates. There are almost 300 million people around the world living with chronic hepatitis B infection, and we want to make sure each and every voice is heard.
We recently highlighted what other community organizations are doing to address hepatitis B in their in their regions– check it out here!
Become an Advocate
Become a Hep B Advocate! Sign up below to receive the latest news and updates about hep B policy issues, learn about upcoming advocacy events, and be notified of opportunities to take action and show your support for our policy initiatives. We'll provide resources, information, and tools to help you:
Communicate effectively with your elected officials
Educate and engage your community on hepatitis B policy issues
Recruit and organize other hepatitis B advocates and champions in your community
Promote and participate in ongoing national, state, and local advocacy efforts
We recently learned that Optum has decided to remove Vemlidy as a covered medication for treating chronic hepatitis B from its health insurance plan. This action can have detrimental effects to people living with hepatitis B. In response to this decision, the Hepatitis B Foundation and Hep B United have drafted a letter urging Optum to reconsider its decision and immediately reinstate Vemlidy back on its formulary plan. Read the full letter here.
Happy World Hepatitis Day! Remember: Hepatitis Can't Wait, Act Now!
Questions: info@hepb.org