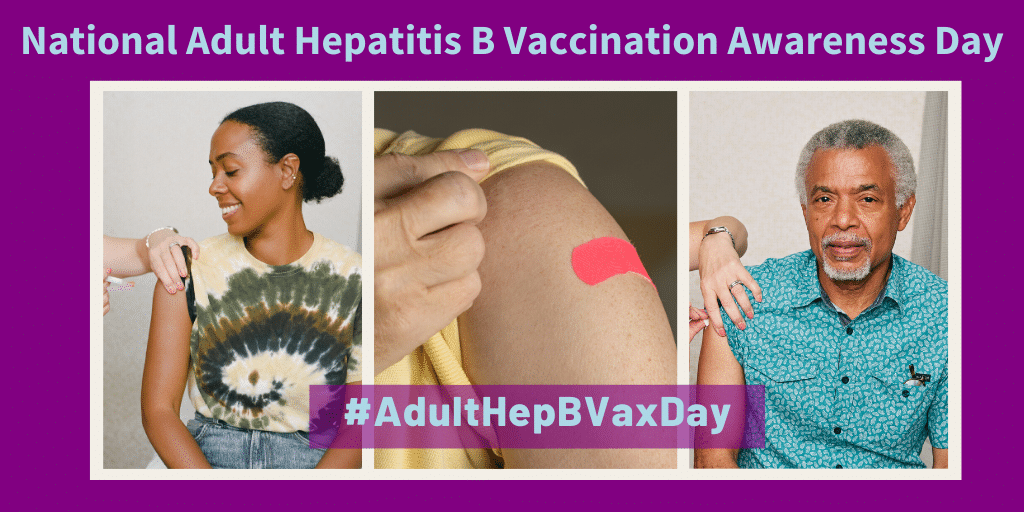 In 2019, the hepatitis B community successfully advocated for the introduction of  U.S. House and Senate resolutions to designate April 30th as National Adult Hepatitis B Vaccination Awareness Day for the first time!
Why is Awareness about Adult Hep B Vaccination Needed? 
Adults in the United States have extremely low rates of vaccination, primarily because many were born before the vaccine became a healthcare standard and mandated for school. Just 25% of all U.S. adults have completed their vaccine series. Without completing the series, individuals are still vulnerable to potential exposures; one dose of the vaccine is not enough. Coupled with the recent increase in injection drug use, low vaccination rates among adults have been driving a rise in acute hepatitis B cases across the nation. The new cases that are linked to injection drug use are particularly prevalent among adults aged 30 to 49. Unfortunately, newly infected women may be unaware of their status and may pass the virus on to their infants during birth, putting them at significantly higher risk of chronic infection and liver cancer.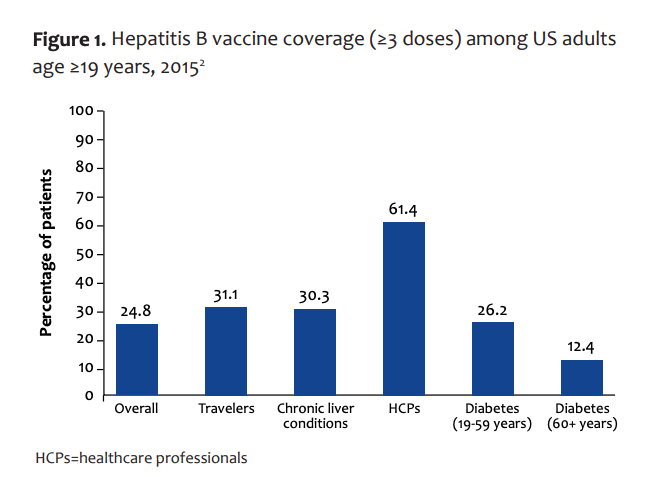 Immunization rates remain low among vulnerable populations including those living with other chronic conditions such as hepatitis C, HIV, kidney disease, or diabetes. In fact, just 12% of diabetic adults 60 years old or older are fully vaccinated, and 26% of diabetic adults ages 19-59 have received the complete vaccine series. Healthcare workers are an under-vaccinated vulnerable population as well. According to the Centers for Disease Control and Prevention, just 60% of healthcare personnel have completed their vaccine series. 
National Adult Hepatitis B Vaccine Awareness Day Resolution
The National Adult Hepatitis B Vaccine Awareness Day Resolution (H.Res. 331) was introduced in the U.S. House of Representatives by Representatives Hank Johnson (GA-4) and Grace Meng (NY-6) – the Congressional Hepatitis Caucus' co-chairs. A similar resolution (S. Res. 177)  was also introduced in the U.S. Senate by Senators Maize Hirono (HI) and Angus King (ME). 
This resolution is an opportunity to raise awareness about the importance of the hepatitis B vaccine for providers and community members, as well as providing support for testing, vaccination, and linkage to care for individuals. In addition, the resolution helps encourage a commitment to increasing hepatitis B vaccination rates for adults while maintaining high childhood vaccination rates. 
Hepatitis B Vaccine
The modern hepatitis B vaccine has been widely used – with over 1 billion doses given – since it was created in 1985, and has been proven to be one of the safest and most effective vaccines in the world! The 3-dose vaccine is given over the span of 6 months, and provides lifelong protection once completed. Adults can also be fully vaccinated with a new 2-dose vaccine called Heplisav-B! Heplisav-B can be completed in just one month and has been proven to be highly effective in populations that may be hard to vaccinate, such as older adults and people living with diabetes. 
Raising awareness about adult hepatitis B vaccination is a small, but essential step in the journey towards the elimination of hepatitis B. With national support and resources, the U.S. can protect vulnerable communities from serious liver damage and even liver cancer. 
You can show your support for National Adult Hepatitis B Vaccine Day by using the hashtag #AdultHepBVaxDay on April 30th and when discussing the hepatitis B vaccine on social media! Graphics are also available to share throughout your networks.
Please see the below links to access additional resources on adult hepatitis B vaccination: