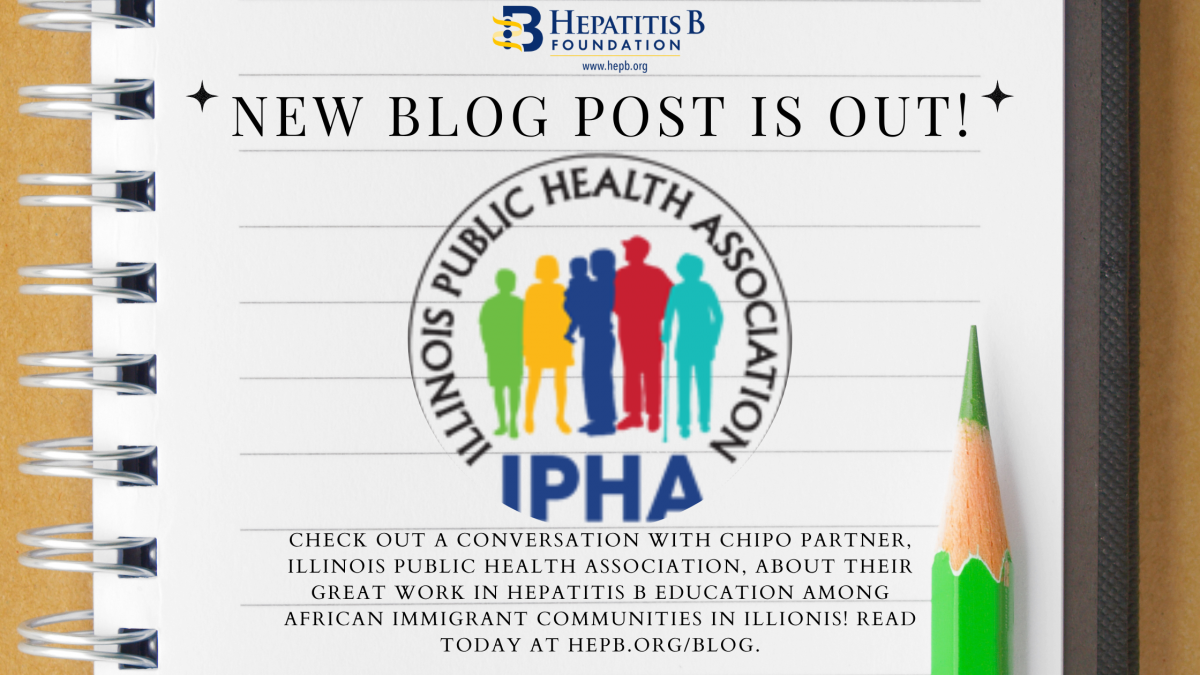 The Coalition Against Hepatitis for People of African Origin (CHIPO) is a national community coalition that is co-founded and led by the Hepatitis B Foundation and is composed of organizations and individuals who are interested in addressing the high rates of hepatitis B infection among African communities in the US. Over the past year, CHIPO has grown its membership to include nearly 50 community-based organizations and federal agencies, all of which are working to meet the common goal of raising awareness about hepatitis B among African immigrant communities, and increasing rates of screening, vaccination, and linkage to care. This month, we are excited to highlight the work of one of our newer partners, the Illinois Public Health Association, and their Outreach Coordinator, Monde Nyambe. Please enjoy a recent interview with Monde, as she describes her work, including successes and challenges, and the positive impacts she and IPHA have had throughout the state of Illinois.
 Could you please introduce yourself and your organization?
Monde: My name is Monde Nyambe, and I am the Outreach Coordinator for the Illinois Public Health Association, which is the oldest and largest public health association in the state of Illinois. I work specifically in the area of addressing hepatitis B among African communities around the state. IPHA has had a hep B grant for some time and the focus has actually primarily been on African communities – it was only in the past fiscal year that AAPI communities have been included in this grant as well. All of IPHA's hepatitis B efforts do fall under the umbrella of the HIV/STI/viral hepatitis section. I started at the organization as an AmeriCorps member in November of 2020, and then was hired on to connect with African communities in the area, around the topic of hepatitis B. I am very glad to have had a role in really growing IPHA's initiative and moving the outreach project along from the beginning – during my time here, I have built connections and made contacts with grassroots organizations and individuals, including a large and engaged group of African pastors in the area, who are vital to sharing important and valuable health information.
Could you tell me a little bit about what some of IPHA's programs are that specifically address hepatitis?
Monde: A lot of the organization's focus has been on educating institutions and utilizing African community members who are influential in their spheres to help raise awareness and educate community members about hepatitis B. One important undertaking has been to recruit MPH students of African descent to distribute materials and make connections, and to offer assistance with services – this has been quite effective. We have been able to utilize a partnership between a local Planned Parenthood and Merck Pharmaceuticals to meet community members where they are and to offer a sliding scale for hepatitis B vaccines. We have also been able to conduct outreach to ESL students at community colleges in the area and have been able to reach about 100 students in this way. This has been overall very successful and many of the students were quite engaged and had a lot of questions. One occasional barrier is that strict religious beliefs can sometimes impede open discussion of health issues like hepatitis B.
Which countries are primarily represented in your area's African diaspora?
Monde: We have a huge Congolese community around Champaign and in Central Illinois, and there are many West African immigrants in the Rock Island area as well.
What are some of the biggest challenges in addressing hepatitis at the community level? How have you worked to overcome these? Are there any additional resources that would be helpful to have?
Monde: The biggest challenge is definitely awareness – people often do not realize that hepatitis B is a problem in their communities. Another challenge is finding individuals who are willing and able to do targeted health communication outreach (like the group of pastors mentioned previously). We have been able to do brief interviews with Facebook influencers, which have been helpful, and to build connections with passionate community members. One big lesson I have learned is to not be afraid to reach out to people that you may know personally and they in turn can reach out to their networks – personal relationships work well for this type of outreach!
Another big challenge in hepatitis B and health outreach to African communities is finding materials in the appropriate languages and dialects. Even after all my time in this country, I have not been able to find materials of any kind that are printed in my native language. Many times, materials are printed in standard languages like French, Swahili, and Amharic, but there are different versions of even those languages that many community members may not readily understand. Also, not everyone knows the official languages of different countries. If and when resources are created in a greater number of languages, it is important to pilot-test them in the communities to ensure that they are accurate and meaningful in the language as it is used in daily life.
Additionally, many people who are newly arrived to this country don't know much about how to navigate the healthcare system here and don't have health insurance. If they do have health insurance, they may not know that hepatitis B testing and vaccination are covered under their plan. One idea that might be helpful would be to have an easily accessible list of African healthcare providers or community health workers who are interested in serving their own communities. This might help people to feel more comfortable and that their healthcare provider relates to their personal experiences.
What do you think are some of the biggest barriers in raising awareness and addressing rates of hepatitis screening and linkage to care at the local, state, and federal levels? Do you think more could be done in these spheres to address this problem?
Monde: I think again that awareness continues to be the biggest issue here and that continued engagement with leaders in this area is important and crucial for advocacy. People need to recognize the consequences of not testing for, preventing, and treating hepatitis B. Leaders need to also continue to hear about disparities that exist in healthcare, such as the high rates of hepatitis B in African communities around the US. Encouraging more community members to be involved in grassroots advocacy can also go a long way toward policy formulation, increased awareness, and, importantly, more funding for efforts to combat hepatitis B. It would be great if some of the same energy and efforts that have been used in the HIV space over the past several decades could be used in the hep B space as well.
Do you see this issue as being connected to other concerns facing African immigrant communities?
Monde: Yes, definitely! High rates of hepatitis B are connected to economic status, English language proficiency, immigration status – even things like having knowledge of and access to public transportation to get to appointments on time is part of the issue as well. Understanding of cultural customs that may be confusing and pose challenges for those who are new to this country, like leaving a voicemail and navigating the phone systems of many doctor's offices and clinics, should also be considered when ensuring that healthcare and health information are truly culturally and linguistically appropriate and actually accessible for all communities. The social determinants of health are important and must be considered in making decisions and designing everything from communications campaigns to policies.
What are your favorite parts about your job? What got you interested in this work?
Monde: I started out as a social worker and when I came to the US, became a nursing assistant. I worked in a nursing home, and, while in school, an advisor recommended a public health class to me and this changed everything! I started outreach work and really liked public health – I then became an AmeriCorps member and started my journey at IPHA! I have most enjoyed interacting with people from many different walks of life, answering questions, and offering guidance and clarity around hepatitis B. Seeing all different sides of the issue has been challenging and rewarding at the same time.
Thank you so much for taking the time to share your thoughts on your work and the role of IPHA in raising awareness and conducting outreach about hepatitis B to African communities across the state of Illinois. We appreciate all that you do!
Monde: Thank you!