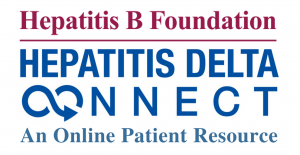 By Sierra Pellechio
The Hepatitis B Foundation is excited to launch the Hepatitis Delta Connect program to provide education and resources for patients and families affected by hepatitis D, the most aggressive form of viral hepatitis. Hepatitis D infection requires the presence of the hepatitis B surface antigen (HBsAg), so only people already infected with hepatitis B can become infected with hepatitis D.
There is a large gap in knowledge and awareness about this virus, and the foundation is working to provide easily-accessible information and support to those in need.
Because the hepatitis D virus (HDV) is acquired only if a hepatitis B infection is present, it can be effectively prevented through hepatitis B vaccination. While hepatitis D is not common in the United States, worldwide it affects 15-20 million people.
Areas with the highest rates of hepatitis D infection rate include China, Russia, the Middle East, Mongolia, Romania, Georgia, Turkey, Pakistan, Africa and the Amazonian river basin. It is transmitted through direct contact with infected blood and bodily fluids, and most commonly affects high-risk groups such as intravenous drug users, men who have sex with men or have multiple sexual partners, and people emigrating from countries where hepatitis D is common.
Hepatitis D can be acquired either through coinfection (becoming infected with hepatitis D and B at the same time) or a super-infection (becoming infected with hepatitis D after a person has hepatitis B). A coinfection generally resolves spontaneously after about six months, but it can sometimes result in life-threatening or fatal liver failure. Like hepatitis B, hepatitis D may not present with any symptoms, so getting a simple blood test is the only way to know if you are infected.
Treatment options are limited, but pegylated interferon has shown some effectiveness in a small percentage of patients (less than 30 percent). The good news is that there are five promising drugs currently in clinical trials. Visit our HDV Drug Watch and Clinical Trials page for more information about these drugs. We at the Hepatitis B Foundation appreciate the support of Eiger Biopharmaceuticals to help launch this valuable patient-focused program.
Hepatitis D is a complicated virus, and for this reason, it is very important for patients to find a knowledgeable liver specialist (or hepatologist) who can provide the best care and management.
The most important message for those living with hepatitis B is to get a simple blood test to find out if they have hepatitis D if they believe they are at risk. There are promising new treatments that could help prevent the serious complications related to a hepatitis B and D coinfection.
As the coordinator of Hepatitis Delta Connect, I am thrilled about this opportunity to help create a resource for patients who are living with hepatitis D. My experience in health literacy and community outreach blend with my commitment to support those in need, allowing me to promote the project in ways that will help raise the visibility of hepatitis D and let the 15-20 million infected people know that they are not alone.
In addition to our website, please email questions to connect@hepdconnect.org follow us on Facebook, Twitter and Instagram (@hepdconnect) to join the global conversation. We look forward to hearing from you.