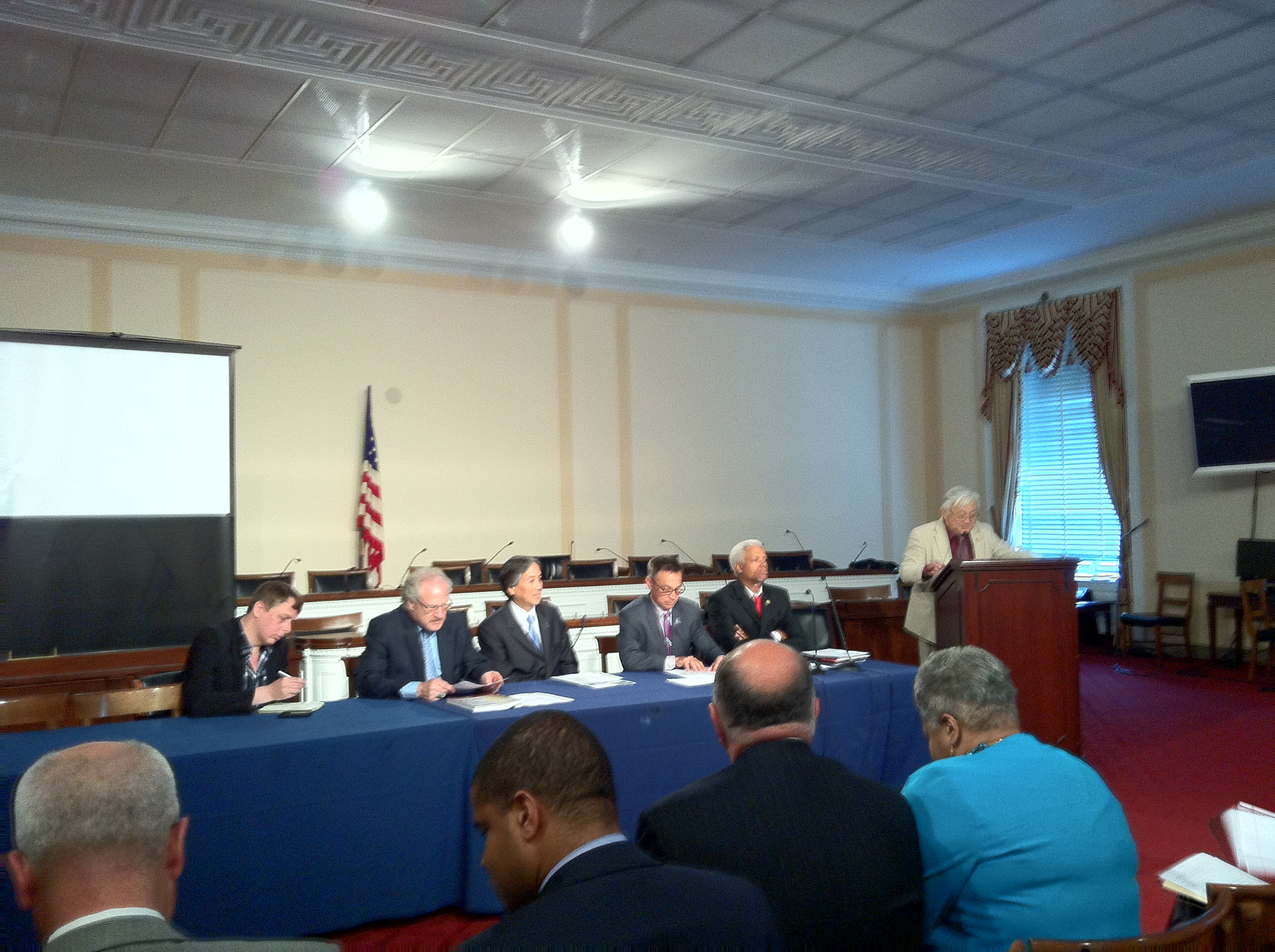 On May 17, I attended the Congressional Briefing on Chronic Hepatitis and Liver Cancer, hosted by our unwavering champions, Congressmen Michael Honda (CA) and Charlie Dent (PA).The room was filled with representatives from the advocacy community, elected officials and government agencies, and industry.
The event was scheduled to promote the first National Hepatitis Testing Day (May 19th) and to acknowledge the one-year anniversary of the HHS Action Plan for the Prevention and Treatment of Viral Hepatitis. Congressman Honda also wanted to recognize his colleagues who have joined the new Congressional Hepatitis Caucus and also attended today's briefing:  Judy Chu (D-CA), Bill Cassidy (LA), Hank Johnson (GA), Barbara Lee (CA) and Donna Christensen(Virgin Islands). Although Congressman Dent was unable to attend the event, he sent his full support of both the issue and the event.
We now see more Congressional champions supporting the Hepatitis initiative,  and in many cases sharing their own personal stories on how this disease has impacted their lives. For example, Congressman Johnson spoke about his personal experience in combating hepatitis C and the need for more action to increase testing and access to care.
The HHS Assistant Secretary for Health Dr. Howard Koh was one of the most charismatic persons in the room, giving credit to both the Congressional Champions and the public health heroes.
Dr. Koh also specifically mentioned that the Hepatitis B Foundation, a Pennsylvania non-profit organization, has done incredible work developing a strong system to ensure that chronic hepatitis B patients identified during community screenings have access to care. Dr. Koh also commended his agency colleagues at HHS –  Dr. Ron Valdessari, Ms. Corrina Dan, and Ms. Sophie Tan for their tireless work to address this public health crisis.
It is all of these resources coming together and the strong interagency collaboration that has helped bring about the first National Hepatitis Testing Day in the U.S.. Dr. Koh also mentioned that the updated hepatitis C screening guidelines would soon be available.
Dr. John Ward (DVH/CDC)  spoke about the power of the  CDC's "Know More Hepatitis"campaign and how interagency collaboration are positive steps toward getting the epidemic under control.  Dr. Ward also mentioned the successful Hepatitis B models in Philadelphia and Seattle, and noted that there will be more resources available in the future.
The CDC views viral hepatitis as a national crisis and Dr. Ward encouraged everyone to access the CDC website. In particular he mentioned a new CDC risk assessment tool that will help prompt testing discussions between high risk individuals and their doctor.
Mr. Bob Lubran (SAMSHSA) who oversees 1,250 opiod treatment centers across the country spoke about the challenge of treating Hepatitis C patients in these settings. He called for an extensive education program not only for patients, but for supporting health-care personnel.  There is also a significant challenge involved in managing viral hepatitis hepatitis patients and ensuring they remain on their treatment.  Mr. Lubran stated that almost 80% of the folks in these treatment centers are infected with hepatitis C.
The last speaker of the morning was Daniel Raymond, current chair of the National Viral Hepatitis Roundtable (NVHR) and representative of over 200 member organizations working at the grassroots level to promote community education and screening.  In his remarks he noted that there have been some successful programs, and that we are seeing many patients identified and getting care,but there is certainly more work to be done. We are not winning when it comes to effectively screening those at-risk groups such as pregnant women, AAPI communities, and HIV-infected MSM for hepatitis B, and subsequently vaccinating those individuals that would benefit. We are also missing an opportunity to screen for hepatitis C and potentially treating and curing identified patients. There is a solid plan in place, but we still have a long way to go.
Molli Conti
Director, Public Policy & Affairs
Hepatitis B Foundation