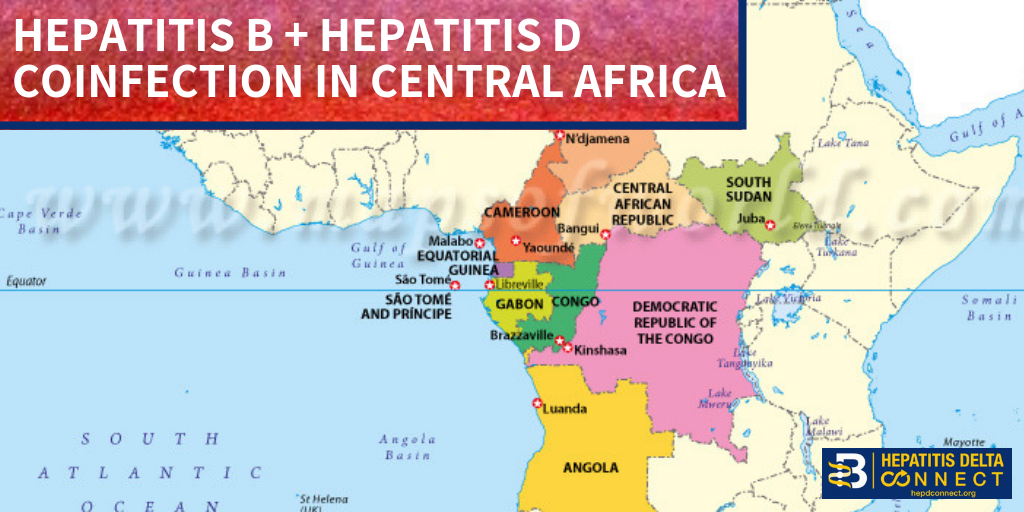 By Sierra Pellechio, Hepatitis Delta Connect Coordinator
While hepatitis B is known to be highly endemic to sub-Saharan Africa and is estimated to affect 5-20% of the general population, the burden of hepatitis D, a dangerous coinfection of hepatitis B, has largely been left undescribed. Since the virus's discovery 40 years ago, Africa has faced structural barriers that have contributed to the ongoing prevalence of the virus in this region. Widespread instability, under-resourced health systems, and poor surveillance have contributed to inadequate research and a lack of understanding about the health burden of hepatitis D on hepatitis B patients, particularly in Central Africa.
New data, however, reveals pockets of hepatitis B/D coinfection in this region, particularly in countries such as Cameroon, Central African Republic and Gabon. In a recently published study of nearly 2,000 hepatitis B infected blood samples from 2010-2016 in Cameroon, 46.7% tested positive for hepatitis D antibodies, a marker of past or current hepatitis D coinfection. Another study of 233 chronic hepatitis B carriers from 2008-2009 found a 17.6% positivity for hepatitis D antibodies. Other small studies from the Central African Republic have revealed 68.2% prevalence in hepatitis B patients, 50% coinfection in liver cancer patients and an 18.8% coinfection in hepatitis B infected pregnant women. Not only are new studies revealing evidence that there are groups at higher risk for hepatitis D, but a 2008 study on 124 community members in Gabon found 66% of them had markers for hepatitis D, proving this virus can also be circulating in the general population. Globally, hepatitis D is thought to affect about 5-10% of hepatitis B patients, making Central Africa an area of extremely high prevalence.
A diagnosis with hepatitis B and D can increase the risk for cirrhosis and liver cancer by nearly three times, and with only one available treatment, the future for coinfected patients if often uncertain. Although hepatitis B and D can be safely prevented by completing the hepatitis B vaccine series, which is available in many countries throughout Africa, the birth dose of the hepatitis B vaccine is often not given within the recommended 24 hours of birth. Lack of awareness, availability, and high cost mean many infants will not begin the vaccine series until 6 weeks of age, creating a window for exposure to hepatitis B. Greater than 95% of babies infected with hepatitis B will go on to develop chronic hepatitis B infections, leaving them susceptible to a future hepatitis D infection. Spread the same way as hepatitis B, through direct contact with infected blood and sexual fluids, hepatitis D can be contracted through unsterile medical and dental equipment and procedures, blood transfusions, shared razors and unprotected sex. Although the severity of disease varies greatly by hepatitis D genotype, coinfection always requires expert management by a knowledgeable liver specialist, which are often difficult to find.
As an increasing number of studies continue to describe the widespread endemicity of hepatitis B/D coinfection and its public health burden, researchers and the Hepatitis Delta International Network are calling on the World Health Organization (WHO) to declare hepatitis D a "threat" in this region in order to promote increased priority and awareness. Addressing hepatitis B/D coinfection prevention and management will be complex and require a multi-pronged approach through methods such as government prioritization, increased funding for health systems, hepatitis B vaccination awareness programs, birth dose prioritization, better sterilization techniques in hospitals, clinics, and barbers, and public awareness of the disease.
For more information about hepatitis B/D coinfection and the Hepatitis Delta Connect program, please visit www.hepdconnect.org or email us at connect@hepdconnect.org. Hepatitis Delta Connect seeks to provide information, resources and support for hepatitis B/D patients and their families through its website, social media, fact sheets, webinars and hepatitis D liver specialist directory.