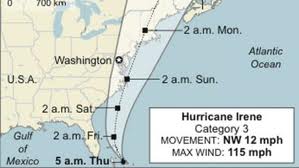 Hurricane Irene is currently slamming the eastern seaboard.  I wrote this blog in anticipation of losing power.  It was a tough week. First, the east coast "earthquake of the century", and now Hurricane Irene and related flooding.
Last spring, during an incredible deluge of flooding, a tweep (an HBF friend on twitter) was concerned about the increased risk of HBV infection due to flooding.  She asked that I warn flood victims about this potential hepatitis risk.
The risk of hepatitis B is unlikely even with the threat of hurricanes and heavy flooding.  Once again the confusion between hepatitis A and hepatitis B seems to be the issue.  It's important to know the ABCs of viral hepatitis. Hepatitis A is spread as a result of contaminated food and water, which could readily occur during severe flooding or a natural disaster when clean sources of water may be  hard to come by.  Overcrowding, contaminated water, and compromised sanitation all increase the risk of hepatitis A transmission. This is unlikely with HBV since it is transmitted through blood or body fluid contact of an infected person to an open wound, mucous membrane or orifice of another person.  Perhaps over a long period of time with a catastrophe of historic proportions, the odds of transmission would be increased, but in most cases it is extremely unlikely.  Some of this would also be dependent on the conditions prior to the disaster, and the projected length of time in overcrowded conditions, without adequate sanitation and clean water sources.  The worse the conditions, perhaps a country already struggling, or lacking the infrastructure to provide clean water, or adequate sanitation,  the higher the likelihood. The emergency response time and actions might also contribute. Once again this would vary with the country or area, and the infrastructure in place prior to the disaster.
Getting vaccinated against hepatitis A and B is kind of like a mini insurance policy, or pulling together an emergency supply kit for your family. You never know when you're going to need it, and it's better to be safe than sorry.
Flashlights and replacement batteries are impossible to find hours before the storm. In the midst of a disaster, or in those precious hours before a disaster occurs, it is unlikely potential hurricane or flood victims are going to flock to their Primary Care Physician to ensure they are vaccinated against Hepatitis A and B.  However, it is yet another reminder that we are all vulnerable.  Should the opportunity exist to get the vaccine against HBV and HAV, whether separately or in combination, it is certainly worth pursuing during a time of calm rather than waiting for an emergency.  The vaccines are safe and effective.  Get vaccinated and be safe.