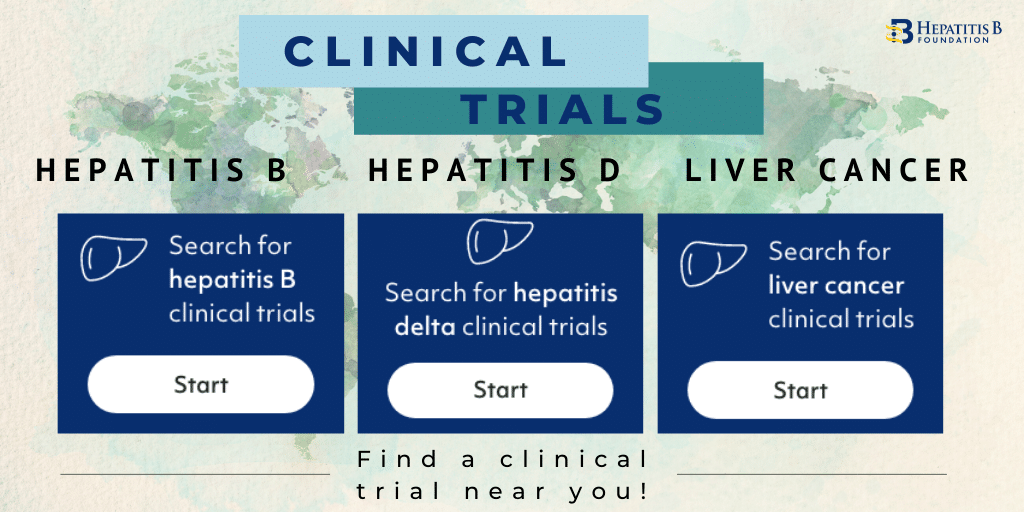 The Hepatitis B Foundation is thrilled to announce the addition of a new clinical trials search tool to our website! People around the world can now easily search for clinical trial opportunities on the Hepatitis B Foundation website. Created by Antidote – a company that designs technologies to link patients with scientific opportunities – the new tool filters through all of the trials listed in the U.S. National Library of Medicine's database of private and publicly funded studies. Searching for clinical trials can be time-consuming and confusing to navigate, but this resource eases the process by finding the best trials for you based upon a series of questions.

You can now search for hepatitis B, hepatitis D and liver cancer clinical trials with a few simple clicks! Clinical trials are a series of research phases that a new drug must go through in order to be approved for widespread use. They are an essential to proving that a treatment is safe and effective for the larger population. Generally, these trials take 10-15 years to go from the laboratory to the public, but delays in finding or retaining enough volunteers can extend the process. 
Diverse participation in clinical trials is needed to make sure that a treatment is effective for all groups. Research diversity matters greatly for several reasons. Studies have shown that different races and ethnicities may respond differently to a certain medication. In addition, researchers need to examine the impact of the medication on the populations that will eventually use them. According to data from the U.S. Food and Drug Administration (US FDA), individuals from Africa and Asia or of African and Asian descent consistently remain underrepresented in clinical trials; these populations are also disproportionately impacted by hepatitis B.  If these groups are underrepresented in trials for hepatitis B treatments, new drugs may not be as effective in these communities, or there may be side effects that researchers were not aware of. 
How Our Clinical Trials Finder Works 
 Using our Clinical Trial Finder takes just a few minutes. After clicking the 'search' button, the user will answer a series of questions of general demographic and health questions to determine what trials are near you and you fit the criteria for. You will be able to view the available trials at any point while answering questions, but answering all of the questions will give you the best results. You will also have the option to leave your email to receive personalized trial alerts for new trials that you are eligible for in your area! The new tool is designed to match those who wish to join a clinical trial to the best option for them; it is not designed to benefit any company.
 Benefits of Participating in Clinical Trials
While participating in clinical trials helps drug developers, it can also provide major benefits to the participant as well! Blood work, treatments, and monitoring – which can be expensive –  are often provided for free to those who are eligible for the duration of their participation in the study. Volunteers can also potentially benefit from the latest medical advancements and developments! 
Help Improve the Future of Clinical Trials 
5You can also help improve the future of drug development and clinical trials by taking our patient engagement survey! The survey, which takes approximately 20-25 minutes to complete, will be made available for use by the US FDA and drug development researchers to help clinical trial development for future hepatitis B therapies. All survey responses are anonymous.