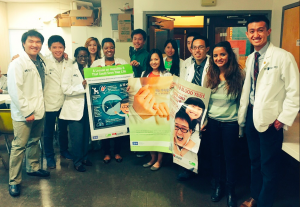 May is Hepatitis Awareness month. Why do we need an annual reminder about hepatitis B? Because 65 percent of the estimated 2.2 million people in the U.S. living with hepatitis B don't know they're infected.
Studies show when people know their hepatitis B status, they're more likely to get monitored regularly, get treatment, and take steps to avoid passing on the disease to partners and their children.
So why are so many Americans unaware of their hepatitis B infection? Here are five roadblocks that stop us from getting tested for hepatitis B, and what how we can do to overcome them.
We feel fine, so we assume we're not infected. Hepatitis B rarely causes symptoms. There are very few sensory nerves around the liver, so when a viral hepatitis infection strikes, we rarely feel its effects. As a result, most of us – especially if we were infected as children or newborns – never experience any symptoms for decades. So remember, "feeling OK" is no excuse to avoid testing. Continue reading "It's Hepatitis Awareness Month: Five Reasons We Don't Get Tested, and How to Overcome Them" →