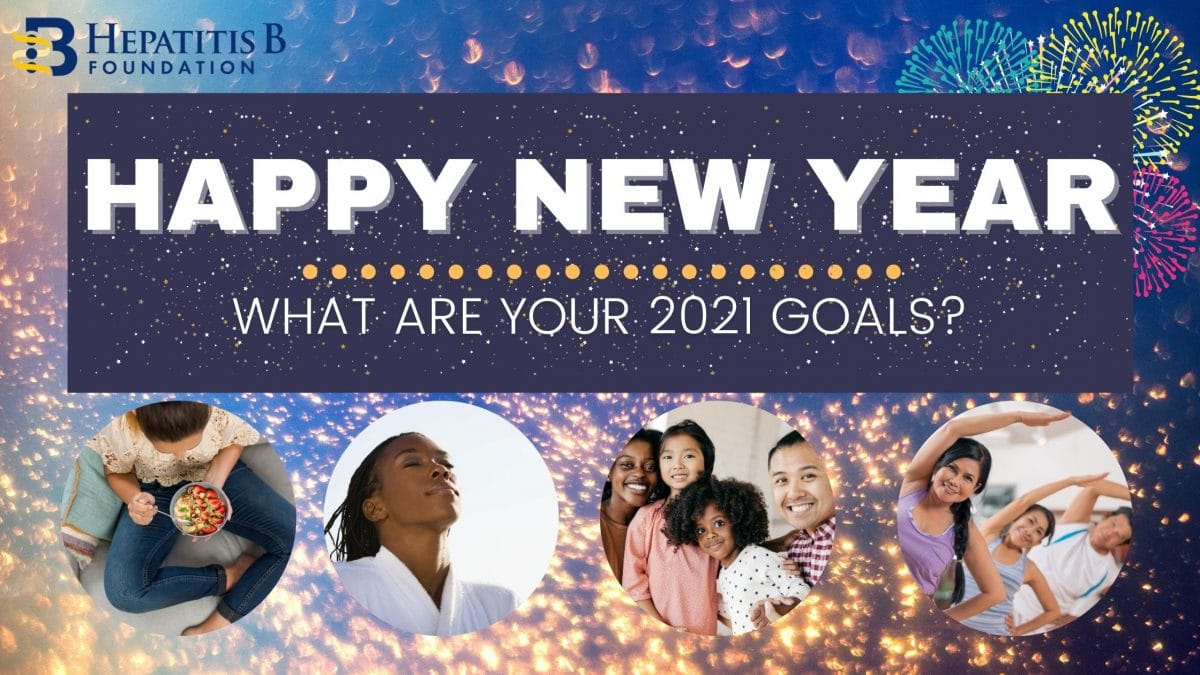 2020 was a difficult year for most of us. The coronavirus pandemic challenged us professionally, personally and could have led to financial hardship or strained relationships. 2021 ushers in a new year of resilience and resolutions. 
If you are living with chronic hepatitis B, you may feel as though you are not in control of your health, but that's not true! Small changes to your daily life can go a long way towards improving your liver health and may even prevent liver damage from occurring. Here are four New Year's resolutions to help you start 2021 off right!
Kick Your Old Habits to the Curb: Did you know that not only does smoking hurt your lungs, it also negatively impacts your liver? Old habits can be hard to break, but staying healthy is important. Smoking cessation can be hard! Instead of going cold turkey, maybe reduce your cigarette intake from smoking every day to every other day and work your way up to complete cessation. Did you know that insurance plans in the United States must cover smoking cessation programs through preventive care under the Affordable Care Act? This means that copayments and coinsurance can't be applied to these programs. Taking the first step is better for your liver and your wallet!
Cook More: As you decrease your smoking intake, increase your cooking habits! Cooking can be a lot of work, but it can also be fun. Regularly eating fast-food and highly processed meals are bad for your liver and can leave you feeling lethargic, so try switching things up. Consider signing up for a virtual cooking class with your friends or family to learn some new tricks in the kitchen. You don't have to make every meal from scratch; start by making one or two fresh meals a week and increase them as you feel more confident. Don't know where to start? Try one of these recipes – desserts included!  There is no standard diet for chronic hepatitis B patients, but the American Cancer Society's low fat, low cholesterol, and high fiber meal ideas are a good, general diet to follow.
Take Some Time For Yourself: Stress is bad for every part of your body – including the liver – so it is important to take some time for yourself. Set a few hours aside each week to do an activity that you enjoy. You can take up journaling, practice mindfulness, or go on a quick walk to help relieve stress – whatever relaxing activity feels right for you. If you have the resources, you may want to consider planning a vacation or taking a small weekend trip. Even if you can't get away, set a goal to spend more time outdoors. Green spaces, such as an urban park or a forest, have been known to lower stress levels and can help manage weight, which is an important part of maintaining liver health.
Get Active: Exercising more might be one of the most common New Year's resolutions, but it is also one of the most important ones! If you're tired of going to the gym or bored with your old routine, try your hand at an exercise you hadn't considered before. Yoga, pilates, running, and kickboxing are just a few examples of fun workouts that you can add to your exercise catalog and can be done outside of a typical gym setting. If you're looking for affordable exercise options, be sure to check out some of the free exercise videos you can find on YouTube. You can also try hiking at your local park or joining a local community center!
New Year's resolutions can be difficult to keep, especially if you are trying to do them all at once. The important part is to begin! If you are having trouble meeting your goals, pick one to start with and add another goal once it becomes a part of your routine.
Author: Evangeline Wang, Program Coordinator
Contact Information: info@hepb.org