As we wrap up 2022, we hope you'll take some time to look back and celebrate the exciting and important hepatitis B policy and advocacy achievements of the past year! Community partners and grassroots advocates around the world came together to advance our shared advocacy goals and working toward the elimination of hepatitis B.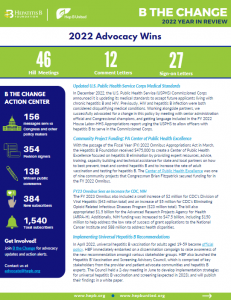 This year we celebrated big wins in the U.S. including:  
Congressional Funding for Pennsylvania Center of Public Health Excellence  
With the passage of the Fiscal Year (FY) 2022 Omnibus Appropriations Act in March, the Hepatitis B Foundation received $475,000 to create a Center of Public Health Excellence focused on hepatitis B elimination by providing expert resources, advice, training, capacity building and technical assistance for state and local partners on how to best prevent, treat and control hepatitis B, and to increase the rate of adult vaccination and testing for hepatitis B. The Center of Public Health Excellence was one of nine community projects that Congressman Brian Fitzpatrick secured funding for in the FY 2022 Omnibus. 
Implementing Universal Hepatitis B Recommendations   
In April, universal hepatitis B vaccination for adults aged 19-59 became official recommendation. HBF immediately embarked on a dissemination campaign to raise awareness of the new guidelines amongst various stakeholder groups. HBF also launched the Hepatitis B Vaccination and Screening Advisory Council, which is comprised of key stakeholders from the provider and patient advocate communities and hepatitis B experts. The Council held a two-day meeting in June to develop implementation strategies for universal hepatitis B vaccination and screening (expected in 2023) and will publish its findings in a white paper. 
 As our network of grassroots advocates and storytellers continues to grow, we have also expanded our involvement in state/local advocacy and global advocacy. Our ongoing advocacy efforts in the U. S. include calling on Optum to restore the hepatitis B treatment Vemlidy back to their health insurance formulary. Globally we continue to put pressure on Gavi to move forward with implementation of hepatitis B birth dose in member countries, urging members of Congress and President Biden to help end hepatitis B discrimination in the U.S. military, recognizing National African Immigrant and Refugee HIV and Hepatitis Awareness (NAIRHHA) Day in the U.S., advocating for universal adult hepatitis B screening, and increasing funding for hepatitis B and liver cancer. 
Updated U.S. Public Health Service Corps Medical Standards  
The U.S. Public Health Service (USPHS) Commissioned Corps announced in December that it is updating its medical standards to accept future applicants living with chronic hepatitis B and HIV. Previously, HIV and hepatitis B infection were both considered disqualifying medical conditions. The Hepatitis B Foundation became aware of this issue in late 2020, when an individual with hepatitis B applied to serve but was denied due to their hepatitis B infection. Working alongside partners, we successfully advocated for a change in this policy by meeting with senior administration official and Congressional champions, and getting language included in the FY 2022 House Labor-HHS Appropriations report urging the USPHS to allow officers with hepatitis B to serve in the Commissioned Corps.  
Check out the report to learn more!  
https://www.hepbunited.org/assets/Advocacy/5d40b3bcc9/2022-HBU-Year-in-Review-Final.pdf 
From all of us at the Hepatitis B Foundation and Hep B United, THANK YOU for your continued support and dedication to advocating for hepatitis B awareness, prevention, treatment, and research and combatting stigma and discrimination. We are so proud of what the hepatitis B advocacy community achieved this year, and we look forward to continuing to work together to build on the momentum of these accomplishments in 2023!