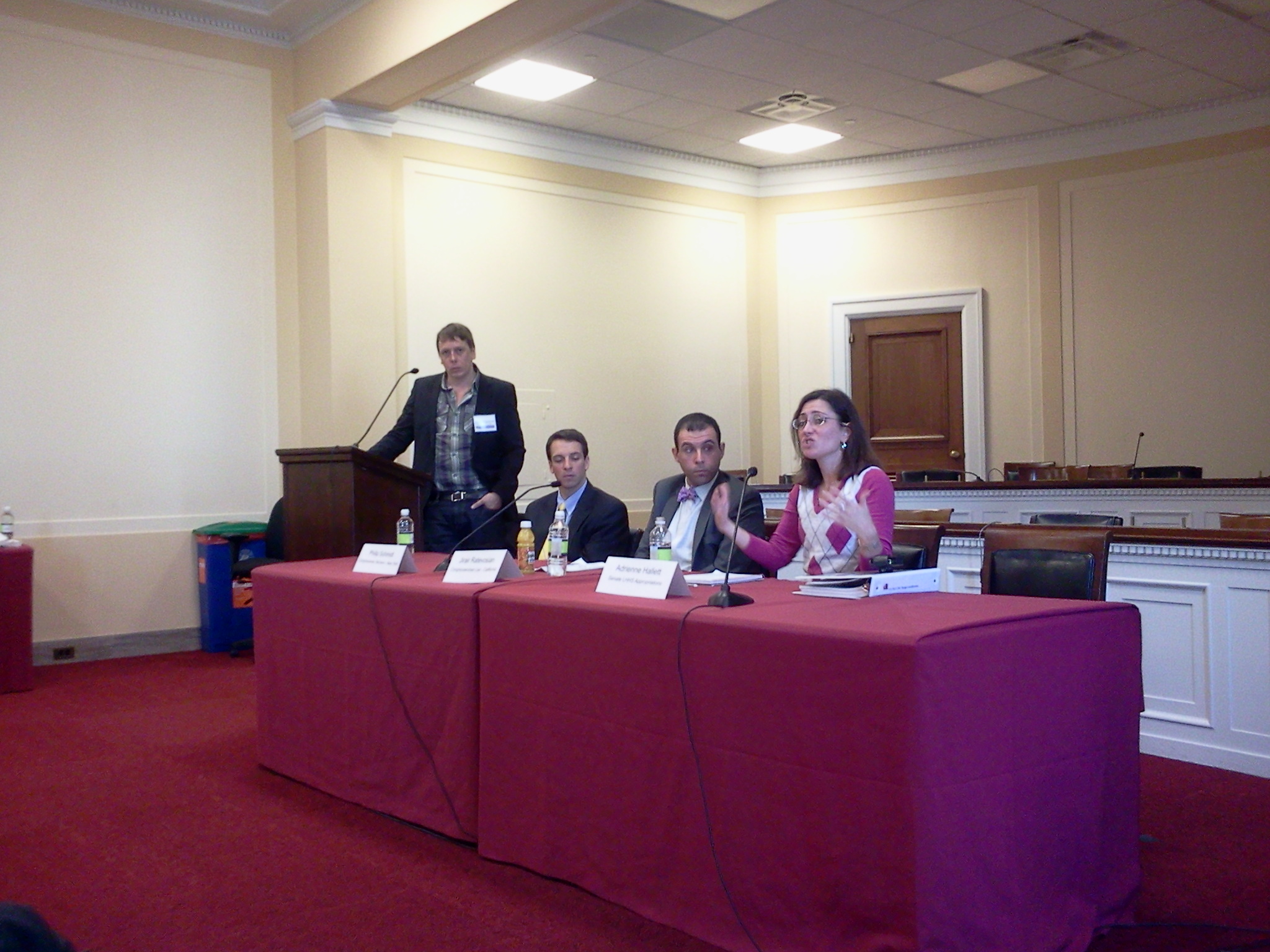 Earlier this week, I attended the 2012 Viral Hepatitis Policy Summit held in Washington D.C. The audience at the summit is viral hepatitis advocates for both hepatitis B and C. With the recent data on deaths from HCV surpassing those from HIV, and with an arsenal of new, effective drugs, HCV is clearly in the forefront of discussions at this time. Since my personal experience is HBVpatient oriented, I always struggle with keeping up with the details of the meetings, but I suspect most people reading this blog are in the same place, so I'll try to make the take home message as simple as possible.
The first day was held at NASTAD with visits from Dr. John Ward of the CDC, Division of Viral Hepatitis, and from Dr. Ron Valdiserri and Corinna Dan of the Health and Human Services (HSS) Office of the Assistant Secretary for Health, Infectious Diseases.  Everyone is anxiously awaiting the release of the CDCs updated hepatitis C screening recommendations. They will be coming out later than expected, and that is unfortunate because it is hoped they will be released in time to help drive the guidelines written by (US Preventive Services  Task Force)USPSTF, which helps determine what procedures will ultimately be covered by Medicare (and paid for by private insurance  companies as well.) As of now, it doesn't look like the USPSTF guidelines will include HCV testing for high-risk individuals, so it is hoped that the CDC recommendations will counter these guidelines to help improve future HCV screening rates in the U.S. This potential time bomb was a source of conflict throughout the entire two days of the summit.
The other hot button was the $10million that was allotted to the Division of Viral Hepatitis  to carry out all tasks viral hepatitis oriented. I'm no accountant, but there's a lot of work to be done and $10M is not that much money in the scheme of things. How will this money best be put to use – collecting surveillance data, running screening programs, linkage to care for those who test positive, HBV vaccinations…the list goes on. And the money must be carefully monitored and be associated with a successful program if we are to warrant additional future funding. One message was made clear – advocate groups had best collaborate and be very creative in order to make things happen on the viral hepatitis front. I believe this is true, but it's hard to make things happen without money to build the infrastructure or put these programs into place.
The second day was held at the Rayburn building, which is one of the Congressional office buildings. There was a full day of presentations, starting with visits from some of viral hepatitis's champions in Congress including Congressman Honda (CA), Congressman Dent (PA) and Congresswoman Judy Chu (CA). There are other champions in Congress, but we need more if we are to make a dent in the viral hepatitis problems. That's where the work of the advocates and those living with hepatitis come into play. You need to get involved and make your state Representative understand how serious viral hepatitis is in his or her district.
There were various panels throughout the day including a panel of staff from some of the viral hepatitis Congressional champions, guests from the Office of Management and Budget (OMB), and an informal discussion with DC based policy experts on working with the Administration and Congress. Then there were the discussions of fiscal year 2013, appropriations discussions, a discussion of viral hepatitis testing and health care reform and how it applies to viral hepatitis. That's a mouth full. I spent a lot of the day trying to figure out what money was really available, where it came from, and which pots of money were in jeopardy of disappearing. It's complicated, and I'm not going to pretend to really understand it. There's the President's budget and what he recommends.  Budgets need to be passed by the House and the Senate, which is very tough these days with the political and fiscal climate on the Hill.
I don't believe it's necessary for the average American living with viral hepatitis to talk-the-talk and track the pots of money that may or may not ever be dedicated to viral hepatitis. Your Congress person is under a lot of pressure to make fiscal decisions based on the needs of his or her constituents.  We were told they literally enter their top picks into the computer on where they think money should be spent. It is our job to see that viral hepatitis is on the list. One of the staff members noted how important a number of small splashes are compared to a big splash that may occur with large, media driven events. He gave a take home message that even I can understand. As viral hepatitis advocates or patients living with hepatitis, if just one person from each district were to contact his Representative and drive home the importance of funding for viral hepatitis, it would make a difference. We need to put viral hepatitis on the radar of our Representatives and our Senators. Few politicians are knowledgeable about viral hepatitis. Individual efforts would go a long way towards educating and raising awareness of the people that are representing us in office. Make the story personal. Let them know the cost of treatment is nothing compared to the cost and burden of transplantation.  Make viral hepatitis part of their vocabulary and put a face on it.
The final message I got, which is more patient oriented, was based on a side discussion about what happens after testing guidelines are established. For example, there are testing guidelines for HBV, and yet even those in high risk groups may not be getting tested, nor are they vaccinated. One physician recommended that as advocates, we need to stress the importance of these guidelines to the professional associations to which our doctors belong. That is the job of advocacy organizations like the Hepatitis B Foundation and others. However, ask around and see if you, or friends and loved ones are being screened for diseases such as HBV, HIV or HCV.  Does your doctor ask you if you are foreign born, or if you travel frequently to developing nations?  Does he spend enough time with you to know about your lifestyle and whether it might put you at risk? Most likely, your doctor does not know if you are willingly or unwillingly involved in activities that may increase your risk for HBV. It's yet another reason why it's so important for patients to get involved in their own care and offer up information that might make your doctor consider preventive screening. And if all else fails, ask your doctor about being screened for HBV, HCV or HIV if you believe you are at risk.