What is Hepatitis?
Hepatitis simply means inflammation of the liver which can be caused by infectious diseases, toxins (drugs and alcohol), and autoimmune diseases. The most common forms of viral hepatitis are A, B, C, D, and E. With 5 different types of hepatitis, it can be confusing to know the differences among them all.
The Differences
While all 5 hepatitis viruses can cause liver damage, they vary in modes of transmission, type of infection, prevention, and treatment.
Hepatitis A (HAV) is highly contagious and spread through fecal-oral transmission or consuming contaminated food or water1. This means that if someone is infected with hepatitis A they can transmit it through preparing and serving food and using the same utensils without first thoroughly washing their hands. Symptoms of HAV include jaundice (yellowing of skin and eyes), loss of appetite, nausea, fever, abnormally colored stool and urine, fever, joint pain, and fatigue1. Sometimes these symptoms do not present themselves in an infected person which can be harmful because they can unknowingly spread the virus to other people. Most people who get HAV will feel sick for a short period of time and will recover without any lasting liver damage2. A lot of hepatitis A cases are mild, but in some instances, hepatitis A can cause severe liver damage. Hepatitis A is vaccine preventable and the vaccine is recommended for people living with hepatitis B and C. Read this blog post for a detailed comparison of hepatitis B and hepatitis A!
Hepatitis B (HBV) is transmitted through bodily fluids like blood and semen, by unsterile needles and medical/dental equipment and procedures, or from mother-to-child during delivery1. HBV is considered a "silent epidemic" because most people do not present with symptoms when first infected. This can be harmful to individuals because HBV can cause severe liver damage, including cirrhosis and liver cancer if not properly managed over time3. Hepatitis B can either be an acute or chronic infection meaning some cases last about 6 months while other cases last for a lifetime. In some instances, mostly among people who are infected as babies and young children, acute HBV cases can progress to a chronic infection3. Greater than 90% of babies and up to 50% of young children will develop lifelong infection with hepatitis B if they are infected at a young age.
Hepatitis C (HCV) is similarly transmitted like HBV through bodily fluids, like blood and semen, and by unsterile needles and medical/dental equipment and procedures. Symptoms of HCV are generally similar to HAV's symptoms of fever, fatigue, jaundice, and abnormal coloring of stool and urine1, though symptoms of HCV usually do not appear until an infected individual has advanced liver disease. Acute infections of hepatitis C can lead to chronic infections which can lead to health complications like cirrhosis and liver cancer1. Read this blog for a detailed comparison of hepatitis B and hepatitis C!
Hepatitis Delta (HDV) infections only occur in persons who are also infected with hepatitis B1,3. Hepatitis Delta is spread through the transfer of bodily fluids from an infected person to a non-infected person. Similar to some other hepatitis viruses, hepatitis Delta can start as an acute infection that can progress to a chronic one. HDV is dependent on the hepatitis B virus to reproduce3. This coinfection is more dangerous than a single infection because it causes rapid damage to the liver which can result in fatal liver failure. Find out more about hepatitis B and hepatitis Delta coinfection here!
Hepatitis E (HEV) is similar to hepatitis A as it is spread by fecal-oral transmission and consumption of contaminated food and water1. It can be transmitted in undercooked pork, game meat and shellfish. HEV is common in developing countries where people don't always have access to clean water. Symptoms of hepatitis E include fatigue, loss of appetite, stomach pain, jaundice, and nausea. Talk to your doctor if you are a pregnant woman with symptoms as a more severe HEV infection can occur. Many individuals do not show symptoms of hepatitis E infection1. Additionally, most individuals recover from HEV, and it rarely progresses to chronic infection. Read this blog for a detailed comparison of hepatitis B and hepatitis E!
Here is a simple table to further help you understand the differences among hepatitis A, B, C, D, and E.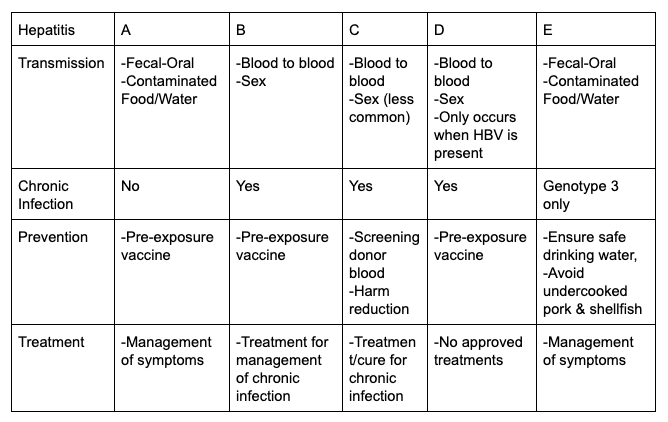 Prevention
Fortunately, hepatitis viruses are preventable.
Hepatitis A is preventable through a safe and effective vaccine. The Centers for Disease Control and Prevention (CDC) recommend that children be vaccinated for HAV at 12-23 months or at 2-18 years of age for those who have not previously been vaccinated. The vaccine is given as two doses over a 6-month span1. This vaccine is recommended for all people living with hepatitis B & C infections
Hepatitis B is also preventable through a safe and effective vaccine. The vaccine includes 3 doses over a period of 6 months, and in the U.S. there is a 2-dose vaccine that can be completed in 1-month1,3. Read more here, if you would like to know more about the vaccine series schedule.
Hepatitis C does not have a vaccine, however, the best way to prevent HCV is by avoiding risky behaviors like injecting drugs and promoting harm reduction practices. While there is no vaccine, curative treatments are available for HCV1.
Hepatitis Delta does not have a vaccine, but you can prevent it through vaccination for hepatitis B1,3.
Hepatitis E does not have a vaccine available in the United States. However, there has been a vaccine developed and licensed in China1,2.
References