This is a guest blog by Jean Holmes, Vice President of Institutional Advancement at the Hepatitis B Foundation and Baruch S. Blumberg Institute.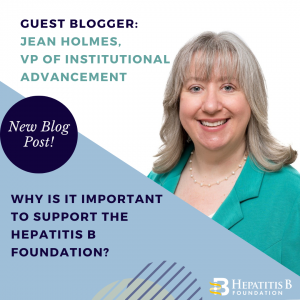 Why is it important to support the Hepatitis B Foundation?
Gosh, where should I start? First off, support this cause if you care about people living with hepatitis B. Because honestly, many people don't. Most people don't know much about hepatitis B, and people don't support things they don't know much about or care about. So, if you are one of the few that do, please consider it, because there aren't enough of us. We NEED you. 
Second, if you do care about people living with hepatitis B, the Hepatitis B Foundation should be on your giving radar. Your support would mean so much, because we have so much to do together.  
If you've made it this far on our website, you probably already know that 300 million people in the world have hepatitis B. Every 40 seconds, someone dies of liver cancer as a result of hepatitis B. Maybe you know someone who has hepatitis B, died of liver cancer, or maybe you have hepatitis B yourself. YOU. MATTER.  
This website is full of information about what the team is doing across the globe to eliminate hepatitis B. They've accomplished so much this past year that will help us gain more momentum in 2023 and beyond. We have to leverage those gains! 
This team is a group of WARRIORS. They are so smart and so dedicated, it blows my mind.  
But they need you.
Thanks again just for being here to care enough to read this post. You obviously care enough to make a difference, so let's start there.  
We can't do this alone. It takes a lot of people to raise their voices in order to bring about change. When you give to the Hepatitis B Foundation, you're telling the world, telling elected officials, telling the people with power, that hepatitis B has a VOICE.  
Your voice.  
What can you do?
Give. Even if it's just $5, it helps. Give just once, or become a member of the Champions Club and give $5 a month. That helps the team keep the work going, and ensures that there's always resources to help people living with hepatitis B. 
Share. Did you know that most people are more likely to support causes that are recommended by family, friends or coworkers? Use your voice! 
Engage. I'll be holding a volunteer panel in early spring to talk with supporters about how we can generate more support and momentum. I need you. Email me at jean.holmes@hepb.org, or call 215-489-4946 if you want to be a part of it. There will be something for everyone to do. 
Listen, there is so much to do. This is going to be a big year, but we need your help. Put your running shoes on, we've got to get going!