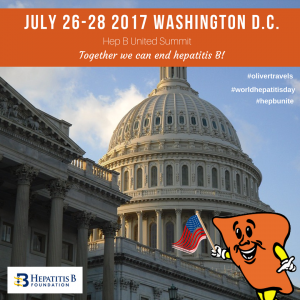 The annual Hep B United Summit, organized by the Hepatitis B Foundation, convenes in Washington D.C. from Thursday, July 27 through Friday, July 28. National and local coalition partners, experts, stakeholders, and federal partners will meet to discuss how to increase hepatitis B testing and vaccination and improve access to care and treatment for individuals living with hepatitis B.
You can watch many of these important sessions on Facebook Live. You can also follow the conversation at the Summit on Twitter with #Hepbunite!
Facebook Live is live video streaming available to all Pages and profiles on Facebook. Check out the agenda below and go to the HepBUnited Facebook Page to view the live broadcast. The session will be made available following the broadcast for those who are not able to join us live.
Here are the details on the sessions that will be broadcast on Facebook Live:
Day 1 – Thursday July 27:
8:30 – 10:00 AM:  Welcome and Introductions
Tim Block, PhD, President & Co-founder, Hepatitis B Foundation and Baruch S. Blumberg Institute, Chari Cohen DrPH, MPH, Co-Chair, Hep B United and Director of Public Health, Hepatitis B Foundation, Jeff Caballero, MPH, Co-Chair, Hep B United and Executive Director, AAPCHO
10:00 – 10:30 AM:  Time to Eliminate Hepatitis B
Dr. John Ward, Director, CDC Division of Viral Hepatitis 
10:30 -11:15 AM:  #justB Storytelling Campaign Panel: Real People Sharing their Stories of Hepatitis B
Rhea Racho, MPP, Public Health Program and Policy Coordinator, Hepatitis B Foundation and storytellers
11:15 – 12:00 PM: Know Hepatitis B Campaign Updates
Cynthia Jorgenson, DrPH, Team Lead and Sherry Chen, MPH, Health Scientist, Division of Viral Hepatitis, Centers for Disease Control and Prevention
12:00 – 12:30 PM:  Increasing Community Awareness and Education
Moderator: Catherine Freeland, MPH, Hepatitis B Foundation and Sherry Chen, CDC
3:00 PM – 4:15 PM:  Breakout Session: Increasing Awareness through Media Engagement
Facilitators: Jessie MacDonald, Vice President, Weber Shandwick and Lisa Thong, Account Supervisor, IW Group
4:15 PM – 5:00 PM:  State of Hep B United
National Advisory Committee
–  Strengthening Coalition Partnerships: Sharing Resources and
–  Overcoming Challenges
Kate Moraras, MPH, Director, Hep B United and Sr. Program Director, Hepatitis B Foundation and Catherine Freeland, MPH, Public Health Program Manager, Hepatitis B Foundation
 Day 2 – Friday July 28
11:30 AM:   Hepatitis B CME Provider Education Program
Amy Trang, PhD, Administrator, National Task Force on Hepatitis B
Focus on Asian Pacific Islander Americans
12:45 PM – 1:45 PM:  HBU Mini-Grantee Presentations
Moderator: Catherine Freeland, MPH, Public Health Program Manager, Hepatitis B Foundation
Not able to join the sessions with Facebook Live? Follow the conversation on Twitter using the #Hepbunite hashtag. Follow the events, Retweet and engage with event attendees and help us raise hepatitis B awareness in the U.S. and around the globe.
World Hepatitis Day is July 28th, and this Summit is a terrific opportunity to share with the world what we're doing to help those living with hepatitis B in our communities. Other popular hashtags for World Hepatitis Day, and to raise hepatitis B awareness, include: #NOhep, #KnowHepB, #WorldHepatitisDay, #WorldHepDay, #WHD2017, #hepatitis, #hepatitisB, #HBV, #hepB, #justB. Connect with, follow and engage with fellow partners on twitter to keep the hep B conversation going during the Hep B United Summit and World Hepatitis Day events, and beyond.
Check out: @AAPCHOtweets, @AAHC_HOPEclinic, @AAHI_Info, @AAPInews, @apcaaz, @APIAHF, @ASIAOHIO, @CBWCHC, @cdchep, @cpacs, @HBIDC, @HepBFoundation, @HepBpolicy, @HepBProject, @HepBUnited, @HepBUnitedPhila, @HepFreeHawaii, @HHS_ViralHep, @MinorityHealth, @njhepb, @NVHR1, @nycHepB, @NYU_CSAAH, @sfhepbfree, @supportichs @wahainitiative @jlccrum
Missing from the list? Contact the foundation at info@hepb.org to be added.
Don't forget to join the World Hepatitis Alliance  Thunderclap and register your World Hepatitis Day events  prior to World Hepatitis Day. Be sure to participate in the #ShowYourFace campaign.  and tell the world how you're standing up against viral hepatitis.
Still have questions? Email us at info@hepb.org and we'll help you get started!
Visit the Hep B United and Hepatitis B Foundation websites for more information about hepatitis B and related programs.