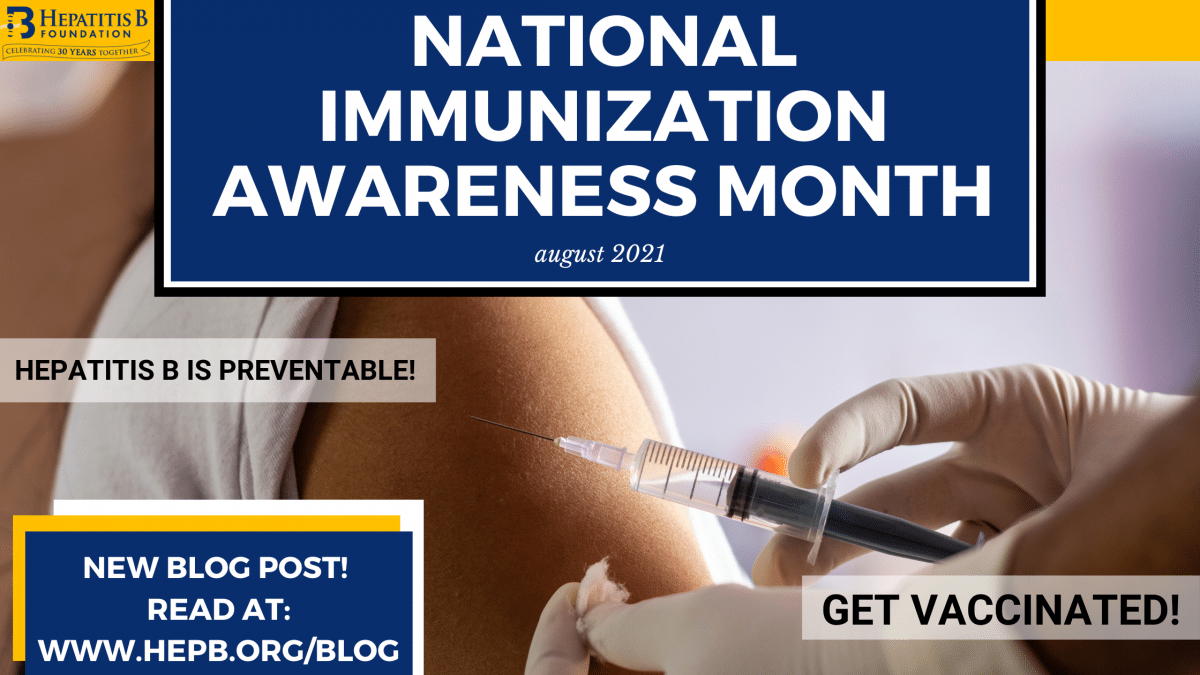 As August wraps up National Immunization Awareness Month (NIAM). This month we raise awareness to highlight the importance of vaccination. In the era of COVID-19, we are shown how effective and protective vaccines are. During NIAM, we encourage you to talk to your doctor, nurse, or healthcare professional to ensure you and your family are protected against serious diseases by getting caught up on routine vaccination, especially the hepatitis B vaccination!
What is Hepatitis B
Hepatitis B is the most common serious liver infection in the world. It is caused by the hepatitis B virus that attacks and injures the liver. Two billion people (or 1 in 3) have been infected and about 300 million people are living with a chronic hepatitis B infection. Each year around 820,000 people die from liver disease caused by hepatitis B despite the fact that it is preventable and treatable. In the United States, 2.4 million people are chronically infected with hepatitis B!
The hepatitis B virus (HBV) is transmitted through blood and infected bodily fluids. It can be passed to others through direct contact with blood, unprotected sex, unsterilized or contaminated needles, and from an infected woman to her newborn during pregnancy or childbirth.
Hepatitis B is a "silent epidemic" because most people do not have symptoms when they are newly infected or chronically infected. Thus, they can unknowingly spread the virus to others and continue the silent spread of hepatitis B. For people who are chronically infected but don't have any symptoms, their liver is still being silently damaged which can develop into serious liver disease such as cirrhosis or liver cancer.
Preventing Hepatitis B  
It takes only 2 to 3 shots to protect yourself and your loved ones against hepatitis B for a lifetime.
The hepatitis B vaccine is a safe and effective vaccine that is recommended for all infants at birth and for children up to 18 years. The hepatitis B vaccine is also recommended for adults living with diabetes and those at high risk for infection due to their jobs, lifestyle, living situations, or country of birth. Since everyone is at some risk, all adults should seriously consider getting the hepatitis B vaccine for lifetime protection against a preventable chronic liver disease.
The hepatitis B vaccine is also known as the first "anti-cancer" vaccine because it prevents hepatitis B, the leading cause of liver cancer worldwide.
You cannot get hepatitis B from the vaccine. All hepatitis B vaccines that have been used since 1986 are made synthetically – meaning the hepatitis B vaccines do not contain any blood products. Learn more.
Vaccine Schedule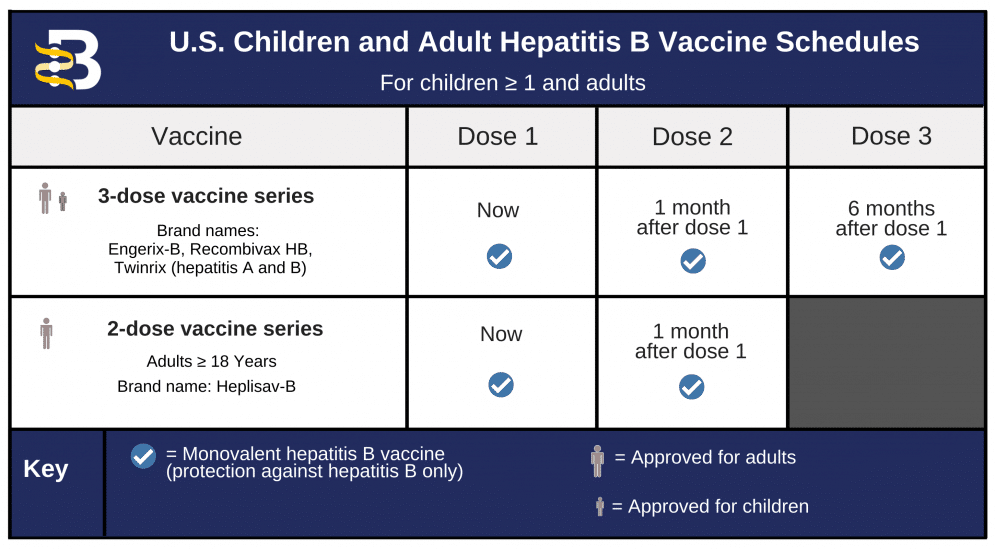 How to Get Vaccinated
If you are unsure of your hepatitis B vaccination status, ask your healthcare provider for a simple blood test!
If you have not been vaccinated – ask your healthcare provider for the simple and effective vaccine! They are generally available at your doctor's office, local pharmacy, or local health clinic. If you are United States-based the Center for Disease Control maintains a database of locations that offer the hepatitis B vaccine. You can search for locations within the U.S!
Author: Evangeline Wang
Contact Information: info@hepb.org