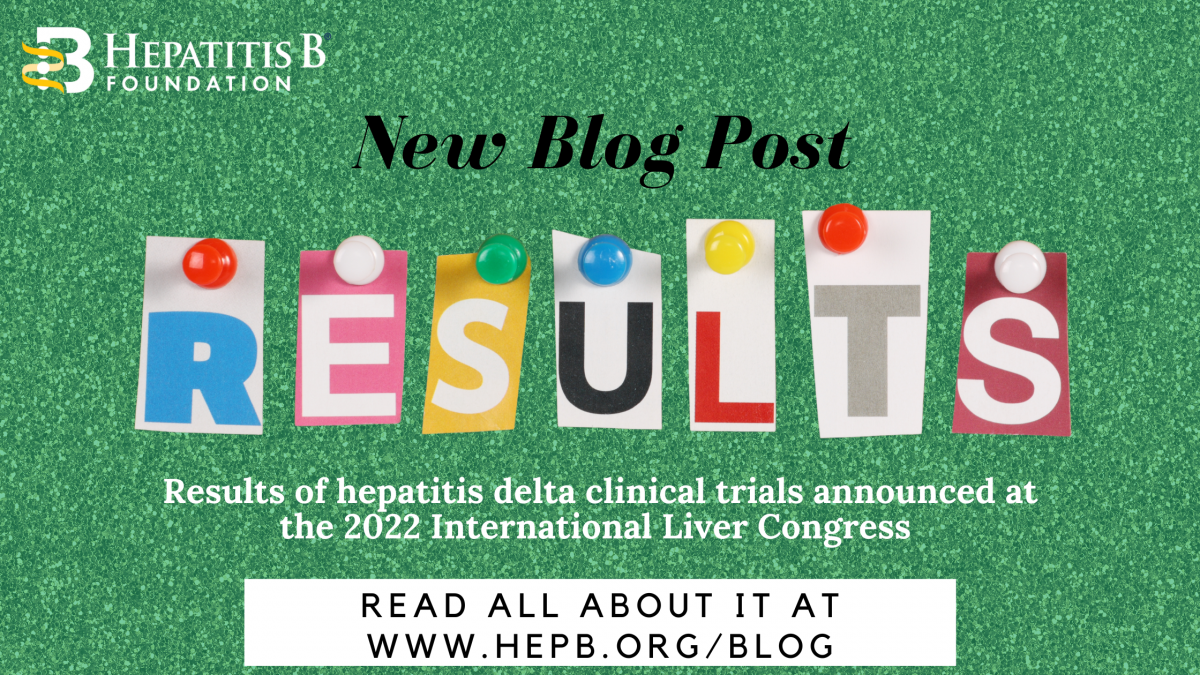 London, UK was the host city for this year's annual International Liver Congress (ILC), the yearly meeting of the European Association for the Study of the Liver (EASL), which took place from June 22nd-26th. This meeting provides an opportunity for those working to address liver diseases around the world to gather in one location and exchange ideas, present research, and work to advance diagnosis, prevention, treatment, and elimination of these serious conditions. This year's meeting saw significant attention given to hepatitis delta, as new treatments continue to move through the pipeline and more widespread approval for prescription of current treatments is sought. Below is a quick snapshot of some of the presentations!
The US-based pharmaceutical company Gilead Sciences, Inc. demonstrated with results from a Phase 3 clinical trial that treatment with Hepcludex (bulevirtide), the first medication ever approved for hepatitis delta (HDV), has been shown to achieve significant response in chronic HDV. After 48 weeks, 48% of study participants who received different doses of treatment with Hepcludex achieved virological response (meaning a decline in hepatitis delta viral load, ALT normalization, and a change in liver stiffness), compared to only 2% of those who had not received any treatment. When compared to results from clinical trials after 24 weeks, response rates to HDV only improved, showing the drug to be even more effective over time. Throughout the clinical trials, there have been no adverse events reported that are attributable to this treatment.
Hepcludex has also been found to have a positive impact on the quality of life of individuals living with hepatitis delta, and their overall ability to manage the condition. There were improvements found in health distress, performance of daily activities related to hepatitis, emotional impact of hepatitis, and ability to work. This data reinforces the efficacy and safety of Hepcludex and hopefully strengthens the case for approving the drug in more parts of the world.
"As the most severe form of viral hepatitis, HDV presents a significant disease burden with high healthcare-related costs and until recently, no approved treatment options," said Heiner Wedemeyer, MD, Director, Clinic for Gastroenterology, Hepatology and Endocrinology at Hannover Medical School, and principal investigator of the study. "These results presented at ILC 2022 not only highlight the important clinical role that bulevirtide has to play as a safe and effective treatment option for chronic HDV, but critically also demonstrate that with prolonged treatment, we can achieve higher response rates so we can better manage this rare, life-threatening disease in more people."
Presently, Hepcludex has been conditionally approved by the European Commission for prescription in France, Germany, and Austria. It has not yet been approved by the United States Food and Drug Administration (FDA) or in other countries. A Biologics License Application was submitted by Gilead to the FDA in late 2021 for injection of 2mg of Hepcludex to treat adults with HDV and compensated liver disease. Hepcludex had previously been granted Breakthrough Therapy and Orphan Drug designations by the FDA and PRIority MEdicines (PRIME) scheme eligibility by the European Medicines Agency (EMA).
The second company to present their research findings at the ILC was US-based Eiger BioPharmaceuticals, Inc. The two primary hepatitis delta drugs that they have in the pipeline are called lonafarnib and peginterferon lambda. One abstract presentation indicated that peginterferon lambda (lambda) had better antiviral activity and tolerability than peginterferon alfa (the previous version of this drug that has been used as the only somewhat effective, but off-label treatment for hepatitis delta since the early 1980s). Lambda has been shown to block production of new hepatitis delta virus very effectively. Additionally, lambda in combination with lonafarnib was found to lower levels of HDV RNA and decrease its production and release, more effectively than lambda by itself. Patterns in HBV DNA, hepatitis B surface antigen, and ALT were also observed as part of this study. In its Phase 3 D-LIVR study, which is assessing the safety and efficacy of lonafarnib in combination with ritonavir, with and without peginterferon alfa, Eiger has assembled the largest cohort of global participants in an HDV study, and therefore the largest body of data. Results from this study are anticipated by the end of 2022.
The final piece of big hepatitis delta news to come out of the conference was the announcement from Vir Biotechnology Inc. that they are beginning a Phase 2 clinical trial for VIR-2218 in combination with VIR-3434 for the treatment of chronic hepatitis delta. Initial data from this study is anticipated in 2023.
Hepatitis delta is now receiving more attention than ever before and there is only more hope as new treatments are created, investigated, approved, and made available. For a complete overview of hepatitis delta, including basic information, resources, clinical trial opportunities, and a complete list of drugs that are in the pipeline, visit www.hepdconnect.org.
References
https://www.gilead.com/news-and-press/press-room/press-releases/2022/6/treatment-with-hepcludex-bulevirtide-meets-primary-endpoint-and-achieves-significant-response-in-chronic-hepatitis-delta-virus-at-48-weeks
https://www.streetinsider.com/Corporate+News/Vir+Biotechnology+Inc.+%28VIR%29+Announces+New+Clinical+Data+From+its+Broad+Hepatitis+B+Program/20256465.html
https://www.prnewswire.com/news-releases/eiger-biopharmaceuticals-announces-results-from-multiple-presentations-at-the-european-association-for-the-study-of-the-liver-easl-international-liver-congress-2022-301576119.html