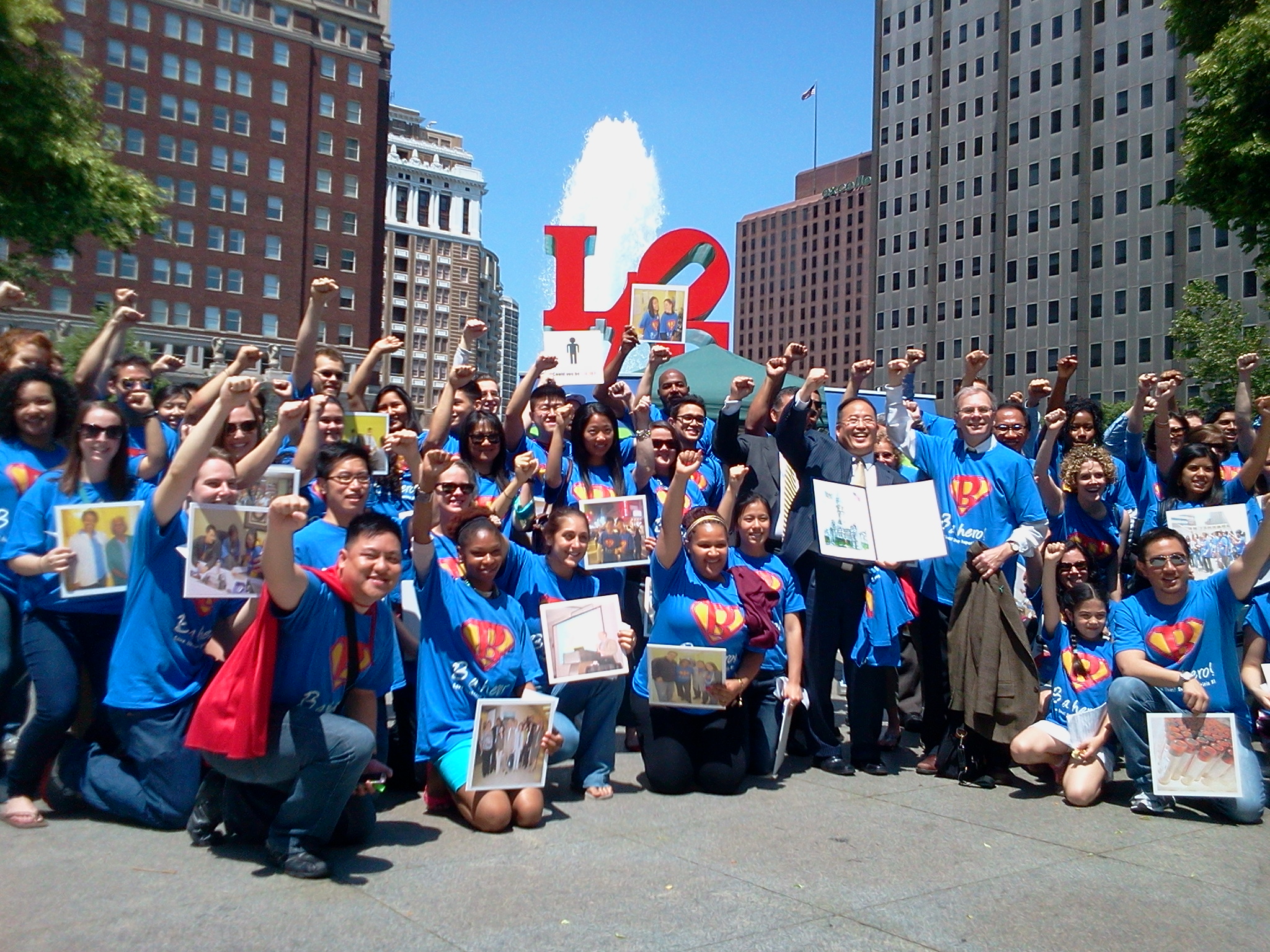 Hepatitis Awareness Month has come to a close, and it has been one exciting, busy month for those of us at HBF and Hep B United Philadelphia. In the course of 6 weeks, we have had many of our major events of the year – nearly all featured during Hepatitis Awareness Month or on Hepatitis Testing Day.  Have a look at what we've been up to this past month…
HBF preceded the month with its annual, signature fund-raising event. The Crystal Ball was held April 27th and was a very successful, enchanted evening for all in attendance. HBF exceeded goals for the year, and we were pleased to honor Dr. Howard Koh, Assistant Secretary of Health and Human Services (HHS), who was presented with the Baruch S. Blumberg Prize for his leadership in creating the HHS Action Plan for Viral Hepatitis.
The Hepatitis B Foundation was selected as this month's featured partner by CDC NPIN. What a great honor, and a wonderful opportunity for HBF to showcase some of our programs, services and materials.
On May 15th, AAPCHO and HBF, with the support of the U.S. Department of Health and Human Services' Office of Minority Health, launched the Hep B United national campaign.  This unique partnering and collaborative effort will bring attention and action to end hepatitis B – especially among high-risk Asian Americans and Pacific Islanders (AAPIs) in the U.S. You're going to see a lot of activity out of Hep B United...
HBF's Director of Public Policy & Affairs set off to Washington D.C. to attend the Congressional Briefing on Chronic Viral Hepatitis and Liver Cancer hosted by our champions in Congress.  Keeping Hepatitis in the hearts and minds of our elected Representatives is paramount in supporting viral hepatitis efforts in our country.
Hep B United Philadelphia wrapped up its awesome "B A Hero" PSA video contest and finalists and winners were announced. Check out these great PSAs!
Hepatitis Testing Day and the days leading up to the event were extremely busy for the Hepatitis B Foundation, Hep B United Philadelphia, and Partners. We kicked off testing day with our awareness-raising Flash Mob Event in Love Park in Philadelphia. This fantastic event included special guests Mayor Nutter, and Councilman David Oh, and plenty of other notable Hep B Heroes in attendance.  It was an honor to receive a City Proclamation by Councilman Oh, supporting efforts to eradicate hepatitis B in the city of Philadelphia. And of course the students put their spin on the event with a "B A Hero" Rap. You have to listen to this...
Saturday, Hepatitis Testing Day, Hep B United Heroes donned their hero capes for the Hepatitis Testing Day Event held at the Asian Pacific Heritage Festival in Philadelphia. It was a successful event with 112 screened. Those screened and in need of vaccination will be provided with the HBV vaccination series, free of charge, from the Philadelphia Department of Health.
That same day, Hepatitis B Foundation heroes hosted HBF's B Informed Conference. This year's conference was specifically directed to parents of children with hepatitis B. This was an incredible full-day conference. Expert specialists in the field addressed both the medical issues and personal challenges of parenting a child with hepatitis B.  It was a wonderful opportunities for parents to meet and discuss, face-to-face, with families facing like challenges. Lasting bonds were created that day. You'll want to check back at a later time to read a reflection on the day, and access information presented by our expert speakers.
And finally we end this month's awareness efforts this weekend by participating in the Philadelphia Independence Dragon Boat Regatta. Team Philadelphia Hep B Heroes will (hopefully) row their boat to victory, but even if they don't win, they are winners at heart. The team is composed not of an expert crew, but rather Hep B United Philly community partners, student partners and staff. If you're in Philly, stop by and cheer the team to victory. Plenty of team members will be at the event to raise HBV awareness and discuss hepatitis B testing, prevention and treatment.
There were a lot of Hep B Heroes out there this month.  Feel free to share the events of your organization this month!