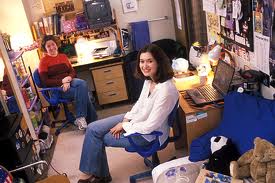 Are you ready to head off to college?  Are you concerned about your HBV status?  Here are a few things to consider…
If you live in the U.S. your roomate(s) will most likely be vaccinated for hepatitis B, so you shouldn't need to worry about disclosure.  Later on in your relationship you can decide whether or not you want to disclose your HBV status to your roommate, other friends, or SOs.  For now it's probably best to keep it to yourself.  Once the info is out, you cannot take it back.
If you are sexually active you will want to consider how you will handle these relationships.  HBV is spread through vaginal or anal sex so you want to be sure to practice safe sex for the benefit of both you and your partner.  Please use a condom to ensure there is no transmission of STDs and other infectious diseases.  There is a vaccine for hepatitis B, but not for HCV and HIV.  If you are living with HBV, you are well aware that you do not want an HBV coinfection with either HCV or HIV.  Coinfections are more complicated and more difficult to treat and manage.  Play it safe and use a condom.
It's great to be on your own at college.  Days and nights learning, studying and preparing for a bright future, branching out on your own… away from mom and dad.  Quite often it's time for a little experimentation, a little craziness, or just plain fun.
It's a time to interact with lots of different kinds of people.  Sometimes you have control over these interactions and sometimes you don't.  You can't control all of these things, but you can control parts of your own little environment.
Get yourself a bag for your personal toiletries.  Whether you're using bathroom and shower facilities on the dorm floor, living in a quad, or sharing an apartment with roommates, you'll want to be sure to keep your personal items in a separate bag and out of sight of floor mates, roommates and visitors.
We all know that HBV and other infectious agents are transmitted via contaminated bodily fluids – especially blood, semen and vaginal fluids.  Store your razor inside your bag, and be sure you do NOT leave it in the shower stall.  Razors are an effective transmission vehicle for infectious disease like HBV or even HCV and HIV.  If you leave your razor in the shower, you cannot assume that someone else has not used it.  Throw it away and start fresh.
This goes for nail accessories like clippers, cuticle cutters or even files.  Keep them in your bag and keep them out of sight from roommates and other visitors.  Few people think twice about picking up a pair of nail clippers or a nail file.
Communal soap can be liquid or bar soap.  Don't share any body jewelry including pierced earrings.
Don't forget about your toothbrush.  I can still remember a friend mentioning that he had borrowed my toothbrush, after visiting.  Unfortunately he mentioned it after I had already brushed my teeth.  Disgusting!  Do you really want anyone using your toothbrush??  After the fact, it's too late to do anything about it.  You need to be proactive to make sure these little mishaps don't occur.  Put your personal items away and out of sight.
Then there are the visitors…  Most likely you won't have control of everyone in and out of your room or apartment.  My college roommate and her boyfriend loved that I was organized and prepared for all scenarios.  They were constantly "borrowing" my things.  I wish I had the courage to tell my roommate's boyfriend that I would prefer he wash my pillowcase after he borrowed my pillow, along with all of the other things he helped himself to without asking.  Keep your personal items separate, and let your roommate know that your boundaries are to be respected. Establish these boundaries up front!
Perhaps you're worried about what others might think of your toiletries bag, or that you like your personal things respected.  Don't tell them you've got HBV.  Just laugh and tell them you're a "germaphobe". By keeping personal items out of view and sequestered in your own bag, everyone is protected.
Be sure to read the follow-on blog: Cleaning up and Staying Safe at College.