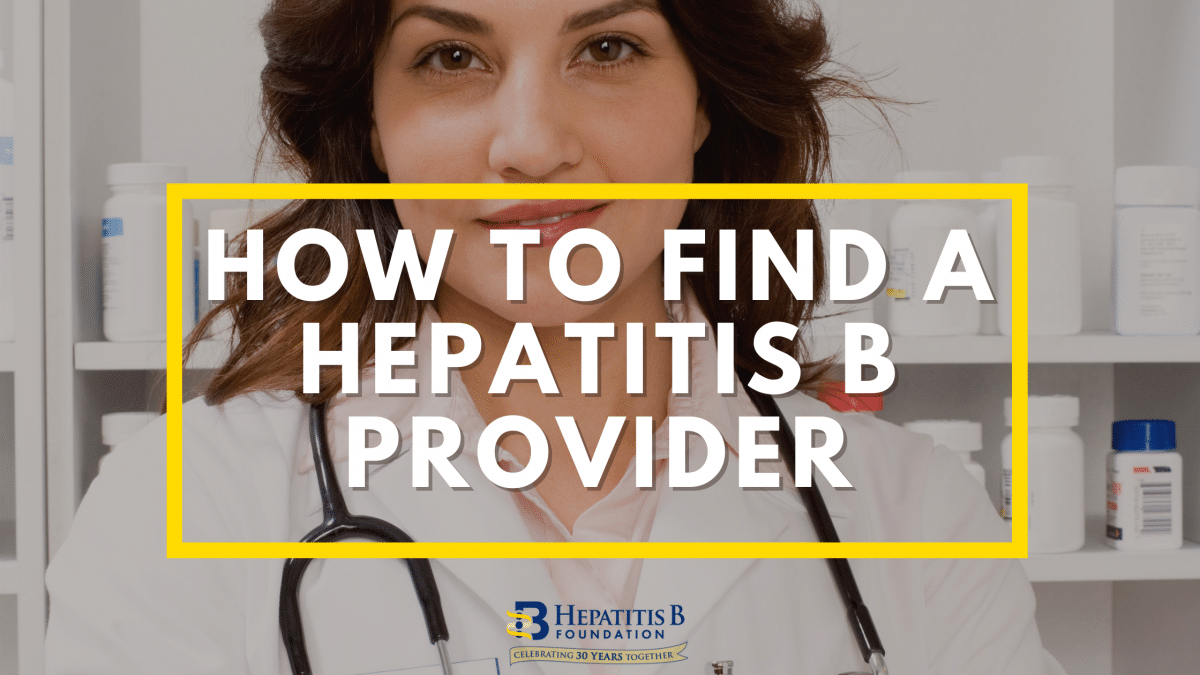 How to Find a Hepatitis B Provider
If you have chronic hepatitis B or are newly diagnosed, it's important to see a medical provider who has experience managing and treating hepatitis B.
Having a medical provider with hepatitis B expertise on your team not only safeguards your health but also lessens the stress of having a chronic liver disease. "My specialist gave me all the possible scenarios, but most importantly, he gave me my life back," one hepatitis B patient recalled.
When first diagnosed, it's often a primary health provider (PCP) or for children a pediatrician who orders diagnostic tests for hepatitis B. Doctors may run additional blood tests and/or immediately refer you to a liver specialist. If your PCP has experience managing and treating hepatitis B, you may decide to continue your hepatitis B care with that provider. Or, they may recommend a specialist who accepts your insurance or practices in the same healthcare system. But,  you may have to do some research to find the best specialist to treat your hepatitis B.
There are two types of specialists who treat liver diseases:
A gastroenterologist

is an internist who has trained in digestive disorders including the liver, but how much liver expertise a gastroenterologist (GI doctor) has varies based on their training. It's important to find out if they specialize in liver diseases and if they have experience with hepatitis B.

A hepatologist

is a physician who specializes in the liver. This doctor has the most expertise and should be up-to-date about new treatments and clinical trials. But not all hepatologists have treated hepatitis B. Many will have treated hepatitis C, but not hepatitis B, so you need to ask.
Tips for finding a specialist:
Are they in the Hepatitis B Foundation directory?

The Foundation has a

Physician Directory

of medical providers who treat hepatitis B around the world. These doctors have voluntarily

signed up

to be included in the database. It is not an exhaustive list, there may be hepatitis B specialists in your area who have not yet joined the directory.

Call the practice ahead of time and ask questions.

How many hepatitis B patients have they treated? Do they participate in any clinical trials?  Are they aware of current monitoring and treatment guidelines for hepatitis B?

What's the doctor's reputation?

Does anyone in your community see a liver specialist for viral hepatitis? Whom do they recommend?

Will you actually see the specialist or an assistant?

Do you see a specialist only if there is a need for treatment? If you go to a teaching hospital, do you see the doctor or an intern, fellow or resident?
You are entering into a long-term relationship with someone who may care for you for many years. You need their expertise, but you also need to feel comfortable working with them. Do they listen when you speak and make eye contact? Trust and rapport are very critical.
"It's really important that they don't judge me," one hepatitis B patient explained.  Another patient said that finding a doctor who spoke his language, or had an assistant who was fluent in his language, helped immensely.
Once you identify a specialist, here are some questions to ask:
Is the specialist accepting new patients? How long do you have to wait to get an appointment?

What hospital or lab do they use, and are they convenient for you? It's important for you to always use the same lab so you have consistent results that allow apples-to-apples comparisons.

Will the doctor call you with the results or will a nurse or other assistants communicate with you?

What would you like your care plan to be? Will you go for blood tests and then see the specialist? Typically, hepatitis B patients get blood tests once or twice a year to monitor their liver, unless they are undergoing treatment.
How to design a long-distance care plan if the specialist is far away:  Sometimes, the best hepatitis B specialist is a few hours drive from where you live, but distance doesn't have to be a deal-breaker. Many people see a specialist for a first visit, and afterwards, simply have their PCPs or local labs email lab results to the specialist. For this remote healthcare relationship to work, your PCP needs to be willing to partner with the specialist. Also, your specialist needs to be open to telephone or video consultations with you as needed.
Technology matters. Sharing medical records and lab tests electronically make a remote relationship work smoothly. If there are firewalls between practices, find out how to ensure your PCP and specialist share your medical records. Be prepared, you may have to be the conduit if the two healthcare systems don't talk to each other.
Insurance and cost: Ideally, the hepatitis B specialist closest to you accepts your insurance or is in your provider network. That doesn't always happen so finding out the charges in advance is important.
Will the specialist bill your insurance or will you need to pay the fee upfront and manage the insurance reimbursement yourself?

How much do you have to pay out-of-pocket if the specialist is outside your network, or if you are not insured? Some specialists charge a lower fee to uninsured patients. You may be able to have an annual consultation with a specialist and bring your lab results.
One hepatitis B patient reported he was not entirely happy with the specialist his PCP referred him to. "At the time, I had great insurance so all the tests he ordered weren't a lot of money out-of-pocket," he said. "But then I changed jobs and I couldn't afford all of his tests, and he wanted me to go on treatment though my lab reports didn't justify it.
"I went looking for a new one and found one in the Hepatitis B Foundation's website," he said. "I had to drive farther to see him, but his knowledge and patience were very comforting and he spoke my primary language. He really helped me regain confidence in life."
Prepare for your visit: Before you see your hepatitis B medical provider, put together a list of questions (see sample questions) and have your lab reports available — either bring hard copies or call ahead of time to make sure the doctor has access to your latest labs and medical records.
After you meet with your specialist, take some time to reflect. Are you happy with the doctor? Did he or she communicate well? Are you clear about what you need to do in the weeks and months ahead to take charge of your health? If the answer is yes, congratulations, you have assembled a good healthcare team.
Contact Information: info@hepb.org