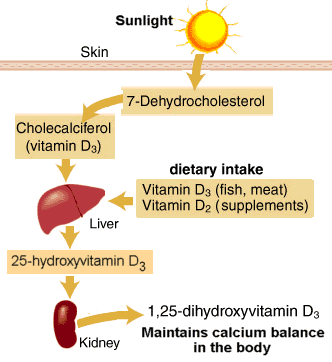 Vitamin D is essential for everyone, but how might vitamin D help those living with HBV? Vitamin D is especially important for children and older adults, as it aids in the body's absorption and regulation of calcium and phosphorus, which helps form and maintain healthy bones and teeth.  Vitamin D is also a potent immune modulator, and aids in the prevention of hypertension, and cancer. Vitamin D levels appear to play a critical role in type I and type II diabetes, glucose intolerance, and metabolic disorders.  Studies have also shown a link between low vitamin D levels and NAFLD (Non-alcoholic fatty liver disease), independent of metabolic syndrome, diabetes, or insulin-resistance profile (for those without HBV). The lower the vitamin D level, the higher the risk for NAFLD, or fatty liver disease.  The liver plays such an integral part in digestion, regulation, storage, and removal of toxins – the list goes on.  You can't live without it!  As a result, it seems logical that healthy levels of vitamin D would benefit those living with HBV, if adequate vitamin D levels help reduce the risk of NAFLD, metabolic syndrome, etc.
Vitamin D is a potent immune modulator.  It has been on the radar for the prevention and treatment of infectious diseases for years. If you are being treated for HBV, you may want to discuss the potential benefits of adding vitamin D to your current therapy.  It has been shown to benefit hepatitis C patients undergoing treatment.  There is currently a clinical trial in Israel looking into the possible benefits of adding vitamin D supplementation to hepatitis B patients undergoing Peginterferon, or treatment with nucleotide analogs.
While researching this blog, I ran across a couple references that mention Fanconi's Syndrome and vitamin D.  This is interesting since Fanconi's Syndrome may be acquired as a result of HBV treatment with tenofovir.  Fanconi's Syndrome and supplementation with vitamin D is also mentioned on the Mayo Clinic site.  The problem is there are no studies that definitively discuss the benefits of vitamin D supplementation for those living with HBV.  I am no doctor, but there seems to be a connection between vitamin D and good liver health.
Start by talking to your doctor or liver specialist about the pros and cons of considering additional vitamin D in your diet. Request that your vitamin D levels be tested so you get a snapshot of your current levels. I had my girls' levels checked.  They were adequate, but I regretted having them tested during the summer break when they are outside more often. I wonder how this reflects on their levels in the winter when they are rarely outside?  Food for thought.
The 25-hydroxyvitamin D (25(OH) D) blood test is used to measure serum levels of vitamin D. Normal serum levels, indicated by the Institute of Medicine (NIH), are 50 nmol/L (20 ng/mL) or greater.  Low levels are under 30 nmol/L (12 ng/mL).  See detailed charts for age specific requirements. There are all kinds of reasons for inadequate levels of vitamin D, so it is important to follow up with your doctor if your results are out of the normal range.  You may require additional testing.
It is important to maintain a balance and use common sense when considering supplementing your diet with Vitamin D.  Vitamin D is essential, but too much of a good thing can be dangerous to your health. Be sure to keep your doctor in the loop – especially if you are currently undergoing HBV treatment.
Check out Thursday's blog for those looking for vitamin D details and sources.