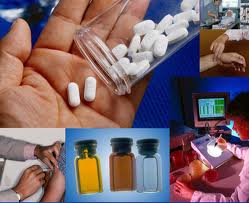 Have you considered participating in hepatitis B clinical trial?   A clinical trial can be a great opportunity to take advantage of the latest advancements in HBV treatment and monitoring, typically without expense to the patient.  It can open doors and provide an opportunity to interact with liver specialists on the leading edge of treating HBV.  There are numerous clinical trials for hepatitis B offered all around the world, from adult to pediatric patient populations.
There are three testing phases that drugs go through before they are approved for use for by the FDA.  A fourth phase examines long-term use.  This is a rigorous process, costs hundreds of millions of dollars and takes 12-15 years before a drug is finally approved. Check out the animated Drug Discovery Time Line to get a better appreciation for the process.
A major advantage of participating in a clinical trial is that expensive treating medications, clinical monitoring, and lab work are typically provided without expense to the patient, and the patient is monitored throughout the process by experienced, participating liver specialists.
The next thing to consider is whether or not you are eligible for a particular trial.  There are various inclusion/exclusion criterion.  Some trials or studies are looking for patients that are treatment naïve, (patients who have not taken medications for HBV) while others are looking for patients that are treatment experienced, (patients who have taken particular medications for HBV) but may have failed on one treatment protocol, and might need "rescue therapy," such as an antiviral to replace a previous antiviral where a resistance to the drug has occurred based on a viral mutation.  It varies with trial.
Other studies may be looking for candidates based on HBe status (positive or negative), degree of liver damage, or ALT or HBV DNA levels over a particular time period. You must first qualify before you consider participation in a trial or study, so be sure to check the qualifying criterion, and discuss with your doctor.
Naturally, each candidate will need to weigh the risks versus the benefits of receiving an experimental drug. Discuss the pros and cons with your doctor. Do you really need treatment for your HBV at this time? What are the possible short and long term side effects? Do you think you can manage them? You know your body best. What about the logistics?  Is there a need for frequent lab work?  Does it need to be done on site, or can blood be drawn at a local lab?  What happens when the trial is complete?  This is especially important when considering antivirals. Will you need to remain on the medication when the trial is complete?  Will you be financially responsible, and if so can you afford it?  Will participating in a trial exclude you from future trials?  What about resistance and cross resistance to future drugs? These are a few of the questions for which you need to think long and hard, and of course discuss them with your liver doctor and the participating specialist.
It also doesn't hurt to ask other patients on HBV internet support groups.  You might well find someone with personal experience with the drug, keeping in mind that everyone responds somewhat uniquely to the same drug therapy. I have found these forums extremely helpful when considering a new drug.
The Hepatitis B Foundation is committed to maintaining monthly, updated clinical trial data available to friends living with HBV on our website.  We do much of the up-front work for you by sorting through the hundreds of trials available via clinicalTrials.gov, a registry of clinical trials.  We divide the data into unique treating situations that might benefit various patients, such as clinical trials for patients that live in the U.S. or internationally,  pediatrics, coinfected, candidates for liver transplantation, patients struggling with HBV related hepatocellular carcinoma, and HBV reactivation and lymphoma.  Most trials relate to the treatment of HBV, while some are observational studies, long term studies where patients are monitored over time.  Some relate back to treatment studies – durability of treatment or long term effects, while others study patients with HBV, and identifying factors that may cause the disease to activate or worsen, and are monitored via annual or bi-annual blood work and annual visits.  It varies with the trial.
So if you have HBV, consider your status. If you are a candidate for treatment, consider existing, approved treatments vs. participation in an HBV clinical trial. It's up to you and your doctor to determine if a clinical trial is a good fit.