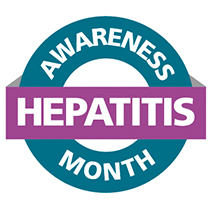 May is Hepatitis Awareness Month! What are you or your organization doing to help educate and raise HBV awareness in your community? Will you be holding viral hepatitis screening events, or other events?
The CDC has launched the "Know More Hepatitis Campaign", which is an educational initiative striving to educate the public about viral hepatitis and encourage screening. They have designated May 19th as the first Hepatitis Testing Day. Organizations around the country will be providing viral hepatitis screening. Many will be focusing on at-risk populations. This is a great opportunity to get tested to be sure of your HBV or HCV status. Talk to the members of the organizations running the screening to learn more about these diseases, and what you can do to get involved.  Don't forget to register your viral hepatitis screening event with the CDC, or check out screening events in your area.
The Hepatitis B Foundation and Hep B United Philadelphia have a couple of big activities planned for Hepatitis Awareness Month. On Friday, May 18th, we will be having our "B A Hero" Photo Flash mob event in Love Park in downtown Philadelphia. Everyone is excited about the event.  Some of the students have created a Hep B Rap video to get everyone psyched for the event! We also have some fabulous guests slated to make an appearance. If you're downtown that day be sure to join us! If you're nowhere near Philly, consider organizing your own Flash Mob! Its lots of fun and a great opportunity to raise HBV awareness with a splash!
Hep B United Philadelphia will also be offering free HBV screening at the Asian Festival on Saturday, May 19th from 12pm-3pm at the Pennsylvania Governor's Asian Pacific Heritage Festival, at Franklin Square Park in Philly.  Folks that are screened will get a free Hepatitis B tote bag and will be entered into a raffle to win a free Kindle! Counseling will be available in Chinese, English and Korean. Educational literature will be available in Chinese Vietnamese, Korean, Lao, Khmer, and Indonesian. Look for Hep B United Philly's tent in the health fair section, along with blood pressure, glucose and vision screening. It's going to be a great event!
The Hepatitis B Foundation will be hosting the B Informed Parent Conference in downtown Philadelphia on Saturday, May 19th. This will be an incredible opportunity for parents of kids with hepatitis B to meet with leading pediatric experts in the field that address both medical issues and the personal challenges of parenting a child with hepatitis B. It is also a wonderful opportunity for parents to meet face-to-face with other families facing similar challenges.  Be sure to check out the detailed program agenda, and if you are a family with a child living with HBV, or know of a family living with HBV, please encourage them to attend this unique event. Pre-registration is required, though there is no charge for the event. And if that's not enough, here are 10 reasons you need to get yourself to Philly for this event…
So let us know what you are up to for Hepatitis Awareness Month!  If you're not already part of an organization, lend a hand and volunteer at a screening in your community. If you speak another language, volunteer your translation services, or hand out pamphlets. Make a commitment to start your own organization, or join an organization. Don't feel like getting out there? Become an at-home HBV advocate and use social media channels such as twitter or Facebook and support viral hepatitis efforts right from home, or your phone. The opportunities are endless!