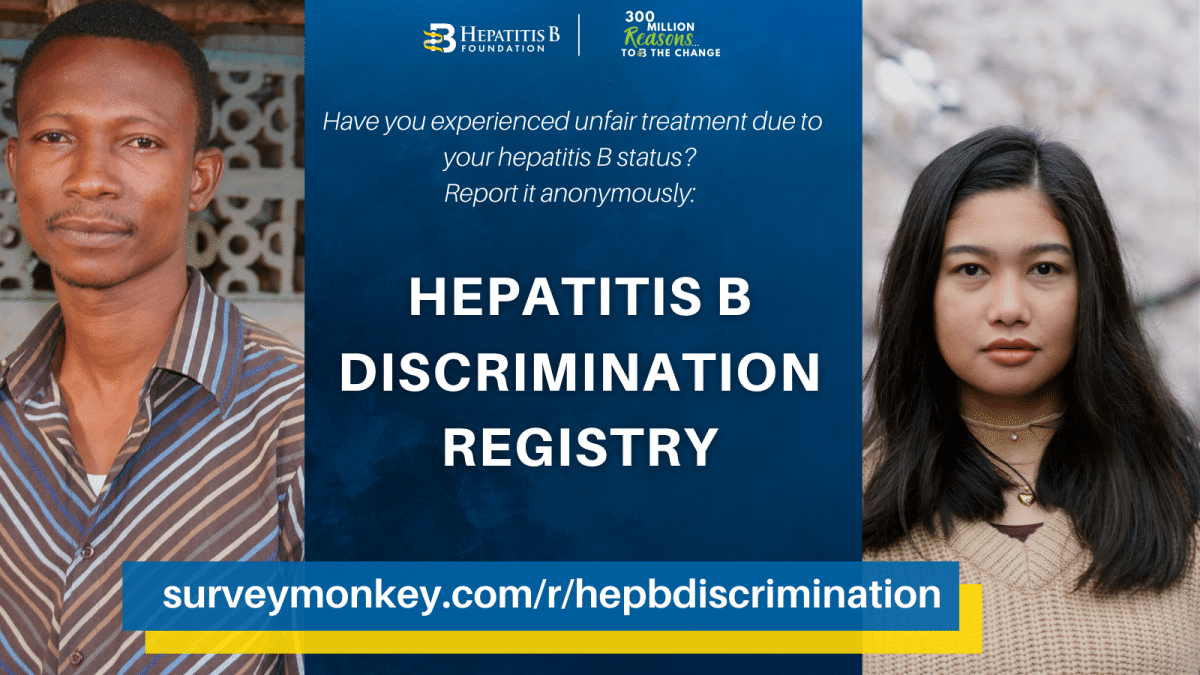 Despite almost 300 million people living globally with the world's most common liver infection, hepatitis B remains stigmatized and those living with it can still face discrimination from various sources. Each year, the Hepatitis B Foundation answers numerous calls from around the world from people who have faced school, workplace, and travel challenges due to their hepatitis B status. These challenges are typically rooted in misinformation, outdated laws or guidelines, stigma, and an overall lack of awareness.
The Hepatitis B Foundation has been a longtime advocate of people living with hepatitis B. In fact, our advocacy successfully made hepatitis B a protected condition under the Americans with Disabilities Act (ADA) in the United States. We also support programs to fight discrimination faced by people living with hepatitis B when applying to schools, jobs, or accessing affordable medicine.
We also compiled a report called "Health Insurance Costs Impacting Shoppers Living with Hepatitis B (2020)" to help people living with hepatitis B in the U.S. make informed decisions when choosing a health insurance plan. It can also be shared with policymakers to inform them of potentially discriminatory benefit plan designs in various states.
Most recently, Hepatitis B Foundation is excited to announce the launch of our discrimination registry! The purpose of this registry is to document and track discrimination related to hepatitis B.  Hepatitis B discrimination is described as unjust, unfair, or prejudicial treatment of persons on the basis of their hepatitis B status. In other words, being treated differently because of one's hepatitis B infection. For someone with hepatitis B, this can mean exclusion, denying benefits, denied employment, education, training, goods or services, or having significant burdens imposed on an individual due to their infection status.
How to Share Your Experience
Use the registry link here and fill out the questions accordingly.
 In the first section, we ask about your demographics which you can always select prefer not to answer for any of the questions.
In the second section, we ask about your hepatitis B discrimination experience. In the third section, we offer additional support.
 If you are located in the United States and are experiencing discrimination due to your hepatitis B status we can assist you to file a claim with the Department of Justice.
Other Discrimination Resources
Check out our Know Your Rights page. This page will help guide you through steps if you are experiencing discrimination in various institutional settings.
We have sections for:
If you have any questions or concerns please email discrimination@hepb.org
Author: Evangeline Wang
Contact Information: info@hepb.org