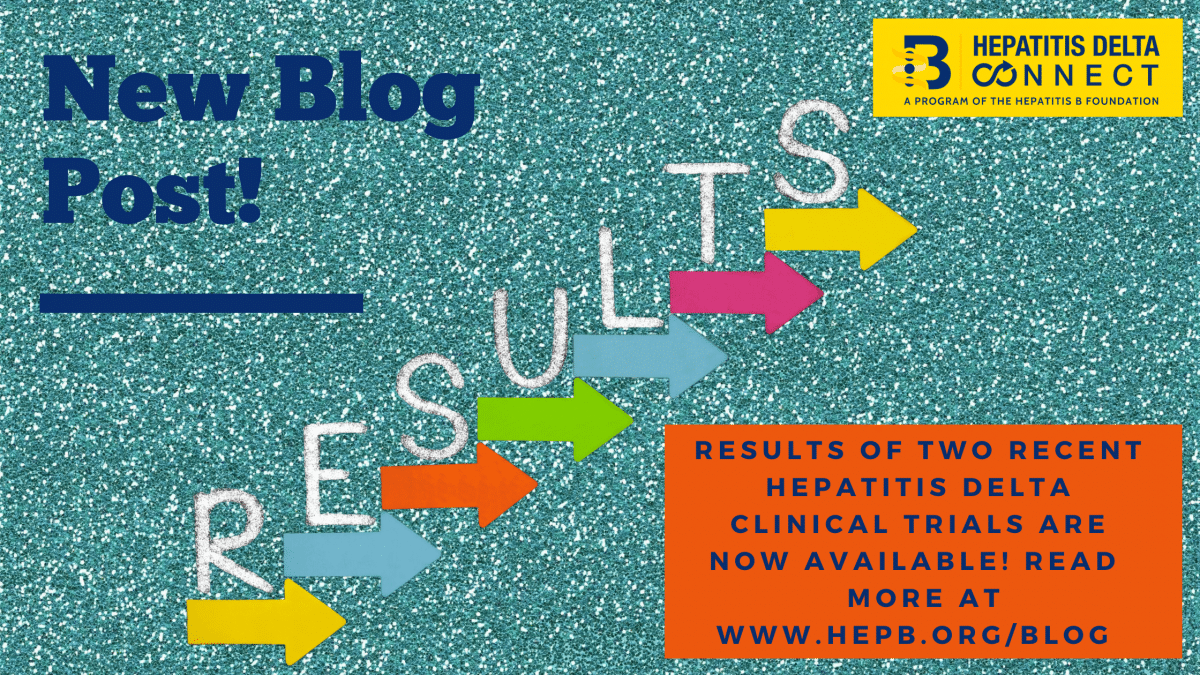 By Beatrice Zovich
The 2020 meeting of the American Association for the Study of Liver Diseases (AASLD) in November offered the opportunity for scientists from industry and academia to present their findings from clinical trials, studying new medications for hepatitis B and D. Two such presentations were given by Eiger BioPharmaceuticals, Inc. who presented their findings about how well their medications peginterferon lambda and lonafarnib work, both independently and in combination, to treat hepatitis delta virus (HDV) and halt liver fibrosis. The results are promising and offer hope for those affected by HDV.
The two medicines under investigation in these studies work in different ways. Lonafarnib works by blocking farnesyl transferase, an enzyme involved in prenylation, the modification of proteins that is necessary for the life cycle of HDV. Peginterferon lambda, on the other hand, triggers immune responses that are crucial for host protection during viral infections. Lambda can also target liver cells accurately, thus reducing the effects of inadvertently targeting central nervous system cells and making it more tolerable to those taking it (Eiger, 2020).
Eiger's first study examined how well peginterferon lambda and lonafarnib (known as LIFT – Lambda InterFeron combo Therapy) work together to lower levels of HDV RNA, 24 weeks post-treatment (Eiger, 2020). This was a Phase 2 study. Lambda was administered at a dosage of 180 mcg once weekly, in combination with 50 mg of Lonafarnib and 100 mg of ritonavir given twice daily, for 24 weeks. The results of this study found that 77% of the 26 participants saw their HDV RNA levels decline and reach a level that was either undetectable or below the level of quantification. 23% of these participants were able to maintain these levels for 24 weeks after treatment had ended. Both tenofovir and entecavir were started prior to treatment for management of HBV. The observed side effects of this regimen were mild to moderate and included mostly gastrointestinal issues or were related to blood chemistry (Eiger, 2020).
The second study found that peginterferon lambda caused the regression of liver fibrosis after 48 weeks of treatment in people living with hepatitis delta. Two case studies emerged from the completed Phase 2 LIMT (Lambda Interferon MonoTherapy) study (Eiger, 2020). In these studies, a total of 33 participants received either 180 µg or 120 µg of lambda subcutaneous injections weekly for 48 weeks. Results indicated that degrees of liver fibrosis and levels of HDV RNA declined below the level of quantification in some participants, even after 72 weeks in a handful of cases. In some instances, ALT levels decreased as well. Side effects were found to be mild to moderate and fewer than those experienced by participants who had taken peginterferon alpha in the past. Side effects were primarily flu-like in nature (Eiger, 2020). 
Therapies for hepatitis B and D will only continue to improve and become more precise and targeted as time goes by. Check out the Hepatitis Delta Connect website for detailed information on HDV, as well as current clinical trials and a drug watch page, both of which are updated regularly. (A brand-new clinical trial has just been added!) For more information about Eiger BioPharmaceuticals, click here. 
References
Eiger BioPharmaceuticals, Inc. (2020, November 17). Eiger Announces Positive Peginterferon Lambda – Lonafarnib Combination End of Study Results from Phase 2 LIFT HDV Study in Late-Breaker Session at The Liver Meeting Digital Experience™ 2020. Retrieved December 30, 2020, from https://www.biospace.com/article/releases/eiger-announces-positive-peginterferon-lambda-lonafarnib-combination-end-of-study-results-from-phase-2-lift-hdv-study-in-late-breaker-session-at-the-liver-meeting-digital-experience-2020/
Eiger BioPharmaceuticals, I. (2020, November 16). Eiger Announces Case Studies Demonstrating Regression of Liver Fibrosis Following 48 Weeks of Therapy with Peginterferon Lambda in Patients with Chronic Hepatitis Delta Virus (HDV) Infection Presented at The Liver Meeting Digital Experience™ 2020. Retrieved December 30, 2020, from https://www.prnewswire.com/news-releases/eiger-announces-case-studies-demonstrating-regression-of-liver-fibrosis-following-48-weeks-of-therapy-with-peginterferon-lambda-in-patients-with-chronic-hepatitis-delta-virus-hdv-infection-presented-at-the-liver-meeting-digital–301173992.html