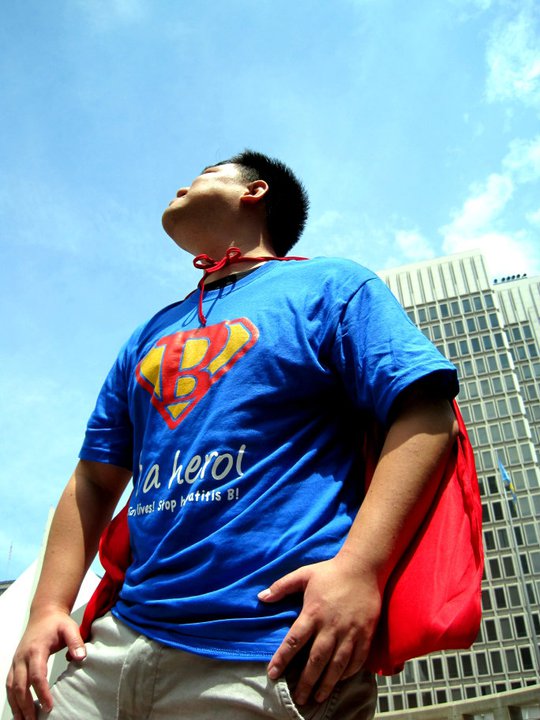 "B a hero!" is not simply a slightly-cheesy-yet-very-awesome campaign theme and slogan. It is a statement that we stand behind and strive for. It is about having the courage to stand up for the disenfranchised among us. It is about taking the time and effort to improve the lives of those we could have easily ignored. It is about not just doing the right thing, but going above and beyond.
Over 900 people. That's the number of people we provided free hepatitis B screening tests for within just the past 12 months. The screening tests were offered at 17 different events that took place all around the city.
Over 70 organizations. That's the number of partners we currently work with to serve the community and empower the underserved. Besides hosting screening events, our partners also help us raise awareness through education, provide in-language patient follow up service for linkage to care, connect us with new partners, and many more aspects of our work in the community.
Over 30 vaccine clinics. That's the number of vaccine clinics we will have held in collaboration with the Philadelphia Department of Public Health at community sites by the end of 2013. By hosting the clinics at community sites, we remove the transportation and language barriers and make vaccines much more accessible for community members.
The list of accomplishments goes on. And all of this became possible because Philadelphia, as a city, has decided to "B a hero". So get involved this May and help us celebrate the Hepatitis Awareness Month by coming out to one of our events. Come and support heroes everywhere in our fight against hepatitis B.
Friday, May 17
Hepatitis B Awareness & Media Event
11:30am-12:15pm @ Rocky Steps (Philadelphia Museum of Art, 2600 Benjamin Franklin Pkwy)
Join us in celebration of Hepatitis Awareness Month and Asian Pacific American Heritage Month by running up the Rocky Steps with us! All participants get a "B a hero" t-shirt and a cape. City Councilman David Oh will present a city council resolution, and a surprise performance will take place when we reach the middle level of the steps.
Saturday, June 1
Independence Dragon Boat Regatta
8am-5pm @ Schuylkill River (Kelly Drive, near St. John's Boathouse)
Come cheer for team Philadelphia Hep B Heroes as well paddle our way to victory! The regatta is a family event with lots of entertainment such as cultural performances, rock climbing, and of course the exciting dragon boat races. So visit the Hepatitis B Foundation/Team Philadelphia Hep B Heroes tent for some snacks and cheer for our heroes.
Additional event:
Saturday, May 11
Hepatitis B Screening & Mini Health Fair
10am-1pm @ AmeriCare Pharmacy (600 Washington Avenue, Unit 18E, Philadelphia)
May Hepatitis Awareness Month would be incomplete without a screening event. In collaboration with the Jefferson Medical College APAMSA medical students and the AmeriCare Pharmacy, we will be providing free hepatitis B screening tests for those who were born in Asia or whose parents were born in Asia. Additional service such as blood pressure and blood glucose measurements will also be available at this event.