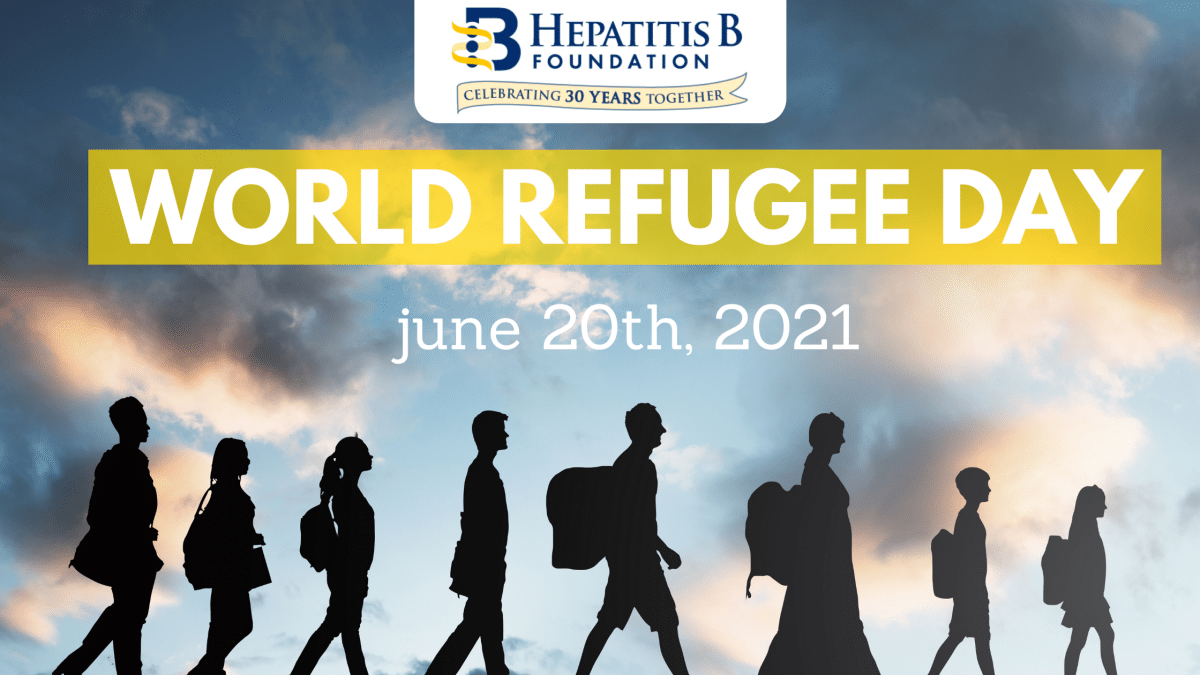 June 20th is World Refugee Day! This day "celebrates the strength and courage of people who have been forced to flee their home country to escape conflict or persecution. World Refugee Day is an occasion to build empathy and understanding for their plight and to recognize their resilience in rebuilding their lives."1
In 2020, the United Nations Refugee Agency estimates that 80 million people were forcibly displaced. A majority of refugees originate from Syria, Venezuela, Afghanistan, South Sudan, and Myanmar and are mostly resettling in countries like Turkey, Colombia, Pakistan, Uganda, and Germany.1
As individuals who are experiencing forcible displacement begin to resettle, it is important to encourage hepatitis B testing and vaccination, even though hepatitis B might be the last thing on their minds. It is important to keep health, and especially hepatitis B in mind because hepatitis B disproportionately affects people from the World Health Organization's (WHO) African, Western Pacific, and Asian regions.
In South Sudan, hepatitis B accounts for 80% of the viral hepatitis cases. Moreover, Myanmar has a moderate to high burden, with 6.5% of the general population being infected with hepatitis B. It is imperative that testing and vaccination is encouraged in countries like South Sudan and Myanmar and in countries where people are resettling to not only prevent the spread of hepatitis B but also allow people living with hepatitis B who might not know it to live a long and healthy life. Additionally, it is important to note that the continuation of care for people experiencing forcible displacement is halted when resettling in different countries. This interruption can be damaging to individuals' health, especially those living with hepatitis B as medication must be taken daily, and seeing a liver specialist should happen every 6 months.
However, some people who are in the process of resettling might be hesitant to get tested for hepatitis B. This can be due to a myriad of reasons like the cost of healthcare if they do test positive, access to quality healthcare, fear of stigma, and other cultural/language barriers.
So how can organizations encourage people experiencing displacement to get tested for hepatitis B? This answer is frankly too complicated and complex for a simple blog post, but here are a few suggestions for organizations.
Utilize community health workers. Community health workers who are fluent in refugee languages and cultures can educate community members about preventative health measures. People might be more receptive to the information if someone familiar with the community is the educator.
Reduce barriers to healthcare. Transportation sometimes is a barrier for individuals experiencing resettlement. Offering transportation to and from healthcare clinics can greatly increase access to quality healthcare. Furthermore, when the individual arrives at their healthcare facility, they must have an interpreter if they do not speak the local language or go to a provider who speaks their native language.
Use culturally sensitive educational materials. Using materials in languages other than English is so important to effectively communicate health information about hepatitis B! The Centers for Disease Control and Prevention (CDC), has their Know Hepatitis B Campaign where you can access FREE multi-lingual hepatitis B educational materials.
Reference: