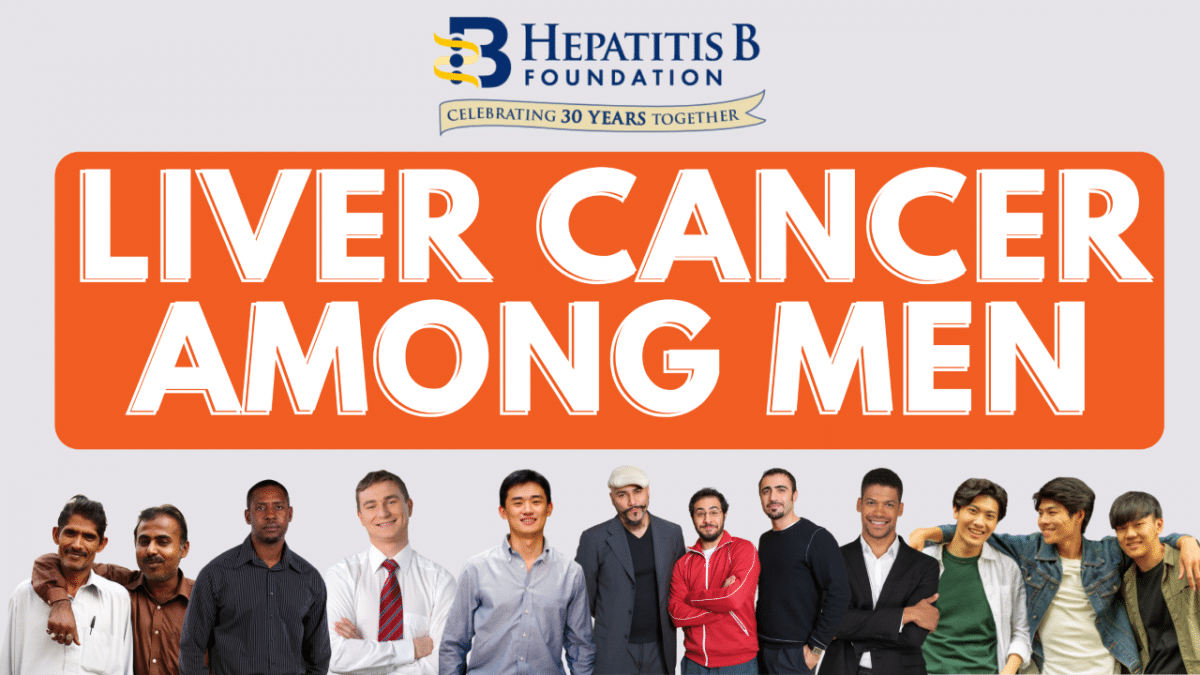 June is Men's Health Month. This month we bring awareness to preventable health problems and encourage early detection and treatment of disease among men and boys. In 2020, The World Health Organization found that liver cancer is the third leading cause of cancer deaths with 830,000 deaths.1 Liver cancer occurs more often in men than in women with it being the 5th most commonly occurring cancer in men and the 9th most commonly occurring cancer in women.2
There are two main types of liver cancers, hepatocellular carcinoma (HCC) which accounts for about 75% of liver cancer cases, and intrahepatic cholangiocarcinoma which accounts for 12-15% of cases. Liver cancer especially impacts Asian countries like Mongolia, Vietnam, Laos, Cambodia, Thailand, and China. Hepatitis B is the leading cause of HCC globally. Of the 300 million individuals living with a chronic hepatitis B diagnosis, about 25% will develop HCC.3
Risk Factors
HCC affects men with an incidence 2x-4x higher than women due to differences in behavioral risk factors and biological factors.3 Research has found men were less likely to undergo HCC screening and more likely to smoke.  Additionally, studies have shown alcohol is a major risk factor for HCC. In the United States, HCC associated with alcohol is higher among men than in women at 27.8% and 15.4% respectively.3
Biologically, there is evidence estrogen (a female hormone) decreases IL-6 mediated hepatic inflammation and viral production.3 Studies have demonstrated IL-6 may promote virus survival and/or exacerbation of the disease.4 In the context of hepatitis B, men are at an increased risk for HCC as they do not produce estrogen which would help decrease the risk of IL-6, in turn, promoting viral survival.
Prevention
The great news is that HCC can be prevented by preventing hepatitis B. There is a safe and effective vaccine that can be completed in either 2 or 3 doses over a span of 3 months. Ask your healthcare provider for the hepatitis B vaccine series.
If you are unsure of your hepatitis B status, you can get tested! Ask your healthcare provider for the "Hepatitis B Panel" – it should include 3 parts. The panel is super simple and only requires one sample of blood.  If you are of Asian descent and male, it is especially important for you to get tested as liver cancer disproportionately impacts individuals from Asian countries and men.
If you have chronic hepatitis B, make sure your doctor screens you regularly for liver cancer. Typically done with a combination of blood tests and imaging, liver cancer screening can help detect HCC early when it is still curable.
As we wrap up June and Men's Health Month, you are encouraged to get vaccinated and tested for hepatitis B. Take control of your health, and don't wait!
References
Wu EM, Wong LL, Hernandez BY, et al. Gender differences in hepatocellular cancer: disparities in nonalcoholic fatty liver disease/steatohepatitis and liver transplantation. Hepatoma Res. 2018;4:66. doi:10.20517/2394-5079.2018.87
Velazquez-Salinas L, Verdugo-Rodriguez A, Rodriguez LL, Borca MV. The Role of Interleukin 6 During Viral Infections. Front Microbiol. 2019;10:1057. Published 2019 May 10. doi:10.3389/fmicb.2019.01057
Author: Evangeline Wang
Contact Information: info@hepb.org