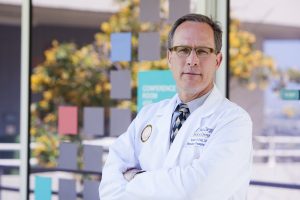 Dr. Gish answered answered a number of very important questions for those diagnosed with liver cancer, and also has some great advice for liver cancer surveillance, including best imaging tests for the diagnosis of cirrhosis or liver cancer and more. 
What are the early indications of hepatocellular carcinoma (HCC)?
A good physical examination, thorough laboratory testing, full abdominal imaging, platelet count, spleen size, liver enzyme patterns, and liver function tests are all part of the initial and ongoing assessment of patients with liver disease who have HCC or who are at risk for HCC.
What is the best imaging test for detecting cirrhosis or liver cancer?
The best imaging technique for liver fibrosis is either shear wave elastography or magnetic resonance elastography.
Blood tests such as the fibrosis-4 (FIB-4) score and AST to Platelet Ratio Index (APRI) are also useful and can be found online.I have been diagnosed with liver cancer. How long can I afford to wait to be seen by an expert?Because of the urgent need for intervention and the anxiety that the patient and family members are facing, there's no reason to wait longer than 10 working days, especially because there may be further delays (for example, more testing is usually required). So put pressure on the doctor's office to give you an appointment within 10 working days.
Please click here to continue with the Q & A.
Did you miss last month's webinar with Dr. Gish on Treatment options for Liver cancer? If you did, you can watch the YouTube video here.