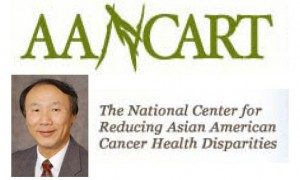 In celebration of Asian Pacific Heritage Month, Dr. moon Chen, Principal Investigator for the Asian American Network for Cancer Awareness Research and Training (AANCART) and UC Davis professor, reflects on the unnecessary cancer burden in Asian American and Pacific Islanders, including the burden of  hepatitis B related liver cancer. 
Asian Pacific Heritage Month….what a great time to reflect on being an Asian Pacific American and reflect on the opportunities and obligations it provides, particularly with respect to our unique, unusual, but unnecessary cancer burden!
First, opportunities: Each of us needs to realize we are special….there is no one else in the world like us (nor will there ever be)….For example, in terms of diversity, whether it is in terms of 100s of languages or dialects spoken and our rich cultures or the fact that the U.S. Census considers us to originate from Asia where more than half of the world lives or from Pacific Islands whose expanse exceeds the North American continent by many-fold….no one is as diverse as us! Think of the number of time zones and even a different day (International Date Line) that circumscribe where we live. Through our diversity, we can offer the potential of many pathways to health and healthful living. Read more.