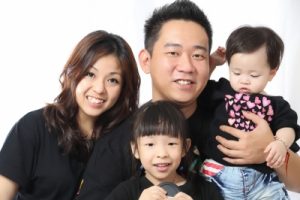 May is Asian-Pacific American Heritage Month – a celebration of Asians and Pacific Islanders in the United States. The month of May was selected in 1978 to mark the first major Japanese immigration to the United States (May 7, 1843), and the completion of the transcontinental railroad (May 10, 1869), built primarily by Chinese immigrants.
Like all immigrants, Asians and Pacific Islanders brought with them unique cultures, languages, and lingering health problems from their homeland, including hepatitis B.
This blood-borne infection, unknowingly passed from mother-to-child, is an infection without a cure that would impact Asian immigrants and their children for decades until a vaccine was developed.
Today, administration of the first dose of the hepatitis B vaccine along with a dose of HBIG within 12 hours of birth severs this viral legacy and protects newborns from inheriting this infection. But that is not the end of the story. There are still many Asian-Americans who remain infected, and many Asian immigrants arriving today live with hepatitis B.
An estimated one in 12 Asian-Americans currently has hepatitis B, and two in three don't know they are infected. Their infection rate is more than 20 times higher than that of the total U.S. population. Hepatitis B is the greatest health disparity between Asian-Americans and the general U.S. population. Approximately 1 million Asian-Americans are living with chronic hepatitis B infection – that's about half of all cases in the United States.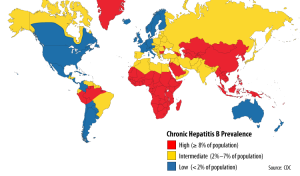 If you, your parents or grandparents were born in one of the countries in yellow or red, then it is very important to get tested for hepatitis B because you are at high risk for infection.
Because of this high prevalence, it should be a no-brainer for healthcare providers across the country to screen their Asian-American patients for hepatitis B, but it's not happening as often as it should. Vietnamese-American men are over 10 times more likely to have liver cancer due to undiagnosed and untreated hepatitis B than their white counterparts.
So why don't doctors automatically screen Asian-American patients for hepatitis B? Is it a waylaid attempt at political correctness? Or does ordering a test for hepatitis B carry with it an unspoken judgment or suspicion of drug use or suspect sexual practices that are often linked to ethnic or racial stereotypes?
It is a fine line doctors straddle here. It is racist to test a patient for a sexually transmitted disease simply because of sexual stereotypes attached that patient's race or ethnicity. It is not racist to test because the patient belongs to an ethnic group or race with a high rate of a treatable, preventable illness.
One doctor, writing in The New York Times several years ago, admitted, "I always take note of my patient's race. So do many of my colleagues. We do it because certain diseases and treatment responses cluster by ethnicity. Recognizing these patterns can help us diagnose disease more efficiently and prescribe medications more effectively. When it comes to practicing medicine, stereotyping often works."
In the case of hepatitis B, doctors should allow race and ethnicity to guide their screening decisions because many Asian-American patients are slipping through the health care system's cracks. Failure to identify a hepatitis B leads to new infections and new liver cancers.
Treating hepatitis B can be challenging for healthcare providers. Diagnosing a patient with viral hepatitis often leads to complicated treatment decisions, painful disclosures, and immunization of family members. And, sometimes, patients just don't want to know, but they need to.
Patients and doctors alike need to know that ethnicity can impact an individual's health. For example, a recent study  found that Asian-Americans are disproportionately more likely to develop type 2 diabetes, even when they're young and not obese.
Race shouldn't matter if you're treating a broken leg, but it does matter when you're performing a physical on a patient whose parents immigrated from Africa or Asia. Bottom line, if you're Asian-American, you're at risk of hepatitis B. Get screened today.
For more information about Asian-Pacific American Heritage Month and its theme, "Walk Together, Embrace Differences, Build Legacies," click here.