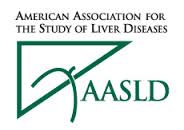 Get HBV Advocate's Christine Kukka's take on the top HBV related, published reports from the AASLD Liver Meeting as she provides her Top Ten List! 
Top Ten Reports from the 65th Annual Liver Meeting
By Christine M. Kukka, HBV Advocate 
Hepatitis B experts from around the world met at the 65th annual American Association for the Study of Liver Diseases (AASLD) conference in Washington D.C. this week to share the latest in hepatitis B treatment and research.
 Which combination of antivirals and interferon works best against hepatitis B
Tenofovir continues to excel with no signs of drug resistance after eight years
Tenofovir treatment is safe over an entire pregnancy for both mother and child
Tenofovir and entecavir combination successful against drug-resistant HBV
Who remains at risk for hepatitis B in the U.S.?
Antivirals appear to lower liver cancer risk
But antivirals don't reduce cancer risk in older patients with cirrhosis
How long do patients have to keep taking antivirals after they lose HBeAg and achieve undetectable viral load?
Liver cancer risk remains, even after HBsAg clearance in older, male patients
Experts say treatment is needed when ALT levels are only moderately elevated
Which combination of antivirals and interferon works best against hepatitis B

1.  A combination of antivirals and interferon led to a cure for hepatitis C, and researchers are trying similar combinations to find a cure for hepatitis B.
A large study involving 740 patients finds simultaneous tenofovir (Viread) and pegylated interferon (Pegasys) treatment works best. They found that 48 weeks of the paired tenofovir and interferon treatment was more effective than sequential antiviral-interferon treatment or using tenofovir or interferon alone.
Of those studied and followed for 72 weeks, 58.4% were positive for hepatitis B "e" antigen (HBeAg), the average age was 37, and 80% were Asian, with genotypes B, C, and D dominating.
The group treated with tenofovir and interferon for 48 weeks had a "cure" rate of 5.9% (loss of hepatitis B surface antigen (HBsAg) and development of surface antibodies) and 24.3% lost the HBeAg, and achieved undetectable viral load.

A second group treated with tenofovir plus interferon for 16 weeks followed by only tenofovir for 32 weeks had an HBsAg loss rate of 0.6%; and only 20.2% lost HBeAg.

None of the group treated with just tenofovir for 48 weeks lost HBsAg and only 8.3% lost HBeAg.

Among those treated with just interferon, 1.8% lost HBsAg and 12.5% lost HBeAg. (Abstract 193)
Another study followed 303 younger adult patients who had done well on antivirals. Researchers added interferon to the patients' ongoing antiviral treatment for 12 weeks, and then continued them on only the interferon for another 48 or 96 more weeks.
After this sequential antiviral and interferon treatment, a cure including HBsAg loss and surface antibody development, reached 16.2% and 12.5% respectively, and 58.7% patients lost HBeAg and developed "e" antibodies. Patients who started with lower HBsAg levels (less than 1,500 IU/mL) achieved higher rates of HBsAg loss.
Researchers concluded that HBeAg-positive patients who did well on antivirals were likely to clear HBsAg when switched to interferon treatment. (Abstract LB-10)
Hepatitis Plenary Session 
http://onlinelibrary.wiley.com/doi/10.1002
/hep.27480/full 
Abstract 193. HBsAg Loss with Tenofovir Disoproxil Fumarate (TDF) plus Peginterferon alfa-2a (PEG) in Chronic Hepatitis B (CHB): Results of a Global Randomized Controlled Trial
AASLD Late Breaking Abstracts
http://www.aasld.org/livermeeting
/Documents/ Late-Breaking%20Abstracts%
20TLM14.pdf
Abstract Final ID: LB-10. A multi-center randomized study on the efficacy and safety of switching to peginterferonα-2a (40KD) for 48 or 96 weeks in HBeAg positive CHB patients with a prior NUC history for 1 to 3 years: an interim analysis of NEW SWITCH study
2.  Tenofovir continues to excel with no signs of drug resistance after eight years

An international research team, who followed 412 patients treated with tenofovir (Viread) for eight years reported that none of the patients developed drug resistance to the potent antiviral and all maintained nearly undetectable HBV DNA levels over the lengthy treatment period.
Read entire review here.