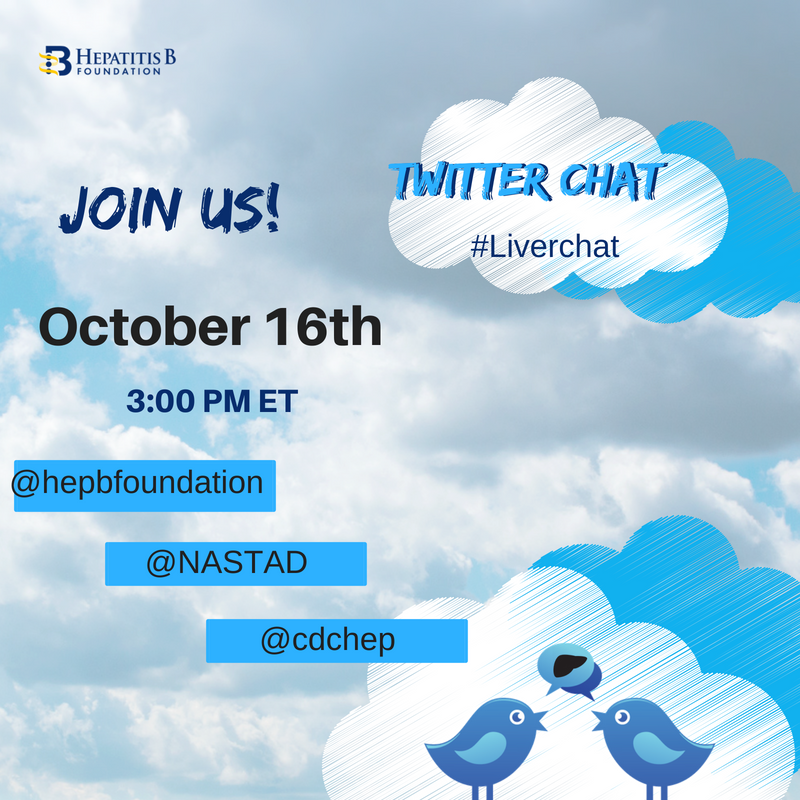 October is Liver Cancer Awareness Month. Often we neglect to think about the link between hepatitis and liver cancer. Tuesday, Oct. 16, representatives from Hepatitis B Foundation, CDC's Division of Viral Hepatitis, and NASTAD will co-host a twitter chat at 3 p.m. EST to discuss this important link.
Featured guests include Prevent Cancer Foundation, Hep B United Philadelphia (HBUP) and Iowa Harm Reduction Coalition. Prevent Cancer Foundation is a national nonprofit dedicated to cancer prevention and early detection. HBUP is a Hep B United partner committed to testing and vaccination to fight hepatitis B and liver cancer in Philadelphia. Iowa Harm Reduction Coalition is a non-profit organization providing non-judgmental and compassionate services that empower people to care for themselves and one another.
Below are the questions to be discussed during the chat. How can you contribute?  Join the conversation that day and throughout the month with the hashtag #Liverchat. Share any resources or strategies you have that raise awareness about the link between liver cancer and hepatitis.
Q1:What are things everyone should know about liver cancer, and also the link between hepatitis and liver cancer?
Q2: What can people do to prevent hepatitis, or for those living with hepatitis, what can be done to protect the liver and prevent liver cancer?
Q3: What are the barriers that keep people from getting screened for hepatitis and liver cancer and how can they be addressed?
Q4: Why are some populations more vulnerable to hepatitis and liver cancer, and how do we address the disparities?
Q5: What resources are available to educate others about hepatitis B & C and liver cancer? What resources are needed?
Q6: Who are your key partners in addressing liver cancer? Who would you like to engage more in your work? (Tag them here!)
Q7: What is one lesson learned or piece of advice for others who want to expand their work on the link between viral hepatitis and liver cancer?
Co-hosts and featured partners of the chat include:
Hepatitis B Foundation – @hepbfoundation
NASTAD – @NASTAD
CDC Division of Viral Hepatitis – @cdchep
Prevent Cancer Foundation – @preventcancer
Hep B United Philadelphia – @hepbunitedphila
Iowa Harm Reduction Coalition – @IAHarmReduction
CDCNPIN will be moderating the chat – @cdcnpin
Confirmed participants and their handles include:
Hep B United  – @hepbunited
Coalition Against Hepatitis For People of African Origin – @CHIPO_HBV
Liver Cancer Connect – @livercancerconn
CDC's Division of Cancer Prevention and Control – @CDC_Cancer
Hep Free Hawaii – @HepFreeHawaii
HBI-DC – @HBIDC
HepFreeNYC – @hepfreenyc
NAIRHHA Day – @NAIRHHADAY
Minnesota Department of Health – @mnhealth
Philly Hep C Coalition – @hep_CAP
Just getting started with Twitter? Do you wish to join the conversation but you don't know how?  Type #Liverchat in the search box of the Twitter application to follow the chat, and click on "Latest".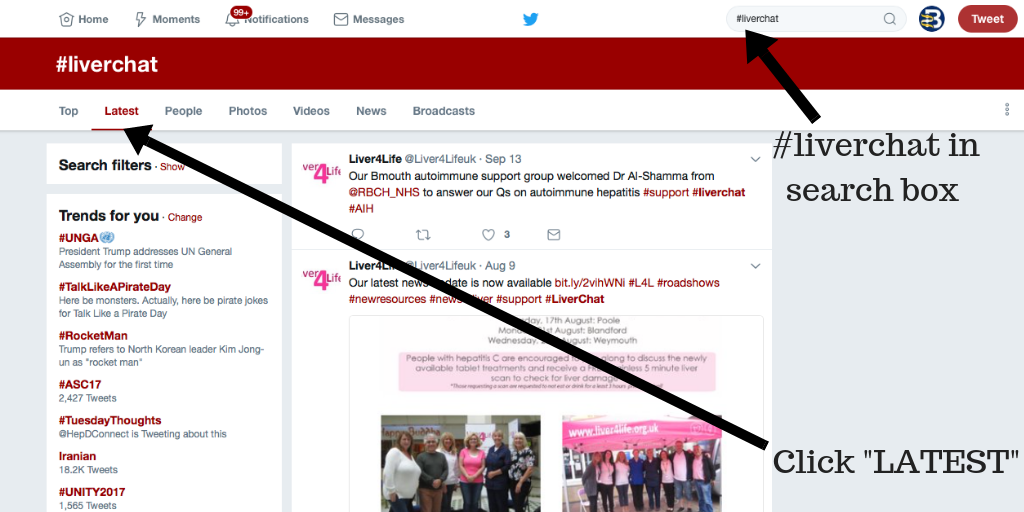 You can prepare your tweets in response to the topics listed above in advance, or you can also tweet on the fly, re-tweet, or Like a tweet during the chat.
The questions are labeled Q1, Q2, etc. so please respond/answer specific question by using A1, A2, etc. in front of your tweets. Remember to include the #Liverchat hashtag, which is not case sensitive, in all of your tweets.
If you plan to participate, please contact us at info@hepb.org and we'll add you to the list of confirmed participants. Let us know if you have any other questions about joining the chat. We're here to help!