October is Liver Cancer Awareness Month!  Despite the aggressive nature of this cancer – only one out of every five diagnosed patients survive beyond five years – liver cancer receives little attention from those outside of the health field. To help raise awareness and support those who have been affected, we are using our #justB campaign to share the stories of individuals who have been directly impacted by liver cancer throughout the month of October. The stories are featured throughout the month on the Hepatitis B Foundation, Liver Cancer Connect and Hep B United social media outlets. Check out Alice, Bunmi, Dai, and Kim's stories.
What is Liver Cancer?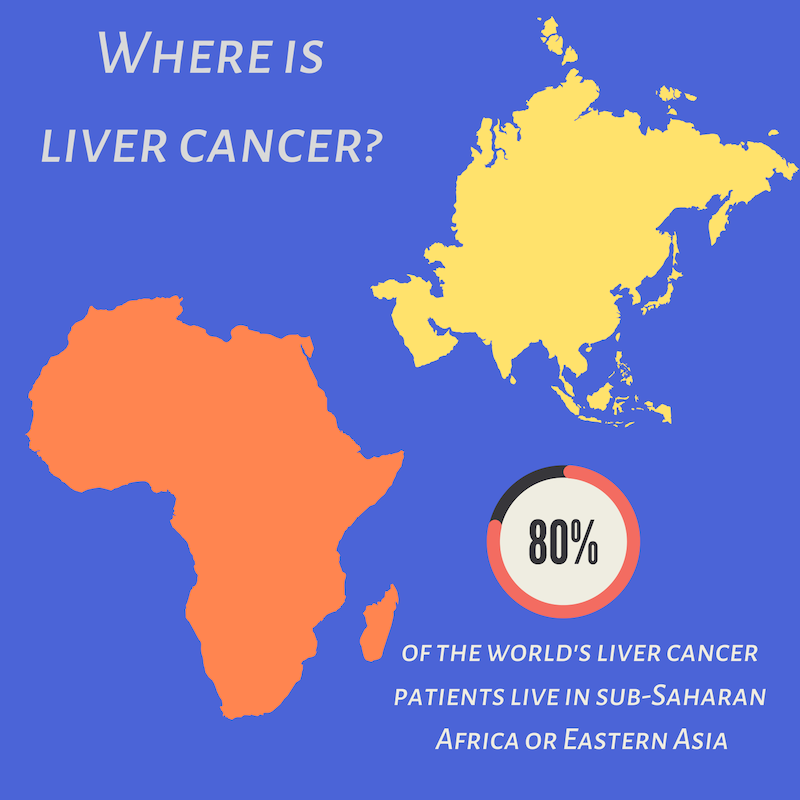 Liver cancer occurs when normal liver cells begin to grow uncontrollably and form a mass called a tumor. Cancerous tumors are dangerous because they begin to damage healthy cells that make up the organ and impair the liver's functionality. Of the nine different types of liver cancer, Hepatocellular carcinoma (HCC) is the most common and often results from chronic hepatitis B. In the United States, new cases of liver cancer and liver cancer deaths are steadily rising. In fact, a recent study has shown that there has been a 53% increase in liver cancer deaths since 2000.
Hepatitis B and Liver Cancer
Although liver cancer is the sixth most common cancer in the world, it is the second most common cause of cancer deaths. Many people do not realize that chronic hepatitis B is the primary global risk factor for developing liver cancer. Certain viruses, including hepatitis B, can cause hepatitis, which translates to "inflammation of liver." The virus attacks the liver and weakens its ability to perform important tasks like filtering toxins from your blood and maintaining the level of sugar in your blood. Chronic (long-term) infection with hepatitis B or hepatitis C viruses can lead to liver cancer. Worldwide, hepatitis B is much more widespread than hepatitis C, making it a priority when it comes to the prevention of liver cancer. Approximately 292 million people around the world are living with hepatitis B.
Liver Cancer by the Numbers:
10% of the world's liver transplants are due to hepatitis B
60%

of liver cancer diagnoses are due to cases of chronic hepatitis B

43%

of liver cancer deaths are due to chronic hepatitis B

788,000

people die from liver cancer annually

15% – 25%

of people who were infected with hepatitis B at birth will die prematurely from cirrhosis, liver failure, or hepatocellular carcinoma, if their hepatitis B is not diagnosed and appropriately managed

80%

of liver cancer patients are in sub-Saharan Africa & in Eastern Asia
Preventing Liver Cancer
Educating oneself is the first step in preventing liver cancer! If you have hepatitis B, be aware of the risk factors and behaviors that can increase your likelihood of liver damage and liver cancer, such as consuming alcohol and high amounts of junk food. Groups such as the CDC Division of Viral Hepatitis, the American Cancer Foundation, the American Association for the Study of Liver Diseases, and the Cancer Support Community all provide free fact sheets, call lines, and literature by experts that can help you understand what may be occurring in your body and to make educated choices. You can also check out our Liver Cancer Connect resource for more information or for liver cancer support.
Did you know that the hepatitis B vaccine is the first anti-cancer vaccine ever created? That's because it helps to prevent liver cancer! Remember that the vaccine is typically given in a set of 3 doses. It is extremely important to take all three in order to receive lifelong protection from hepatitis B-related liver cancer: with the first dose you 50% protected, with the second dose you are 80% protected, and with the third dose, you are 100% immune to hepatitis B. In the U.S., there is also a 2-dose vaccine available, so you can be fully protected with fewer doses! If you are worried about the cost of the birth dose for your infant or the vaccine for yourself, many countries have free health clinics that can administer it or link you to an organization that can help.
Another key to preventing liver cancer is to get screened for hepatitis B. If you have not received your vaccine and you think you fall into a high risk group, talk to your doctor about getting tested. Because hepatitis B often has no symptoms, it is important to get screened even if you do not feel ill. An early diagnosis means that you can begin treatment, if needed, sooner and prevent irreversible damage from occurring. Like the vaccines, your local doctor or health clinic may be able to test you for free or reduced cost – just ask! Some local community groups also provide free hepatitis B testing, so be sure to look out for flyers and announcements about them in your community as well!
Interested in learning more about the connection between hepatitis B and liver cancer? Join us on Tuesday, October 23rd from 2:00 pm – 3:00 pm ET for Hepatitis B is the Major Etiology of Liver Cancer: Is a Cure Possible? Is it Necessary? – a webinar by HBF's co-founder Dr. Tim Block on hepatitis B, liver cancer, and where to go from the current research standpoint. Register for the webinar here.