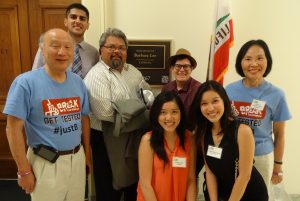 By Christine Kukka
In late July, during World Hepatitis Day 2016, the fourth annual Hep B United Summit convened in Washington D.C. and dozens of advocates met with federal officials and brainstormed strategies to increase screening, immunization and linking people to care to eliminate hepatitis B across the country.
The Hepatitis B Foundation and the Association of Asian Pacific Community Health Organization (AAPCHO) established Hep B United in 2011 to address the silent epidemic of hepatitis B. The liver disease infects 2 million people in the U.S., and 67 percent don't know they're infected.
Asian-American and Pacific Islanders (AAPI) and African immigrant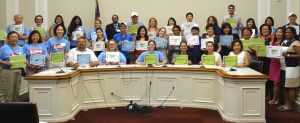 communities are among those hardest hit. Crafting a culturally- and liguistically-adept approach on small or non-existent budgets to educate and screen these diverse populations remains a challenge for Hep B United's  more than 30 community coalitions in 15 states and Washington D.C.
On the upside, the coalition's organizations have educated 4 million Americans and screened about 40,000. However, large swaths of the country lack outreach efforts to prevent the spread of hepatitis B. For a map and list of Hep B United Summit member organizations, click here.
The coalition's ongoing hepatitis B prevention efforts mirror HIV and hepatitis C campaigns that have sought to increase education, screening, and linkage to care. But in many respects, Hep B advocates face more challenges:
Because there is a safe and effective vaccine that prevents hepatitis B, many state and federal health officials assume the infection will go away on its own and government resources for screening and prevention have been minimal.
Many immigrant populations affected by hepatitis B have unique languages and cultures, which requires careful, individual approaches to each community.
Federal healthcare programs often under-funded or inhibit effective prevention work. For example, Medicare currently does not cover the cost of life-saving hepatitis B tests in seniors, many of whom are in high-risk groups because of their ethnicity or personal history. The federal government has proposed to cover screening, but only if it's ordered in a primary care office.  Some of the most effective screening in high-risk communities often occurs at community-based settings or emergency rooms, far from a primary care office. Summit participants are orchestrating letter-writing to endorse the federal government's proposed decision to cover hepatitis B screening under Medicare and to convince Medicare officials to broaden coverage of hepatitis B screening.
Summit also participants met with federal officials from the U.S.  Department of Health and Human Services, Centers for Disease Prevention and Control (CDC) and the Department of Justice to push for more effective policies and increased funding to fight the world's most common serious liver infection. One afternoon was spent visiting Congressional representatives to boost lawmakers' awareness of the terrible toll hepatitis B takes on their constituencies.
"If community organizations can learn from each other and develop effective ways to educate people about hepatitis B and to get them screened and referred to medical care in the early stages of their infection, we can succeed in preventing new cases, save health care dollars and, most importantly, save lives," said Jeffrey Caballero, AAPCHO executive director and Hep B United co-chair.
The following four hepatitis B advocates were honored at the summit for their work to eradicate hepatitis B: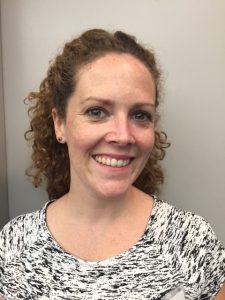 Alex Shirreffs, MPH, Viral Hepatitis Prevention Coordinator with the Philadelphia Department of Health. She was recognized for her collaboration with Hep B United Philadelphia to screen area AAPI communities. Her work ensures that hepatitis B remains a public health priority, and she serves as a critical liaison between Hep B United and other Adult Viral Hepatitis Prevention Coordinators nationwide.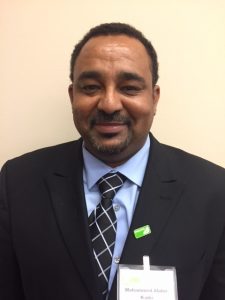 Mohammed Abdul-Kadir, MPH, MSIS, coordinator of the Hepatitis B Coalition of Washington, (now part of International Community Health Services in Seattle), is recognized for his commitment to eradicating hepatitis B in Washington's AAPI communities by bringing together stakeholders from across the state and providing free screening, education and linkage to care for thousands of individuals.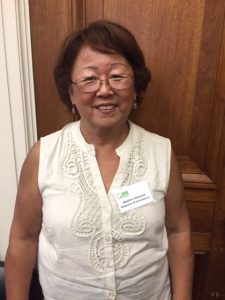 Nadine Shiroma, a national hepatitis B civil rights advocate from Seattle, has worked tirelessly with the Hepatitis B Foundation to eliminate hepatitis B-related discrimination in the United States. She is recognized for advocacy on behalf of hepatitis B-infected health care students, which resulted in hepatitis B being added as a protected condition under the Americans with Disabilities Act (ADA). The fight now has been taken to the U.S. Department of Defense, which currently bars infected applicants and discharges military personnel diagnosed with hepatitis B.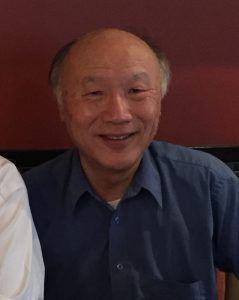 Moon Chen, Ph.D., director of the Asian American Network for Cancer Awareness, Research and Training in Sacramento, Calif., is recognized for making hepatitis B a priority for academic and public health research, and for continuing to research and identify effective hepatitis B prevention, screening and referral-to-care intervention models that can be replicated nationwide.
For more information about joining Hep B United, click here.