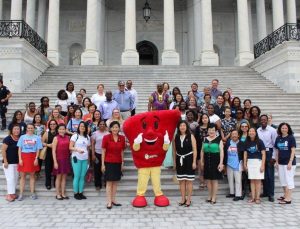 Hep B United (HBU), a coalition established by the Hepatitis B Foundation (HBF) and the Association of Asian Pacific Community Health Organizations (AAPCHO), held its fifth annual Hep B United Summit from July 26th to 28th in Washington D.C. The summit was held to promote screening and prevention strategies and advocate for a cure to further HBU's mission to eliminate hepatitis B in the United States.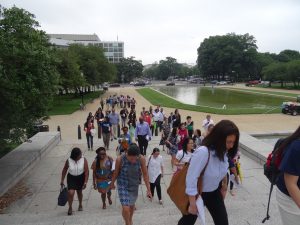 The summit is the largest gathering of hepatitis B leaders from around the country including public health agencies, national non-profit organizations, community coalitions, and individuals and family members affected by hep B. Catherine Freeland, MPH, Public Health Manager of HBF, said, "The summit is like a family reunion." It's an opportunity for HBU members to convene, share best strategies, and celebrate their wins over the past five years. The partnerships within HBU ensures that best practices and resources are shared as well. "Once we have a cure, we are committed to making sure chronically infected Americans get it," Chari Cohen, DrPH, MPH, co-chair of HBU mentioned during the summit. Over the past year, HBU screened 22,556, educated 52,194, and reached over 6 million people with in-language hepatitis B messaging! That's a win for sure!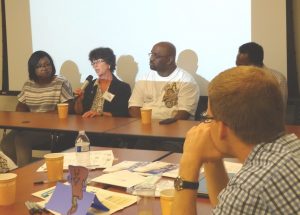 As a part of the summit, HBU partners visited Capitol Hill to discuss with federal legislators the need to support hepatitis B and liver cancer research, education, screening, and treatment programs. A Congressional reception was also held to highlight the "#justB: Real People Sharing their Stories of Hepatitis B" storytelling campaign, which increases awareness of hepatitis B through personal stories. There were also meeting sessions focusing on capacity building, sustaining local hepatitis B coalitions, and best ways to utilize resources like the "Know Hepatitis B" campaign from the CDC and Hep B United and the #justB campaign. The Hep B United Summit is a way to celebrate World Hepatitis Day, which is on July 28th every year. Partners celebrated and raised awareness for World Hepatitis Day around Capitol Hill with a scavenger hunt!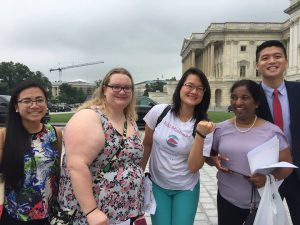 At the Summit, HBU and its CDC partners presented five community leaders with the 2017 Hep B Champion Awards in recognition of their outstanding commitment to eliminating hepatitis B and liver cancer in their communities:
 Cathy Phan, the Health Initiatives Project Manager at HOPE Clinic in Houston, Texas, is recognized for her dedication to reducing health disparities, advocating for access to health care and health equity for underserved populations. Cathy brings unique perspectives, best practices and creative, innovative ideas from the local community clinics to the national level.
Vivian Huang, MD, MPH, the Director of Adult Immunization and Emergency Preparedness for the New York City Department of Health and Mental Hygiene and the medical director for the NYC Department of Health Immunization Clinic is recognized for her commitment to reducing the burden of vaccine-preventable diseases locally and globally including hepatitis B and liver cancer. Dr. Huang is a strong, tireless advocate for hepatitis B prevention, education, and treatment and health equity through health department engagement.
Hong Liu, PhD, the Executive Director of the Midwest Asian Health Association in Chicago, Illinois, is recognized for her innovative approaches to educating the public on hepatitis B and her willingness to share her best practices and experiences with others working in the field. This year, Dr. Liu's leadership has led her organization to educating over 1,337 individuals in Chicago's Chinatown district and screening close to 300 individuals for hepatitis B.
Dan-Tam Phan-Hoang, MSc., is program manager of HBI-Minnesota, a Minneapolis, Minnesota-based non-profit that she helped start in 2015. Dan-Tam is recognized for her leadership in Minneapolis, building strong collaborations with community leaders, healthcare providers, funders, and government agencies to address hepatitis B throughout the state and successfully establishing a hepatitis B outreach and prevention program for high-risk communities in the Twin Cities.
The National Task Force on Hepatitis B for AAPI, is a national organization that brings together scientists, health professionals, non-profit organizations, and concerned citizens in a concerted effort to eliminate the transmission of hepatitis B and to decrease health disparities among those chronically infected. The Task Force is recognized for increasing physicians' awareness about hepatitis B and launching a new health care provider program, bringing together public health and health care professionals in regional meetings around the country. The Health Education for Liver Providers (H.E.L.P.) Training Program is designed to provide health care providers and their medical team core medical knowledge of hepatitis B and hepatitis C.
Read the summit press release here.
More pictures of the summit can be found on HBU's Facebook album, Storify, and e-newsletter.
To read about the Hep B United 2016 Summit from last year, click here.