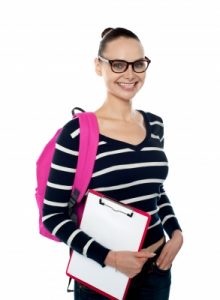 This summer, students living with hepatitis B face a task that can be as stressful as SATs, entrance exams or writing college essays – completing their colleges' health forms.
Some colleges and graduate schools require no medical information while others expect you to document in detail your allergies, immunizations, medical history and even undergo TB testing.
The good news is colleges want to make sure all students are vaccinated against hepatitis B, the bad news is the requirement can force students to disclose their hepatitis B infection. Here are some important things parents and students should know when filling out college health forms.
No school can deny you admission or treat you differently because you have hepatitis B. The Americans with Disabilities Act (ADA) prohibits discrimination based on disabilities, and that includes hepatitis B.
In 2013, the U.S. Departments of Justice and Education, Health and Human Services sent a letter to colleges with medical and nursing programs warning them that they were violating students' legal rights if they refused to admit students with hepatitis B. The Hepatitis B Foundation played a key role in this action.
Federal officials made clear that colleges that denied admission to students with hepatitis B violated both ADA and Title VI of the Civil Rights Act, which bars discrimination based on race. Title VI is relevant because many students living with hepatitis B are of Asian, Middle Eastern and African descent and therefore any restriction on hepatitis B-infected students disproportionately affects students of color.
What if they treat you differently or refuse to admit you after you disclose? What they're doing is illegal. Unfortunately, some school health care providers are ill-informed about the law and don't realize students with hepatitis B pose no health risk to others and are protected by federal civil rights laws.
If a school official indicates that your admission or participation in certain college activities is in jeopardy, stay cool. Send them a copy of the Department of Justice letter and suggest they contact their legal counsel for appropriate advice. Call the Hepatitis B Foundation at 215-489-4900 or email the foundation at info@hepb.org if more assistance is needed.
Then why do colleges ask about hepatitis B immunization? Schools cannot ask about your hepatitis B status during the application process, but once you are accepted, the school's clinic can. Many colleges have clinics that provide basic medical care to students. Just like a doctor, the clinic wants to know about any important health information. The health form you fill out becomes part of the clinic's medical record and should be treated confidentially under HIPAA.
Why do nursing and medical programs and some colleges ask for proof of a successful hepatitis B vaccination? Health care providers are at high risk of infection of bloodborne infections, such as hepatitis B, due to their close contact with blood and body fluids. To protect them, colleges may require students to be immunized and then provide follow-up blood test results that show students have enough protective antibodies to prevent infection.
Colleges cannot refuse to admit hepatitis B-infected students because they do not pose a risk to either patients or coworkers. The only risk someone with hepatitis B poses is if they have a high viral load and perform certain surgical procedures. However, no medical or nursing student performs that type of surgery as part of his or her training.
Remember, you won't be the only person at your school with a bloodborne infection. The vast majority of people with hepatitis B or C don't know they're infected. Because of these unknown infections, all schools and employers are required to treat everyone as if they have a bloodborne infection and use standard precautions with everyone.
Links to helpful resources:
The U.S. Department of Justice's warning letter to medical, dental, nursing and other allied health programs to stop discrimination against applicants with hepatitis B
Updated CDC Recommendations for the Management of Hepatitis B Virus–Infected Health-Care Providers and Students