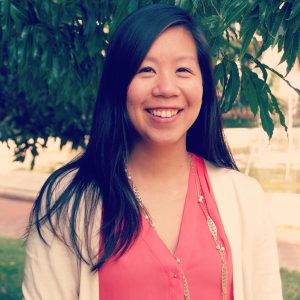 By Christine Kukka
It's Kate Moraras' job to make sure federal programs crafted in the elite halls and federal agencies of Capitol Hill are what's really needed to eliminate hepatitis B in Asian-American, African and other at-risk communities across the country.
Simply put, her goal is to eradicate, "the most staggering health disparity facing immigrant communities."
The people on whose behalf Moraras works are among the most vulnerable and powerless in the country. They include Asian-American and Pacific Islander (AAPI) and African immigrants who were infected at birth or by contaminated syringes or medical tools in their countries of origin.
As senior program director at the Hepatitis B Foundation and director of the Hep B United national coalition for the past three years, Moraras has worked with federal officials and dozens of hepatitis community advocates across the country to align federal policy with the need of diverse, hard-to-reach communities.
"I have always been drawn to systems-level change and I saw public health policy as a key area where there are opportunities to make an impact," she explained. She was energized by the prospect of finding solutions that would improve healthcare at the individual and community level, and she obtained her master in public health at George Washington University.
After graduation, Moraras learned about hepatitis B when she was working on AAPI health disparities in the federal government. "Then, my uncle found out he had chronic hepatitis B when he tried to donate blood," she recalled. Suddenly, what had been a matter of political injustice became a personal cause and she began working at the foundation.
Moraras knows federal policies don't succeed unless they make a difference on the streets of America. "Grassroots and culturally-focused organizations are pivotal to eradicating hepatitis B because they know their communities and how they are at risk of hepatitis B," she explained.
Preventing and treating hepatitis B in immigrant communities requires cultural nuance. Each community has its own language, cultural practices and healthcare beliefs. Many lack insurance coverage and when they finally reach a clinic or doctor's office, the cultural disconnect creates an insurmountable barrier to learning about this complex disease.
This is why having local organizations whose staff know the culture, speak the language and can bridge the glaring healthcare gap that now stops people from getting vaccinated and treated for hepatitis B is key. "Their communities trust them, which is so critical when it comes to navigating healthcare and communicating accurate information about hepatitis B, a disease that is stigmatized in many AAPI communities. If we want to eradicate hepatitis B in the U.S., we must partner with local organizations and make sure they have adequate resources to do the job."
Hep B United and the foundation are working to make sure federal policy helps, rather than hinders, these vital, local initiatives.
"Fortunately, we have had champions within the federal government who have taken the opportunity to lead national efforts to address hepatitis B — for example, former Assistant Secretary for Health Dr. Howard Koh who led the development of the National Viral Hepatitis Action Plan and a White House Initiative tasked with specifically focusing on AAPI communities, with a cross-cutting voice and broad reach," she said.
"CDC now has a multilingual communications campaign, the Know Hepatitis B campaign, to encourage hepatitis B testing among AAPI communities with educational materials in a variety of Asian languages," she added. At state and local levels, there have been city councilors and state legislators who have become champions who advocate for funding for effective community programs to increase public awareness.
"What remains challenging is the disconnect between local groups providing direct services to people and federal agencies that are working to make and implement policy at the 30,000-foot level," she said. "For example, we still do not have a national surveillance system to monitor chronic hepatitis B cases and trends and there remains an overall lack of awareness and attention to hepatitis B at the national level. We must all continue to ask for real investment by the federal government to combat hepatitis B.
"We need to build a national hepatitis B grassroots movement, which is something that I would like to see happen through my job and Hep B United in the years ahead," she added. "We have built a strong coalition that continues to expand every year, we have powerful advocates from local communities who have taken on leadership roles in national hepatitis advocacy and I would like to see our movement continue to grow and translate to the millions of individuals we have the potential to reach."
Hep B United is a national coalition to address and eliminate hepatitis B, a serious liver infection that is the leading cause of liver cancer.  An estimated 2 million people in the United States are chronically infected with the hepatitis B virus.  Hep B United aims to meet this public health challenge by increasing hepatitis B awareness, testing, vaccination and treatment.