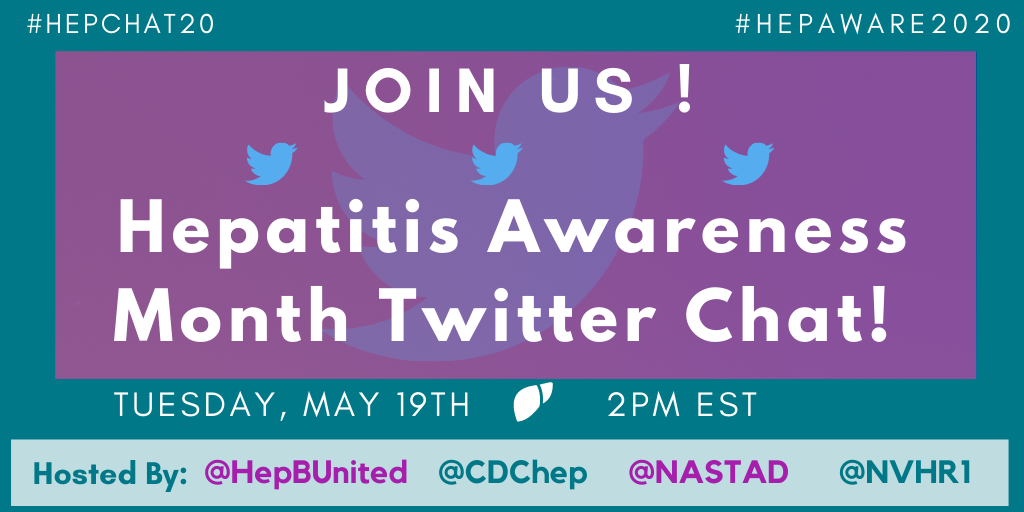 Join HepBUnited, NASTAD, National Viral Hepatitis Roundtable (NVHR) and CDC's Division of Viral Hepatitis for a Twitter Chat on Hepatitis Testing Day, May 19th at 2 P.M. EDT.  The chat will highlight hepatitis events and allow partner organizations to share their successes, challenges and lessons learned from their efforts, particularly during this unique time. Partners will also highlight innovative strategies for outreach during COVID-19. This twitter chat serves to keep us all informed, raise awareness and share messaging. All are encouraged to join the twitter chat conversation with the hashtag #HepChat20, and to keep partners posted throughout the month about events and messaging with the hashtag #HepAware2020.
Below are the Twitter Chat topics for discussion. Participants are invited to share tweets including graphics, GIFs or short video clips from hepatitis events, as well as best practices and challenges in conducting outreach and other events.
T1. Why is viral hepatitis testing so important? What are best practices you could share with others to ensure populations at risk get tested for viral hepatitis and linked to care? #HepChat20
T2. What methods does your organization use to prevent hepatitis A, B, and C? #HepChat20
T3. How do you engage key communities, people living with hepatitis B and hepatitis C, and other organizations in your hepatitis education, outreach and testing events? #HepChat20
T4. How can we better support people living with hepatitis B and C to ensure their stories are heard and inform our approaches to increasing hepatitis testing and outreach efforts? #HepChat20
T5. What role can providers play in communicating the importance of hepatitis B and hepatitis C testing? How can organizations and communities better engage providers in their efforts? #HepChat20
T6. How are you working toward achieving elimination goals and strategies for viral hepatitis in your community? #HepChat20
T7. How does your organization work to address viral hepatitis B and hepatitis C stigma and discrimination? What barriers exist and how are you working to overcome those barriers? #HepChat20
T8. In light of the current environment around COVID-19, what strategies are you trying to implement to adapt hepatitis outreach, education or testing activities? #HepChat20
T9. Who are your key partners in your hepatitis testing and elimination efforts? How do you work with them throughout the year? Tag them in your response! #HepChat20
Plan to share your hepatitis outreach and  event successes and challenges, pictures, and video clips, or use this opportunity to ask the featured organizations questions about their work.
You can prepare any questions or tweets you might have for the above topics in advance, or you can also tweet on the fly, re-tweet, or Like a tweet from the chat.
The topics are labeled T1, T2, etc. so please respond/answer a specific topic by using A1, A2, etc. in front of your tweets. Remember to include the #HepChat20 hashtag, which is not case sensitive, in all of your tweets.
Hosts and their handles for the chat:
Hep B United – @hepbunited
NASTAD – @NASTAD
National Viral Hepatitis Roundtable – @NVHR1
CDC's, Division of Viral Hepatitis – @cdchep
CDC National Prevention Information Network – @CDCNPIN (Moderator)
Featured Partners
Hep B United Philadelphia – @HepBunitedPhila
Hepatitis Education Project – @hepEduProject
Hep Free Hawaii – @HepFreeHawaii

Harm Reduction – @PAHarmReduction

Hep C Free Washington – 

@HepCFreeWA

Dr. Robert Gish – 

@RobertGish

Hep B patient voice, Kim Vu –  @KaceyVu1

Hep C patient voice,  Rick Nash  – 

@hepatitisme

Prevent Cancer Foundation – 

@PreventCancer
Confirmed Participants
Hepatitis B Foundation – @hepbfoundation
AAPCHO –  @hepBPolicy
U.S. Department of Health & Human Services – @HHS_ViralHep
HBI-DC – @HBIDC
Hep Free NYC – @hepfreenyc
Hepatitis Delta Connect – @hepdconnnect
Coalition Against Hepatitis for People of African Origin –  @CHIPO_HBV
Liver Cancer Connect – @livercancerconn
Nurses Who Vaccinate – @nurseswhovax
Hepatitis B Online & Hepatitis C Online – @UW_IDEA
Unified HIV Health and Beyond, SE Michigan – @miunified
End Hep C SF – @EndHepCSF
Email Maureen.Kamischke@hepb.org or direct message @hepbfoundation to confirm your participation and to be added to the list.  Looking forward to the conversation, May 19th!