At the Hepatitis B Foundation, we answer thousands of calls, social media messages, and emails a year from individuals affected by hepatitis B. One of the most common questions we receive is: If I have hepatitis B, can I still get married? 
To put it simply, yes, a person living with hepatitis B can get married. In fact, a healthy relationship can be a source of love and support for those who may feel alone in their diagnosis.
Transmission of hepatitis B can be prevented in your partner; it's a vaccine preventable disease! Keep in mind that hep B is common in many parts of the world. When properly tested, people often learn they too are living with chronic hep B or that they have recovered from a past infection. A hepatitis B triple panel blood test (HBsAg, HBcAb total and HBsAb) will let your partner know if they have a current infection, have recovered from a past infection and whether or not they need to be vaccinated.  Future children should also be vaccinated starting as a newborn to help prevent transmission, especially if the mother is hepatitis B surface antigen positive (HBsAg+)!
If your partner is waiting for the vaccine or is unable to be vaccinated for some reason, there are other precautions that one can take to prevent transmission: practice safe sex by using a condom, properly wrap all wounds, clean up any spilled blood with gloves and a fresh solution of 1 part bleach to 9 parts water, and don't share sharp personal items (razors, toothbrushes, nail clippers, and body jewelry). This list may seem like a lot, but they are mostly things that we do every day without thinking much about it! 
Physically, there are no barriers that prevent an individual living with hepatitis B from getting married. The question often stems from a place of fear that is fueled by the stigma and discrimination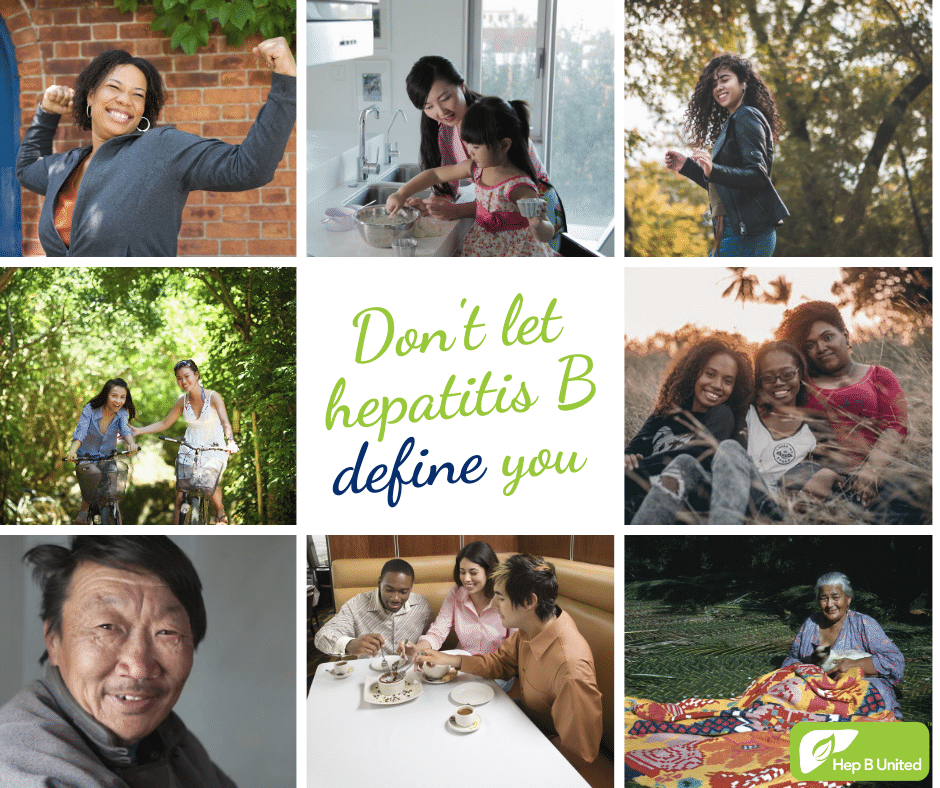 around them. Oftentimes, we give fear too much power in our lives. It can control our actions and cause us to isolate ourselves. It's important to remember that an individual is not their diagnosis. The essence of who you are as a person has not changed! 
Many of our #justB storytellers are leading happily married lives with supportive spouses who help them maintain a healthy lifestyle. Chenda was already engaged when she first discovered that she was living with hepatitis B. She said, " When my fiance called, I was scared to answer but I told him the truth. He said 'I love you' and encouraged me to see a doctor". Chenda and her husband now have a baby who they made sure was protected from the virus! Another storyteller, Heng, shares how he felt when the woman he was in love with told him that she was living with hepatitis B. After she told him, he got tested and found out he was already protected due to the vaccine! They later married and had children. "We make better lifestyle choices because of her illness, but we don't let it define our lives". 
Hepatitis B is not a weakness. Each day, millions of people living with chronic hepatitis B make the choice to wake up and live life to the fullest. Like many others, Edwin – one of our new #just B storytellers – was surprised by his diagnosis. Instead of letting it hold him back, he decided to show the world how strong he was by competing in a series of rigorous athletic competitions to set an example for others like him. "I want to show that Hepatitis B is not a condition that debilitates someone," said Edwin.  "We can triumph through adversity." 
Our #justB storytellers are examples of hope, inspiration, and strength; they are people living their truths.They also remind us that the difficulties that we face in life can make us stronger as a person. Despite the fear that Bright felt, he persevered and took action. "Slowly I started to have days when I wasn't hopeless, when I could face the unknown. I talked to my doctors, did my own research, and made my own decisions….Now I realize I have changed: I am more resilient than ever before."