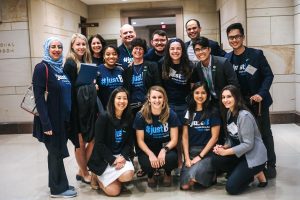 If you live in the U.S. and want to learn how to share YOUR hepatitis B story in a powerful and effective way to help raise awareness, educate communities, and inspire action around hepatitis B, consider applying to our next #justB digital storytelling workshop!  
The #justB campaign empowers people with lived experience to share their story and use their voice to help increase awareness and advocacy around hepatitis B, combat stigma and discrimination, and encourage more people to get tested, vaccinated, and/or linked to care and treatment. Beginning in 2017, the Hepatitis B Foundation has partnered with StoryCenter to host six #justB digital storytelling workshops for over 41 participants from across 22 states in the U.S. and Canada. The #justB campaign includes stories that have been translated and published in 13 languages in addition to English – Mandarin, Cantonese, Vietnamese, Korean, Arabic, French, Mandingo, Twi, Yoruba, Tagalog, Khmer, Mongolian, and Chuukese.  
Attending a #justB digital storytelling workshop is a unique and uplifting experience that brings together people directly affected by hepatitis B in a supportive, small group environment (no more than 10 participants), where they can feel free to share openly about their experiences while learning to create short videos or "digital stories" in their own words. During the workshops, participants are guided through a "Story Circle" activity, receive feedback on selecting specific parts of their story to develop their script around, record a voiceover, gather photos and video clips, and combine these materials into short videos around 3-4 minutes long. After the workshops, participants become part of a growing community of more than 40 other storytellers who receive ongoing communications, resources, and opportunities to stay connected and engaged in hepatitis B advocacy and education.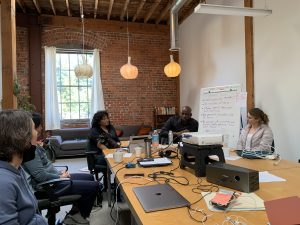 The storytellers gather around for a storytelling workshop.
Over the years since the initial launch of #justB, we have seen just how powerful storytelling is, and how personal stories can be used to promote greater awareness, openness, and discussion around an often stigmatized disease like hepatitis B. We have also learned that the process of storytelling – and participation in storytelling workshops – has a positive and lasting impact on storytellers themselves.  
For example, the following quotes (collected from storyteller interviews and audience surveys) highlight the impact that the #justB campaign has had on participants and viewers. 
Quotes from storytellers about their experience: 
"In the weeks after the workshop, I felt a lot more

hopeful

and

supported

." 

 

"It was an

awesome

,

life-changing

experience and I look forward to doing more work with the Hepatitis B Foundation and various other organizations to raise Hepatitis B awareness and prevention."

 

"This storytelling workshop was

a true blessing

for me personally. Before, I felt isolated and disconnected. After the workshop and getting to know how Hep B has affected others,

I feel a great sense of family and inclusion

. My true hope is that our stories can change how others not affected view those who are and that more emphasis would be placed on the treatment and cure for this condition."

 

"I remember feeling very lonely when I first got diagnosed. I was, I don't know, a leper or something but then to hear other people having gone through that same fear and that same sort of feeling of isolation, just

super impactful

. It made you recognize that this doesn't have to be a lonely or solitary thing. There are other people who have the same struggles and experience the same fear, I guess, that you did. That was

incredibly powerful

, and definitely something that I didn't know I was missing that."

 

"The workshop definitely changed my perspective on the

power of storytelling for mental health

." 

 
Quotes from story viewers / audience members:  
"I really enjoyed the personal stories. Hearing first person experiences re: HBV has such a

significant impact and realism

that is not accessible when approaching the topic from a clinical or third person perspective. It's very

sad but powerful

to hear the experiences re: stigma, isolation, perseverance, and how they are fighting for their families, friends, and others."

 

"It was

very informative

. I came in not understanding what it really was. Now I understand how important vaccinations are. It is an important topic to discuss, and I want to let my friends and family know how serious the problem is."

 
"The stories were

extremely powerful

. That paired with data and key messages [was] a

very effective

presentation."

 

"JustB storytelling was very

moving

! The

diversity

in storytellers was great."

 

"Very

touching

,

impactful

and

inspirational

! Thank you to all the storytellers for your bravery!" 

 

"The storytelling was

wonderful

. I will definitely be using the stories in our education and awareness outreach."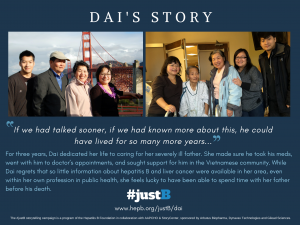 A postcard featuring quotes from the Dai's Story.
Learn more about our current storytellers at www.hepb.org/justb. To apply for the workshop, fill out this form: https://storycenter.wufoo.com/forms/zyu5qsb02lscca. We accept and review applications on a rolling basis until all spots are filled.  
The next #justB workshop will take place this summer 2023 (tentatively in late July or August) and will be held in either Washington, DC or in the Doylestown/Philadelphia area. All travel, accommodations, and meals will be coordinated and paid for by the Hepatitis B Foundation. Participants will also receive a honorarium for completing the workshop.  
The Hepatitis B Foundation recently launched a new website for our storytelling campaign. Visit https://www.hepbstories.org/ to learn more!
If you have any questions or feedback, please contact Rhea Racho, Program Director – Advocacy and Engagement at rhea.racho@hepb.org.