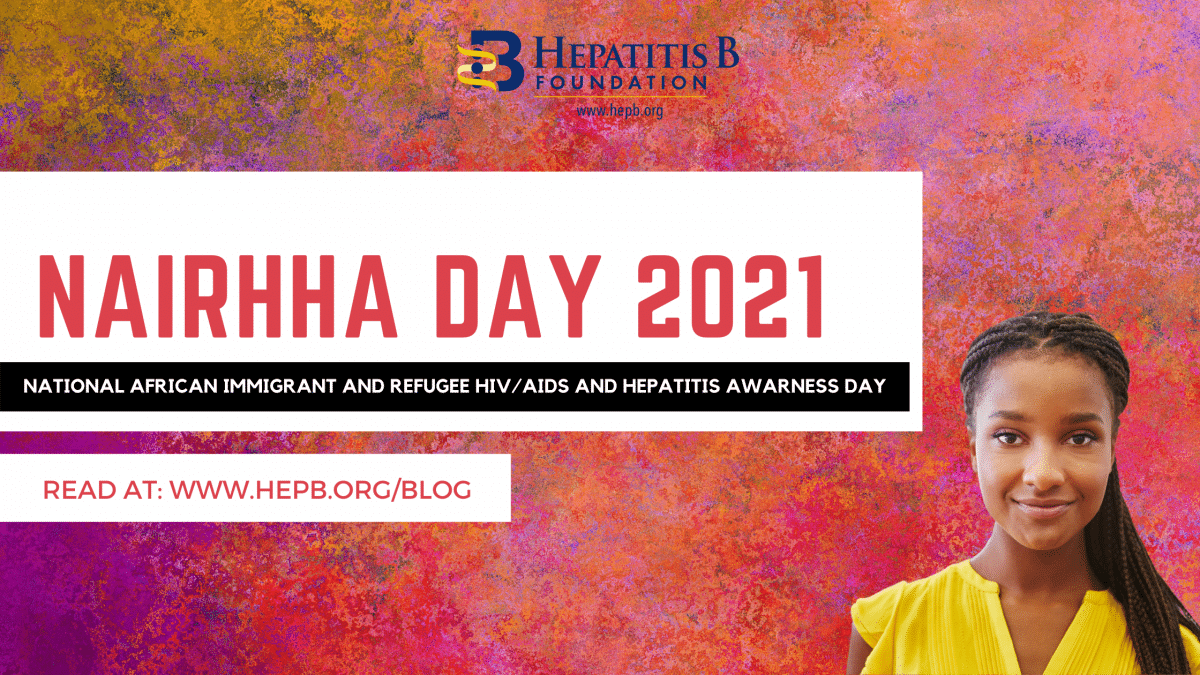 Today is NAIRHHA Day! Every September 9th, the Hepatitis B Foundation brings awareness to National African Immigrant and Refugee HIV/AIDS and Hepatitis Awareness Day. Founded by advocates in Massachusetts, Washington D.C., and New York, NAIRHHA Day has been observed annually on September 9th by healthcare professionals, awareness campaigns, and other organizations since 2014. The Multicultural AIDS Coalition (MAC), Hepatitis B Foundation and the Coalition Against Hepatitis for People of African Origin (CHIPO) are working to establish NAIRHHA day as their own federally designated awareness day.
Hepatitis B and HIV in African Immigrant Communities
 People of African origin are disproportionately affected by hepatitis B infection. Worldwide an estimated 292 million people are infected with chronic hepatitis B. Over 60 million people in Africa have hepatitis B which annually accounts for an estimated 68,870 deaths.1
In fact, in some African communities in the United States, between 5%-15% of people have chronic HBV infection. Unfortunately, due to the silent nature of the disease, lack of disease awareness, and limited health care access, most African community members who have hepatitis B DO NOT KNOW that they are infected. This puts them at much greater risk for premature death from cirrhosis or liver cancer.
There is a high burden of HIV/HBV co-infection in African countries because both diseases share similar transmission routes such as mother-to-child, unsafe medical and injection practices, and unscreened blood transfusions.2 Chronic HIV/HBV infection is reported in up to 36% of people who are HIV positive, with the highest prevalence reported in west Africa and southern Africa. The co-infection of HIV and HBV is especially dangerous because it accelerates liver disease such as fibrosis and cirrhosis. In fact, liver-related mortality is twice as high among people with an HIV/ HBV co-infection.2
 With approximately 54,000 people with HBV who immigrate to the United States annually it is important to bring awareness to hepatitis B in African Immigrant communities on this day!
Get Involved
Viral hepatitis and HIV heavily impact African immigrant communities in the U.S. Let's raise awareness and advocate for resources and funding to support elimination efforts & healthier communities.
Action Items:
There are African community organizations all over the U.S., from Boston to Seattle. Connect with one in your area to learn more about & contribute to the health of these vibrant communities. Start by visiting https://www.hepb.org/research-and-programs/chipo/member-organizations/
Data drives policy change & it can be difficult to find data about African immigrant communities because it is often not separated from data about African American communities. Advocate for this data to be separated by contacting your local Department of Health today!
Education & awareness matter! Many elected officials do not know about these issues, but they should! Contact your state & federal reps today to ask what they're doing to address viral hepatitis & HIV in African immigrant communities. Visit https://www.usa.gov/elected-officials
Change needs resources! Help grow the capacity of African organizations in your area by contributing your time, money, or other resources to eliminating viral hepatitis & HIV in African immigrant communities. Find an org in your state or city & ask how you can plug into their work!
Funding is critical for progress to occur & advocacy is needed to make sure African immigrant communities receive enough money to combat viral hepatitis & HIV. Contact your federal, state, & local elected officials & local department of health to ask what they're doing to support this. Start with members of @NASTAD found at https://www.nastad.org/membership-directory
Good health & healthcare can't happen without communication. Learn more about the need for language access programs to include African dialects at https://minorityhealth.hhs.gov/omh/browse.aspx?lvl=1&lvlid=6.
Federal recognition means greater awareness, education, & resources. Continue to support the establishment of NAIRHHA Day as a federally recognized awareness day by contacting @HHS's sitehiv.gov to advocate for this!
Spread the word! A big part of NAIRHHA Day is raising awareness & you can help with that! Share this toolkit far and wide on social media & also check out some great resources on hepatitis in African immigrant communities at https://www.hepb.org/research-and-programs/chipo/resources/resources-for-educators/
Spearman, C. W., Afihene, M., Ally, R., Apica, B., Awuku, Y., Cunha, L., Dusheiko, G., Gogela, N., Kassianides, C., Kew, M., Lam, P., Lesi, O., Lohouès-Kouacou, M. J., Mbaye, P. S., Musabeyezu, E., Musau, B., Ojo, O., Rwegasha, J., Scholz, B., Shewaye, A. B., … Gastroenterology and Hepatology Association of sub-Saharan Africa (GHASSA) (2017). Hepatitis B in sub-Saharan Africa: strategies to achieve the 2030 elimination targets. The lancet. Gastroenterology & hepatology, 2(12), 900–909. https://doi.org/10.1016/S2468-1253(17)30295-9