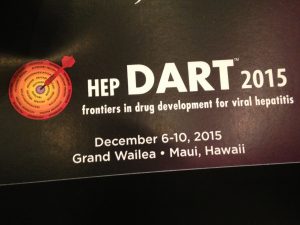 This year's  HEP DART conference brought together liver specialists and researchers from around the world to review and brainstorm about the latest research to find a cure for hepatitis B.
Biopharmaceutical companies presented data that showed their cutting-edge treatments, which use micro-RNAs and other innovative approaches to reduce the virus, appear promising. Much of this research, however, is in early, pre-clinical stages and focuses on laboratory-grown liver cells or laboratory animals, though a few are in Phase I and Phase II trials.
Joan Block, co-founder and executive director of the Hepatitis B Foundation, reported the following news in hepatitis B research from the conference, which was held in Hawaii from Dec. 6-10.
HepDart 2015 marks the 20th anniversary of this conference, and about 600 attendees from 20 countries attended. In opening remarks, Dr. Patrick Marcellin of France noted that the cure for hepatitis C is a huge medical breakthrough, now, he noted we are faced with finding a cure for hepatitis B.
This year's HepDart meeting included nearly two days devoted to hepatitis B drug development—which shows the new momentum around finding a cure hepatitis B by the scientific community. During previous HepDart meetings, there was almost no discussion about new hepatitis B treatment. But this year, there are more than five companies presenting new hepatitis B drug findings, Block reported.
Researchers at the conference continued to lament the lack of resources spent to research and develop a cure for hepatitis B. They noted the U.S. government has spent $17.5 billion treating HIV. A fraction of that has been spent on finding cures for hepatitis B and C, which infects up to 6 million Americans.
Despite the lack of financial investment in finding a cure, Joan Block reports that the consensus at the conference is that a cure is indeed possible. Despite barriers to achieving a cure because of the complexity of the hepatitis B virus, "the feeling is that there are many targets in the life cycle of the virus and that a combination of a direct-acting antiviral along with an immunomodulator (to boost the immune system) will be the most likely route to success," she reported.
In the short term, experts may be looking at a "functional" cure. For example, some of the new experimental drugs appear to increase the chances of clearing the hepatitis B surface antigen (HBsAg) with a finite duration of treatment. "Although this wouldn't take care of (lingering) cccDNA or viral integration into liver cells, it would be a significant advance in treatment," she said.
Day 2 of HepDart focused on targets within the virus, new therapies and possible cures. Experts explored whether any of the new drugs could produce a functional cure (similar to a resolved hepatitis B infection with loss of surface antigen) versus producing a complete cure that totally eradicates the virus from the liver (including cccDNA). Loss of cccDNA is referred to as the holy grail of the HBV cure.
"The parsing of the word 'cure' is frustrating to patient advocates," she reported, "but the feeling is that the hepatitis B virus life cycle is very complex so an incremental or functional approach might be most feasible.
"Everyone wants a complete cure, including the scientists working on hepatitis B," she noted, "however, a functional cure might be the most realistic goal in the next 10 years."
A functional cure means patients will have to take one of the new drugs for only a limited period of time–compared to the current long-term reliance on antivirals that patients take in order to keep their viral loads down and prevent liver damage.
The downside of a functional cure is the potential for reactivation if a person, later in life, needs to take immune-suppressing drugs, such as chemotherapy, to fight cancer. However, this can be managed with antivirals if necessary. This is a similar situation to those who spontaneously recover from an infection.
To underscore the complexity of finding a cure, the image below shows the different targets in the hepatitis B virus life cycle that companies are examining to find a cure.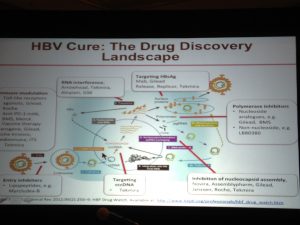 There are many promising targets that are being pursued by scientists in academia, NIH, biotech companies and the Hepatitis B Foundation. At this point, the small interfering RNA (siRNA) technology is most advanced. However there are compounds in the pipeline for each category (see below), which is very exciting. Please refer to the Hepatitis B Foundation's Drug Watch Page for complete list of drugs in development.
"The research work continues," Joan Block reported, "and there is reason for optimism."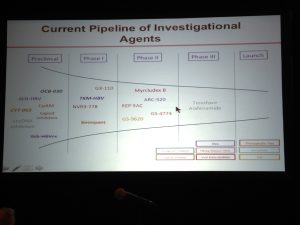 The Hepatitis B Foundation president, Dr. Tim Block chaired a special session at HepDART to discuss what new endpoints will be needed to evaluate the efficacy of the new drugs coming down the pipeline. This will include immunological, virologic, and clinical endpoints for both a functional cure and complete cure.  The clinical endpoint goals might differ based on the phase (immune tolerant, immune active and inactive phase) the patient is in at the time of treatment with these newer agents.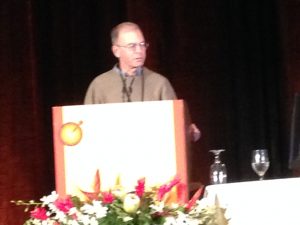 Late breaking update from HepDART!
Arrowhead's hepatitis B surface antigen (HBsAg)-lowering drug (ARC 520) looks promising according to the company's presentation at HepDart. A single injection of the siRNA first in class type drug lowered HBsAg 10-fold in hepatitis B "e" antigen (HBeAg) positive people. The study was small (a few individuals) but impressive.
Arrowhead's ARC 520 may also be telling us something about chronic HBeAg-positive hepatitis B versus HBeAg-negative hepatitis B. They suggest that the amount of HBsAg in the blood of people with HBeAg-negative hepatitis B may come from "integrated" hepatitis B in the liver, not from "cccDNA."  This has profound implications for treatment.
Novira's oral drug is a first-in-class capisd inhibitor and was able to lower HBV DNA levels by as much as 100-fold in the small number of people in the initial human trial, according to their presentation at HepDart. Novira was recently acquired by the pharma giant J&J.
"Excitement is really building as the first new hepatitis B drugs come into the clinic," said Joan Block.