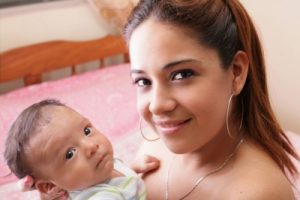 By Christine Kukka
In 1914, the United States designated the second Sunday in May as "Mothers' Day." Its founder, Anna Jarvis, hoped the holiday would focus on her own mother's work promoting peace and public health. Years later, Jarvis protested loudly when the holiday became better known for sentimentality and greeting card sales.
Our nation often loses sight of a holiday's original intent, but this Mother's Day we can bring back the goal of preserving public health, especially where it concerns mothers and infectious diseases.
Decades ago, researchers developed one of the most extraordinary life-saving vaccines–hepatitis B immunization. It saves lives in two ways: It protects children and adults from infection and it breaks the vicious cycle of mother-to-child infection. A baby born to a hepatitis B-infected almost always becomes infected. The vaccine, administered within hours of birth, breaks that cycle.
When the vaccine debuted in the late 1970s and early 1980s, most people with chronic hepatitis B had been infected at birth. When newborns and children are infected, their immune systems don't recognize or attack the virus and the infection can continue indefinitely.
To stop this infection cycle, today all pregnant women are screened for hepatitis B. Babies born to infected women are immediately vaccinated and treated with HBIG (hepatitis B antibodies). This public health initiative has been extremely successful in dramatically reducing hepatitis B. However, the campaign's focus has been primarily on newborns and the hepatitis B-infected mothers were often forgotten. Though hepatitis B infections had been identified, the infected mothers were often lost to follow-up, and this neglect continues today. Continue reading "Celebrate Mothers' Day with High-Quality Healthcare First, Sentimentality Second" →