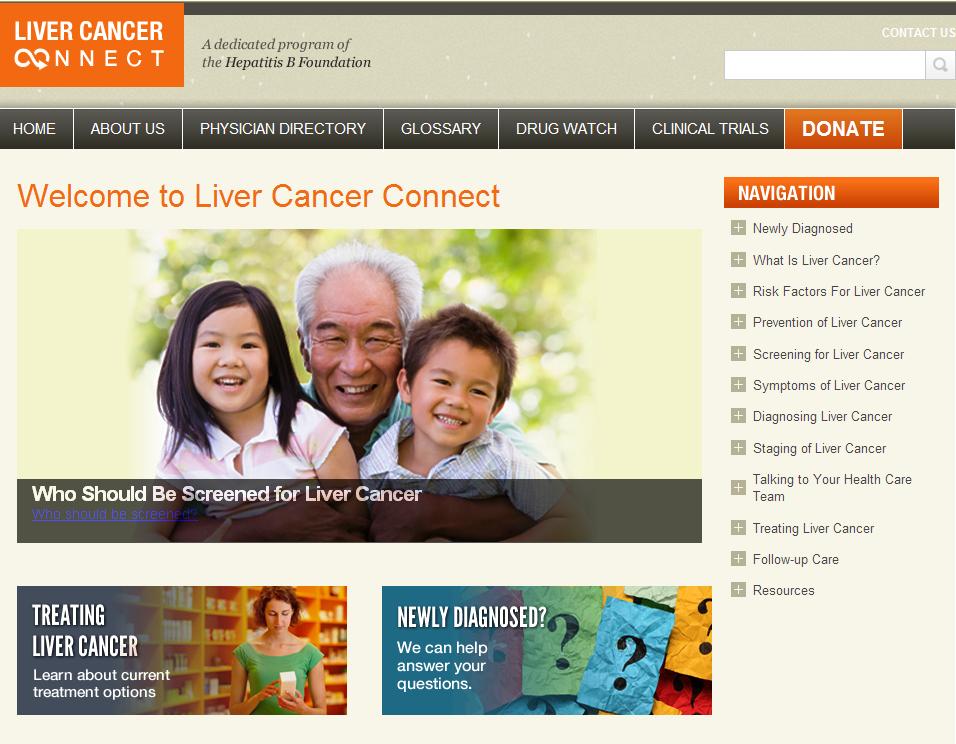 A dedicated program of the Hepatitis B Foundation for patients and families 
The statistics are sobering. Liver cancer is the seventh most common cancer in the world, but the third leading cause of cancer-related deaths. Worldwide, more than 700,000 people are diagnosed with primary liver cancer each year, accounting for more than 600,000 deaths annually. Equally disturbing is the fact that while the incidence rates of most cancers have declined in recent years, the incidence rate for liver cancer is increasing.
But there is encouraging progress in the fight against liver cancer. Scientific research into new treatments is yielding promising results. And perhaps more significantly, the major causes of liver cancer— such as chronic hepatitis B or hepatitis C infections, and cirrhosis — are largely preventable. A safe and effective vaccine against hepatitis B has been available since 1986. In fact, this vaccine was named the world's first "anti-cancer" vaccine, because it prevents chronic hepatitis B infection, the world's leading cause of liver cancer. While no vaccine for hepatitis C currently exists, new drugs can eliminate the virus, thereby halting the progression to liver cancer. And cirrhosis can be avoided by preventing chronic hepatitis B and C infections, limiting alcohol intake, and preventing fatty liver disease associated with obesity.
Knowing that these risk factors are preventable makes it all the more important to identify people at risk for liver cancer, educate them about prevention and treatment options, and direct them to appropriate medical care.
To provide accurate, easy-to-understand information to people diagnosed with liver cancer, the Hepatitis B Foundation has created the first patient-focused website, www.LiverCancerConnect.org. The website aims to help people better understand how liver cancer is diagnosed and how it can be treated or prevented. In addition, wwwLiverCancerConnect.org includes a Drug Watch of potential new liver cancer therapies, an expanding directory of liver cancer specialists, and a clinical trials listing.
The Hepatitis B Foundation is also organizing a series of webinars in 2013 to educate the public about the link between liver cancer and its main risk factors, namely hepatitis B and C infections and cirrhosis caused by fatty liver disease. The webinars, presented by leading international experts in liver diseases, will explain what primary liver cancer is, the importance of liver cancer screening and surveillance, and the treatment options and clinical trials that are currently available. Additional information will be announced on both the Liver Cancer Connect website and HBF's blog when it is available.
The Foundation invites you to use www.LiverCancerConnect.org to learn about liver cancer and its treatment options, and to locate liver cancer specialists and clinical trials. We welcome your feedback and suggestions at connect@livercancerconnect.org so that we may continue to build on this valuable resource for the global liver cancer community.
Liver Cancer Connect is available on Facebook and Twitter. Join LCC on Facebook at http://www.facebook.com/LiverCancerConnect and follow LCC on twitter with the handle @LiverCancerConn.