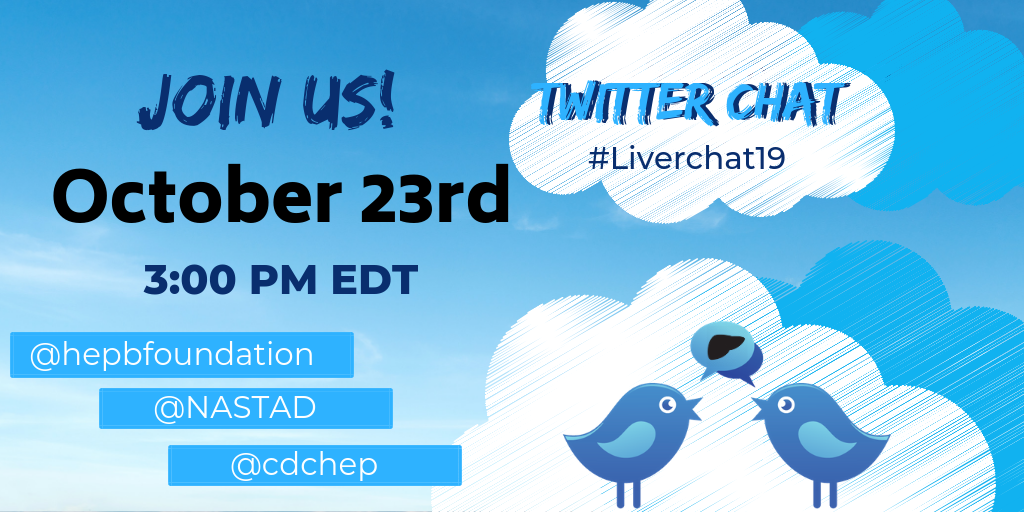 October is Liver Cancer Awareness Month. Each year in the United States, about 33,000 people get liver cancer and a large portion of liver cancer cases are caused by viral hepatitis. Viral hepatitis is preventable and when diagnosed and linked to care early, can be treated to prevent liver cancer from developing. The majority of people living with hepatitis B and hepatitis C are unaware of their status and often find out after serious damage has occurred. Liver cancer is one of the only cancers that continues to rise steadily each year. On Wednesday, October 23 at 3PM ET representatives from Hepatitis B Foundation, CDC's Division of Viral Hepatitis, and NASTAD will co-host a twitter chat to discuss the link between liver cancer and viral hepatitis as well as the importance of engaging communities most affected, particularly patients, in our response.
A large part of our chat this year is centered upon the patient voice. The patient perspective is essential to our efforts to prevent liver cancer and improving the lives of those affected by it. Jacki Chen, one of the Hepatitis B Foundation's #justB storytellers and Karen Hoyt, a hepatitis C patient advocate with the National Viral Hepatitis Roundtable,  will be joining this year's twitter chat as featured guest to share their unique experiences.
Below are the questions to be discussed during the chat. How can you participate? Join the conversation that day and throughout the month with the hashtag #LiverChat19. Share any resources or strategies you have that raise awareness about the link between liver cancer and hepatitis as well as how to better engage communities most affected, particularly patients, in our work. We also encourage you to share any videos or photos you have of your work in your communities or activities during Liver Cancer Awareness Month!
· Q1: What are things everyone should know about liver cancer, and also the link between hepatitis and liver cancer?
· Q2: What can people do to prevent hepatitis, or for those living with hepatitis, what can be done to protect the liver and prevent liver cancer?
· Q3: What are the barriers that keep people from getting screened for hepatitis and liver cancer and how can they be addressed?
· Q4: Why are some communities more vulnerable to hepatitis and liver cancer, and how do we address the disparities?
· Q5: How do we engage communities most affected by hepatitis or liver cancer in our work? Why is this important?
· Q6: What resources are available to educate others about hepatitis B & C and liver cancer? What resources are needed?
· Q7: Who are your key partners in addressing liver cancer? Who would you like to engage more in your work? (Tag them here!)
· Q8: What is one lesson learned or piece of advice for others who want to expand their work on the link between viral hepatitis and liver cancer?
· Q9: Centering the voices of patients and liver cancer survivors is incredibly important in improving our response and ensuring their needs are being met. How do you do this in your work? How can we as a community do this better?
Co-hosts and featured partners of the chat include:
· Hepatitis B Foundation – @hepbfoundation
· NASTAD – @NASTAD
· CDC Division of Viral Hepatitis – @cdchep
· CDCNPIN will be moderating the chat – @cdcnpin
· Jacki Chen – @jacki0362
· Karen Hoyt – @hepatitisIhelpC
· Global Liver Institute- @GlobalLiver
· American Liver Foundation- @liverUSA
Confirmed participants and their handles include:
· National Viral Hepatitis Roundtable- @NVHR1
· Hep B United – @hepbunited
· Hep B United Philadelphia – @hepbunitedphila
· Liver Cancer Connect – @LiverCancerConn
· Hepatitis Delta Connect – @HepDConnect
· Hepatitis Education Project – @HepEduProject
· Minnesota Department of Health – @MNHealth
· Hep Free Hawaii – @HepFreeHawaii
· Hawaii Health – @HIgov_Health
· Hep Free NYC – @HepFreeNYC
· MD Anderson Cancer Center – @MDAndersonNews
· AAPCHO – @HepBPolicy
. HHS Viral Hepatitis – HHS_ViralHep
· Kiiza Alexander – @KiizaAlexander
· Minnesota Health Department – @MNHealth
·HHS Division of Viral Hepatitis – @HHS_ViralHep
·HHS Division of Viral Hepatitis – @HHS_ViralHep
·Rowaye Ridwan – @otunbaridwan
·Hassan Muhammad Bature – @Hasanb1980
·Lilian Mary Nabuya – @Inabunya
·Wenyue Lu – @lu_wenyue
·Dave Nkengeh – @Davy_Tazinkeng
·Hepatitis B Initiative of Washington D.C. – @HBIDC
· Shakur Xassan – @sheykoshee
· Temple University Center for Asian Health- @KnowCancer
· Asian Health Coalition -@CAHE_AHC
·Maryland Cancer Collaborative
Just getting started with Twitter? Do you wish to join the conversation but you don't know how? Type #LiverChat19 in the search box of the Twitter application to follow the chat, and click on "Latest". Email michaela.jackson@hepb.org to be added to the list of confirmed participants!