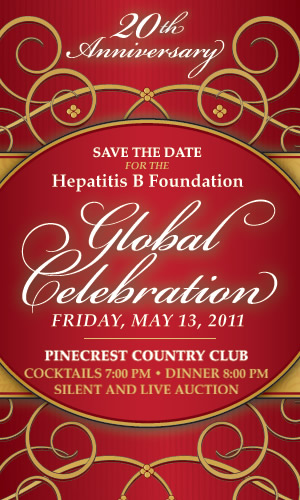 The Hepatitis B Foundation is celebrating 20 years as the global authority dedicated to eradicating Hepatitis B. 
Please join us for an evening of fine dining and entertainment!
Date: Friday May 13th, 2011
Time:  Cocktails 7:00 pm
Dinner:  8:00 pm
Place:  PineCrest Country Club in Landsdale, PA
Dress:  Business or Cocktail Attire
Tickets:  $175 per person or $300 per couple
This is the Hepatitis B Foundation's signature fund raising event, so we hope you will join us in an elegant evening of celebration, fine dining, and dancing to the sounds of Courtney Colletti Music!
Both a silent and live auction will add to the festivities.
If you are unable to attend the evening, but would like an opportunity to participate in a raffle to benefit the Hepatitis B Foundation, and WIN a six days/nights vacation to exotic Costa Rica, you may purchase a ticket.  The winning ticket will be drawn May 13th, but the winner need NOT be present to claim the prize!  Click here for more information!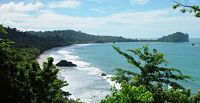 For additional details and tickets, please call Ms. Peggy Farley at
215-589-6328 or email Peggy.Farley@hepb.org
We hope to see you there!