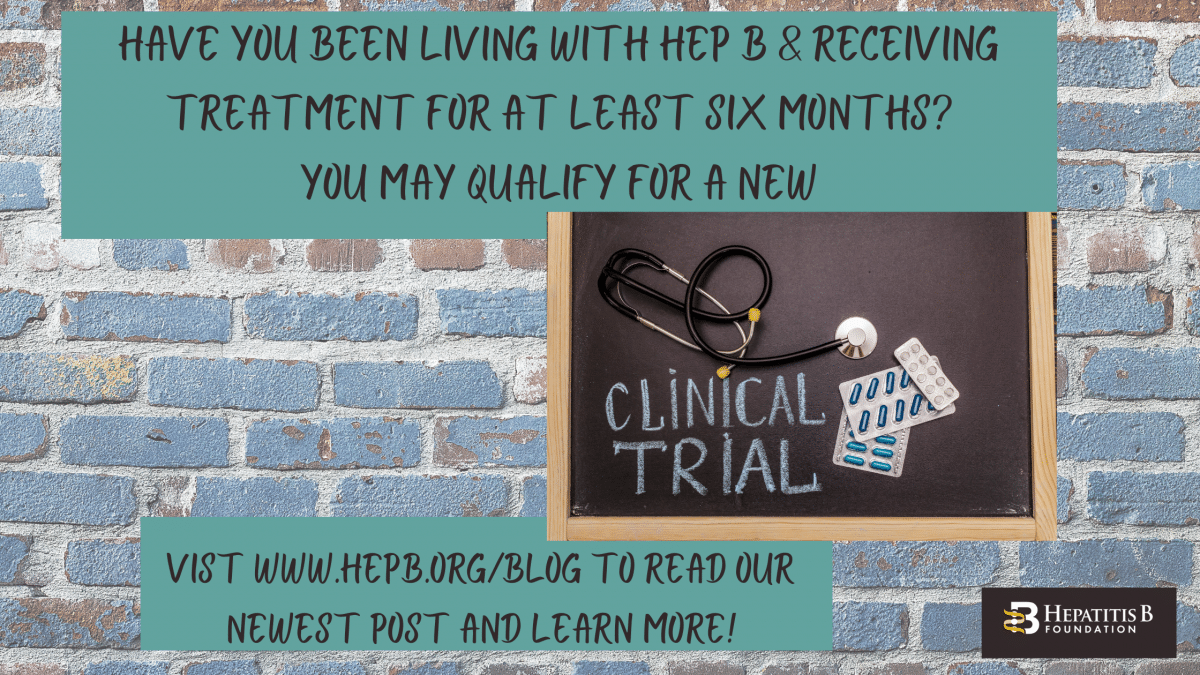 The company GlaxoSmithKline (GSK) is launching a new clinical trial, called B-Together, that will investigate how two study drugs might work together to treat chronic hepatitis B (CHB). Researchers are hoping to find new potential treatments that could be more effective than those that are currently available and could lead to positive results that last long after the treatment ends. Participants in this trial could play a role in shaping science and changing the landscape of CHB treatment around the world, and will have an opportunity to learn more about the disease itself.
The two drugs that will be investigated in this trial are GSK3228836 and pegylated interferon, also known as Pegasys. In a previous Phase 2 trial, people living with CHB received GSK3228836 for 4 weeks. The Phase 2b B-Together trial will test longer treatment with GSK3228836, followed by Pegasys, to see what effects this may have on viral antigens (such as HBsAg) in the body. 
About the Study Drugs
GSK3228836 is an investigational drug being tested as a potential treatment for CHB, meaning it is not yet approved for this purpose. Current medicines available to treat CHB only stop the virus from multiplying – they do not enable the body to fully clear the infection, so people have to keep taking these medicines. GSK3228836 is designed to stop the virus from producing proteins that may prevent the immune system from fighting the virus. Thus, the study drug may potentially allow the body to gain control over the infection.
The other drug used in this study, Pegasys, is a medicine that is already used on its own by doctors to treat CHB. Pegasys works by enhancing the body's immune response to viral infections such as hepatitis B.
What Will Happen During This Trial?
During this trial, all participants will receive GSK3228836 followed by Pegasys. After you have finished treatment with GSK3228836, your doctor will check if it is appropriate for you to start treatment with Pegasys. If it is not appropriate, you may not receive Pegasys at all. At the beginning of the trial, you will be assigned by chance to one of two groups. Each group will receive the study drugs for different lengths of time. You will know which group you are in. The B-Together trial lasts about 79 weeks for each participant. This includes a screening period, a study treatment period, and a follow-up period.
Screening Period
At a screening visit, the study doctor will give you a physical examination, ask about your medical history, and conduct medical tests. The screening period may last up to about 6.5 weeks while the study doctor reviews the results of your screening visit to determine if you meet all requirements for participation.
Trial Treatment period
While receiving GSK3228836, you will visit the clinic for either 12 or 24 weeks. For the first two weeks of your treatment with GSK3228836, you will visit twice per week and for the remaining weeks you will visit the clinic once per week.
When you have finished treatment with GSK3228836, your doctor will assess if it is appropriate for you to start treatment with Pegasys. If it is appropriate, then you will then receive treatment  with Pegasys once a week for up to 24 weeks.
In some countries, it will be possible for you to self-inject Pegasys at home after discussion and training from your study doctor. This could reduce the number of times you have to visit the clinic.
Other study activities will vary from visit to visit and may include:
        Discussions about your health and medications you may take outside the trial

        Measurement of vital signs (i.e. blood pressure, pulse, weight)

        Collection of blood or urine samples

        Physical examination

        Questionnaires about your health and well-being
Follow-Up Period
During the 24-week follow-up period, you will not receive injections of study treatment, but you will complete other study visit activities as scheduled. There are eight visits scheduled in the follow up period. Your study participation will end about 72 weeks after your first dose of the trial drug.
Who Can Participate?
You may be eligible to participate in this trial if you are at least 18 years old, have been living with documented CHB for at least six months, and have also been receiving stable nucleos(t)ide treatment (not telbivudine) with no changes for at least six months prior to screening and no planned changes for the duration of the study. There are other eligibility requirements that the study doctor will review with you. Individuals who have a current co-infection with or past history of hepatitis C virus, HIV or hepatitis D virus are not eligible to participate in this trial. 
Where Is This Trial Taking Place?
This trial is ongoing in the UK, Spain, Russia, Poland, Italy, Korea, Japan, China, the US, Canada, and South Africa.
You can play a role in shaping your own health and the science of tomorrow! To learn more about this trial and check your eligibility to participate, visit https://clinicaltrials.gov/ct2/show/NCT04676724.